Top Ten Best Grass-Court Players In Tennis History
The Top Ten
1
Roger Federer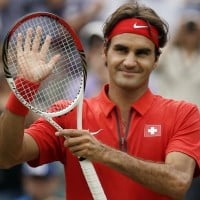 Roger Federer (born 8 August 1981) is a Swiss former professional tennis player who is currently ranked world No. 3 in men's singles tennis by the Association of Tennis Professionals (ATP). He has won 20 Grand Slam singles titles, the most in history for a male tennis player. He has held the world No. 1 spot in the ATP rankings for a record total of 302 weeks (the only male player to be No. 1 for more than 300 weeks) and was ranked No. 1 for a record 237 consecutive weeks. Federer turned professional in 1998 and was continuously ranked in the top ten from October 2002 to November 2016. ...read more.
Federer might be #1 but the person who said he plays in the toughest competitive era, particularly on grass, needs to put down the crackpipe. Federer plays in by far the WORST grass era ever, his biggest competition is a clay (Nadal) and slow hard court (Djokovic) specialist, both whose worst surface is grass. And Murray, woop dee doo! Sampras, Borg, McEnroe, Laver, all faced light years stronger grass competition which is one reason they all have less Wimbledon titles.
Obviously the king of grass, we can all guess how many GS titles he would have on the green surface if like in the sixties 3 out of four were played on grass. He is also successful in the toughest competitive era.
After failing to get past the quarterfinals in 2010 and 2011, Federer won his seventh Wimbledon title in 2012 at the age of 30
2
Steffi Graf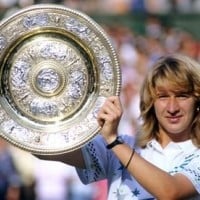 Beat Martina at her best in 88 and 89..proof she is better than her. Athleticism beyond compare and quickest mind ever. Could pull out sensational winners in a way that no other woman has ever been able to do. Best in long rallies and the shortest..Roger, as amazing as he is, is not the best in the mens game in longer rallies, both Rafa and Nole are better
I have seen a player play at the level Steffi did. Her thought process was so clear and concise and she more weapons reliably at her disposal than any other. Miss her terribly
She would have easily tied or broken Navratilova's Wimbledon record without her injuries all but ending her career in early 97, despite the flukish/lucky last French title in 99. And the Monica Seles stabbing would have nothing to do with it either, as Seles is easy fodder for Graf on grass anyway.
Took the grass court game to new heights, surpassing the brilliant Navratilova even. her speed, agility, class, intelligence made a mesmering cocktail. Shame she didn't play a couple of years more - what she achieved by the age of 30 will never be bettered...
3
Pete Sampras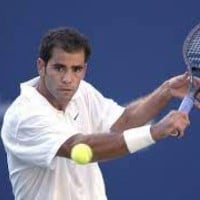 Prime to prime Sampras beats Federer on grass, no question. 7 times out of 10 at least.
4
Suzanne Lenglen
Never lost a match on the court at Wimbledon, won six Wimbledon titles from 1919 to 1925
5
Helen Wills Moody
She won 15 Grand Slam singles events played on grass, eight Wimbledon titles and seven U.S. championships
6 Rod Laver
7
Rafael Nadal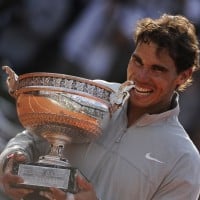 Rafael "Rafa" Nadal Parera is a Spanish professional tennis player, currently world No. 1 in men's singles tennis by the Association of Tennis Professionals.
8
Martina Navratilova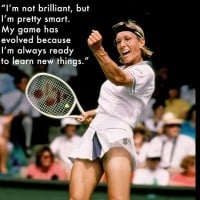 9
Novak Djokovic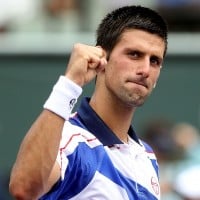 Novak Djokovic is a Serbian professional tennis player who is currently ranked world No.1 in men's singles tennis by the Association of Tennis Professionals.
10
Billie Jean King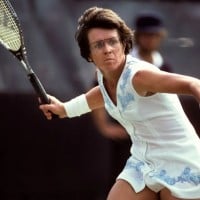 The Contenders
11
Bjorn Borg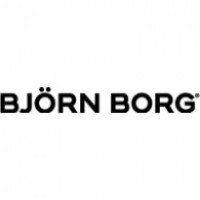 Should be at the top 5 in my opinion.
12
Bill Tilden
Won 10 Grand Slam events on grass, three at Wimbledon and seven at the U.S. championships
13
Andy Murray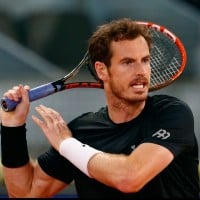 14
Margaret Court
Great grass court player but surprisingly did not do very well at Wimbledon.
15
Andy Roddick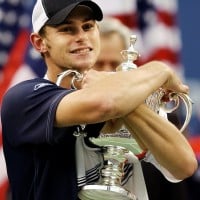 BAdd New Item