Top 10 Most Thrilling Rides & Attractions at Disney World
This is a list of the most thrilling rides at Disney World.
Thrill scale is ranked below each detail.
The Top Ten
1
Mission: SPACE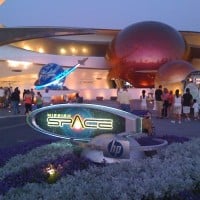 Mission: Space is a centrifugal motion simulator thrill ride at Epcot in Walt Disney World Resort in Orlando, Florida.
The ride simulates extreme g-forces during launch and the lunar slingshot, as well as the Mars landing, and periods of weightlessness when in space.
Some coasters deliver more g-forces, though only for a second, while this ride delivers g-forces for a LONG time, so anyone riding this should be in good health and free from high blood pressure, heart, back and neck problems, motion sickness, pregnancy, and other conditions, like headaches, inner ear problems, and a history of migraines, vertigo and elevated anxiety.
Yet a 44" minimum height requirement is in place of the intense version.
And it's advised that you drink water, get good sleep, and don't eat anything before going on the ride.
In fact, it's so thrilling that even thrill seekers have problems with this.
Thrill level: 10/10
From June 2005 to June 2006, paramedics treated 194 Mission: Space riders.
The most common complaints were dizziness, nausea and vomiting.
Of those 194 people, 25 people passed out, 26 people had difficulty breathing, and 16 reported chest pains or irregular heartbeats. -railfan99
I rode this in 2006. I DID NOT feel sick afterwards. I went on the green side, so it was pretty tame in my standards.
Yup.
Orange is more intense, and the one that recreates the true feeling of space travel and makes almost everybody sick.
Thank GOD This is Number One!. It's so intense and made me sick. Good thing they made a green side.
2
Summit Plummet
It's a water slide that's 120 feet tall and 360 feet long, and depending on your weight, you'll slide anywhere from 50 to 60 mph, and get wet.
It's so powerful and fast even with water, it burns you and gives you the biggest wedgie of your life.
A minimum height requirement of 48" is in place, so it's no kids ride.
It's the flagship attraction at Blizzard Beach, so it's bound to be a real thriller.

Thrill level: 9/10
There are lots of scarier water slides now...
3
The Twilight Zone Tower of Terror
It's the flagship ride at Disney's Hollywood Studios, and it's known for having a drop sequence, so it's a real thrill, yet it's randomized, so it's different for every rider, adding to the fun and scare.
However, despite its extreme thrill, the minimum height requirement is 40", a real understatement.

Thrill level: 7/10
Very intense ride!
4
Rock N' Roller Coaster Starring Aerosmith
It launches you from 0 to 57 mph in 2.8 seconds, and delivers 5 g's and includes 2 loops and 1 corkscrew, and is in the dark, yet Aerosmith blasts music into your eardrums.
The minimum height requirement is 48", so little kids will not be tall enough to ride.
Thrill level: 6.5/10
5
Expedition Everest

It's a big coaster that goes backwards during part of the ride, and that's when things get really big.
44" minimum height requirement in place, which is rather understated for a big ride.
Thrill level: 6/10
6
Space Mountain

It's an indoor roller coaster in the dark and the 1st roller coaster in Florida, yet you might only go up to 28 mph, but it's a space themed coaster, and that means darkness included, so with that it seems faster and more thrilling, yet it's a great medium for a lot of Disney coaster lovers.
Though you have to be at least 44" tall to ride, so not for very many little ones.
Yet in 2018, during Mickey's Not So Scary Halloween Party, Disney gave the ride a nighttime seasonal overlay by turning off all the star and galaxy effects as well as the energizer tunnel lights to make the ride even more thrilling.
Yet they temporarily renamed it Deep Space Mountain.

Thrill level: 5/10 (6/10 during the Halloween makeover)
The Disneyland version is better
The Disneyland version has speakers in the cars for the onboard soundtrack.
7
Crush N' Gusher
A series of water coasters at Typhoon Lagoon, the ride has different levels, but all provide thrills for everyone, though the minimum height requirement is 48", so little kids are not tall enough to ride.
Thrill level: 4.5/10
8
Avatar Flight of Passage

This may be the most magical ride of all time, but in terms of intensity, this ride is a fair scale when compared to others(though extreme for those afraid of heights and/or prone to motion sickness), though is a simulator, though you sit on these seats like you do on a motorcycle, and it does simulate flying and falling and the feeling is very realistic, so those who are afraid of heights, are prone to motion sickness and have other health problems and/or are pregnant should not ride.
A 44" minimum height requirement is in place.
Thrill level: 4/10
9
Big Thunder Mountain Railroad

Big Thunder Mountain Railroad is a mine train roller coaster located in Frontierland at several Disneyland-style Disney Parks worldwide.
It's a mine train roller coaster in Frontierland, and it's one of the medium grade coasters appealed to many park guests.
The theme fits the ride.
Thrill level: 4.5/10
I really liked this ride!
10
It's a Small World

It's a Small World is a water-based dark ride located in the Fantasyland area at the various Walt Disney Parks and Resorts worldwide; these include: Disneyland Park in Anaheim, California, the Magic Kingdom at Walt Disney World Resort in Lake Buena Vista, Florida, Tokyo Disneyland, Disneyland Paris, ...read more.
HOW is this on here?
There are no thrills on this ride whatsoever.
Thrill level: 0/10
Whoever put it here is a big baby that hates dolls and is scared of them.
This doesn't even qualify as a thrill ride.
The Contenders
11
Primeval Whirl
It's a wild mouse coaster, and the 1st coaster at Animal Kingdom.
The layout looks easy, but is deceiving, the turns are very sharp and jerky, so those with bad backs, necks or heart problems should bypass this ride, and to add to the thrills, the cars spin, and unlike Mad Tea Party, you can't control the spinning, as it's automated, so those prone to motion sickness should not ride.
Yet the minimum height requirement is a surprising 48", so kids will not be tall enough to ride anyway, and they mean exact.
Even a millimeter below that and they won't let you on.
It's not an extreme ride, but the hairpin turns and the spinning make for one thrilling ride.
Thrill level: 4.5/10
12
Splash Mountain

Splash Mountain is a log flume at Disneyland, Tokyo Disneyland, and the Magic Kingdom at the Walt Disney World Resort, based on the characters, stories, and songs from the 1946 Disney film Song of the South.
It's one of the most beloved Disney rides, and is very colorful, yet thrilling and there are a few drops, and a 50' drop that may get you wet.
Thrill level: 5/10
13
Dinosaur
The EMV ride takes you back in time on a quest to find a carnotaurus before the meteor strikes, and yet the ride is extremely rough and goes fast on some parts, and there's a scene in the end that'll scare you, along with a drop before going back to the present.
It's both thrilling and scary at the same time.
Thrill level: 4.5/10
This ride was very boring and too slow
14
Seven Dwarfs Mine Train
This roller coaster is the most intense ride and attraction in Fantasyland at Magic Kingdom, so it might take little ones by surprise.
The minimum height requirement is 38", and those starting out on roller coasters might want to try the Barnstormer 1st, and if they like it, then they might love the mine train.

Thrill level: 4/10
This ride sucks
15
Test Track
You go in this car and test your car skills and near the end, for the finale, you go full speed outside with banked turns and an acceleration of up to 64.9 mph (a normal driver can hit that speed on the interstate with ease however), and then they check your skills and make a commercial out of your test.
It's a perfect ride for those who enjoy some thrills at Disney, although it's the fastest Disney ride of all time.
Thrill level: 4/10
16
Peter Pan's Flight
As it's name says, there is not only the representation of flying, but also the sensation of flying, and it's in the dark at the same time.
Thrill level: 1/10
This DOES NOT qualify as a thrill ride.
17
Star Tours: The Adventures Continue
It's a motion simulator, and like many, you don't move much, the image creates the illusion of motion, and it's a good intensity for simulators and Disney rides.
Despite not actually moving much, it has a height requirement of 40", many little kids are able to ride.
Thrill level: 4.5/10
18
The Barnstormer
It's a kiddie coaster and the perfect indroduction for little kids starting out on roller coasters.
Though a 35" minimum height requirement is in effect.
Thrill level: 3/10
19
Astro Orbiter
It's a spinning ride like Dumbo and Aladdin, you sit on these Buck Rogers-style rockets, but you spin much higher and faster.
There's no height requirement, but you can control the height and speed if you want comfort.
Some kids might wanna try Dumbo and Aladdin first, and if they like those, then they might wanna try this.
Thrill level: 3/10
20
Soarin'

It's a simulator ride that simulates flight, and being so awesome, it's no wonder it's one of the most popular rides at Epcot and Disney World, so it was a success.
It also has fans and sprays to add to the realism with the sensations of wind and nature.
The initial rise can be surprising, and those who are afraid of heights and/or are prone to motion sickness should not ride, and a minimum height requirement of 40" is in effect.
However, it is a very mild ride(except to those who are acrophobic or prone to motion sickness).
Thrill level: 2.5/10
21
Pirates of the Caribbean

There is a small drop in the dark, so that can be surprising and scary to little ones.
However, there is no height requirement, so anyone can ride at any height, but it's not for those prone to back or neck problems due to the drop.
Thrill level: 2.5/10
22
Frozen Ever After

There are 2 small drops, and the 1st one is where you go backwards, so that can be a bit much for little ones, even little Frozen fans.
Thrill level: 2/10
23
Mad Tea Party
Known famously to people as the teacups, this ride you spin on teacups and spin right round like a record teacup.
And your teacups are on spinning tables, and with all spinning, those who are prone to motion sickness or have health problems should think twice.
Although you can control the spinning.
Thrill level: 2/10
24
The Magic Carpets of Aladdin

The ride is like Dumbo, which is annoying because this one is unoriginal, but the spinning and heights puts its thrills.
Thrill level: 1.5/10
25
Dumbo the Flying Elephant
A classic for little ones, very perfect for little ones who love Disney characters and haven't tried out bigger thrill rides yet.
Thrill level: 1.5/10
PSearch List