Philippines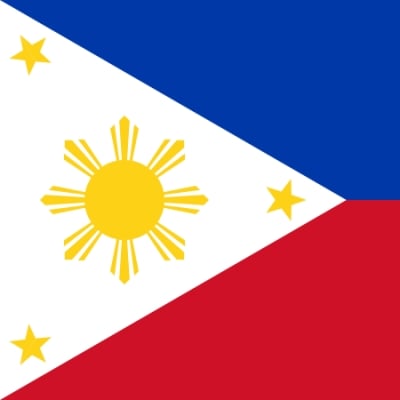 Found on wikimedia.org
Info
The Philippines was established in March 16, 1521 and named in honor of a Spanish King whose name is King Philip of Spain II. It is located at Asia, specifically at Southeast Asia. The capital is Manila. 89% of the people there currently are native, while 11% of people there are foreigners.
Comments
Top
Popular
Newest
The Philippines has a very diverse culture. The people are the most loving, friendly, caring, respectful, family oriented, faithful, conservative, etc. Not racist at all. Uses respectful words (words used for the elders or anyone who is older than them even just for a year) "PO and OPO" which literally means YES but in a respectful way. They use a gesture for greeting the elders, "Mano" where they would place the elders' hand unto their forehead as a sign of respect. The children are not allowed to shout and talk back to their parents or elders. People who are older than them are to called Uncle/Aunty/Ate(Big sister)/Kuya(Big brother) even if they are not related, just to show respect. Children are often disciplined and rarely spoiled. Filipinos are very family-oriented, centers for the old are dead businesses. The Philippines is a mixture of almost everything. Some Filipinos have Chinese(Tsinoy, Tsinita), Spanish(Tisoy, Tisay), and American blood, usual Filipinos ...more
Friendly and very hospitable.
When in bad / worse times Filipinos tend to laugh everything away and be happy.
Approachable.
Family oriented, once you know them better, they will treat you as their family even not by blood.
Respect foreigners and never look down to any other race.
Only disrespects you when you disrespect them.
Good at patience.
Not afraid to embrace foreigner's culture and race.
The food.
The places.
They love to share.
Fiestas
Beaches
English speaking people
The cities might be a little dump, but there are parts and places that are worth spending for your own pleasure and entertainment but the best places found outside the city or the NCR ( National Capital Region )

Filipinos are just normal people like any other Asians.
I have lived in South Korea and traveled to many other places in Asia including Singapore, Malaysia, Hong Kong, etc. However, I think it truly is the people and natural scenery that set the Philippines apart from the rest. Never in my world travels have I come across people as friendly and hospitable as the Filipinos. I love how easy it is for them to smile and laugh. I love how family oriented they R.I love how they wouldn't think twice of inviting you to eat and drink with their family and friends. I was once on an island off of Bantayan and a group of cousins invited me to play volleyball with them. Then one of their fathers told me to come over and enjoy seafood lunch and beer with the entire family. Before I left, he pointed his finger over my heart and looked at me in the eyes and said, "You are a good man." That will forever be a moment that will remind me of the beautiful people of the Philippines and the inspiring scenery, from the mountains to volcanic lakes to pristine ...more
Why I choose Philippines, because there is no word can explain how the Philippines grow into a much stronger and better country than it was before, it is not that I'm bias because I'm a Filipino. The Philippines excel tremendously, it the home of exceptional talent, best mangoes, best beaches, and it is the only Asian country that speak, spoke English language fluently. There is no place like it the world. I know that the Philippines will excel more in the future.

"Its More Fun In The Philippines"

I will be on your side through ups and down in achieving your goal to the top. PEACE!
Philippines choirs are really good one of the best choir is The Philippine Madrigal Singers or also known as the MADZ. They already proven their worth many times over in performing in world stage, in fact they are one of the most awarded choirs in the world and Asia and won many international competition, and their list of impressive wins still growing. With The Philippine Madrigal Singers growing list of achievements, the MADZ is considered to be one of the best choirs if not the best in the whole world.


I love the the hospitality and the togetherness of people. It doesn't matter where one is in the world and if filipinos bump into each other, the first thing that comes to mind is to ask if they are a filipino, and if they are, they would talk like they've known each other forever. The best about filipinos is when a stranger turns up at their doorstep, they won't ask who you are, they let you in and offer you a drink and ask if you already have eaten then they'll start asking that's part of the filipino culture. Compassionate people as well.
1. We, Filipinos, are very hospitable to foreigners.
2. When we made a mistake, we always tend to fix it right away.
3. We love to cook delicious foods like sinigang, sisg, adobo, bicol express and pansit.
4. Overseas Filipino Workers are the most hardworking and most caring.
5. Talented, as always. We love singing, dancing, acting, etc.
6. Best vacation spots like Chocolate Hills in Bohol, Mayon Volcano in Albay, Boracay.
7. A strong sense of humor.
8. We have great parades, feasts and entertainments.
Not so ordinary but extravagant country.. A country with people of smiles

One great country living all the traditions and wealth of each culture especially with its religion, very devoted and loved.

It's a place and where your home is
Every other country are simply beautiful in their own ways, no doubt, but the Philippines is one of the best.

- The people are amazing. I may not speak for all, but they are really easy to get along with, friendly and approachable, despite the current problems they are facing.

- They have a mixture of diverse culture as a result from being a former colony of Spain and USA, that it is nearly impossible to distinguish their real, original identity of who they were, making them look left-out in Asia. That's what makes them a Filipino.

- The country has a lot of wonderful tourist spots, from historical places to refreshing beaches.

- They celebrate holidays, such as Christmas and New Year, the best.

- They are also a peace-loving nation.

- Who hasn't heard of Manny Pacquiao?

- English is widely understood in the entire country. Even the uneducated, they can still speak and understand it. In fact, most are confident with their English. ...more
English as 2nd language, paradise islands with white crystal clear azure waters, powdery white sand, tropical climate, great food, shopping centers, has the longest season of Christmas, people here seems to have no problems... They just smile
The Philippines deserved to be on Top in Asia... Because The Philippines is the only country in the world where you can find the welcoming, happiest, beautiful, gratitude thinking, friendly, helpful, gorgeous and hospitable people which reflects in the beautiful and fantastic nation... Philippines is the home of history.. From the first travel of Magellan to discover the world in ancient time of world history which happens before the revolution time of Europe... Philippines is already the historical nation in the world history... Asside from historical angle of this gorgeous country, the hidden paradise are within the geological phase... Philippines are so gifted in terms of landscapes or landmarks, pleasing wheather, amazing water bodies, and the most important is having a hospitable people with fear in God, and for having a core values including good attitide, characteristics, gratitude, peace loving citizens, country loving, and for giving importance in patriotism, bravery, and ...more
Philippines is simply beautiful than other Asian countries - nitro26
1. HAS ONE OF THE NEW SEVEN WONDERS OF NATURE
2. Philippines IS THE MELTING POT OF THE WORLD... THEY HAVE MIXTURE OF EasterN AND WESTERN CULTURE
3. HAS THE FRIENDLIEST PEOPLE ON EARTH
4. THE BEAUTY CAPITAL OF Asia IN TERMS OF INTERNATIONAL PAGEANT
5. HAS THE MOST BEAUTIFUL ISLANDS AND BEACHES IN THE WORLD
6. FILIPINOS ARE HARDWORKING CREATIVE AND RESILIENT
7. AMONG AsiaN COUNTRIES THE Philippines ALWAYS ADVANCE IN INTERNATIONAL COMPETITIONS
Filipinos are naturally talented especially when it comes to singing. And we have best sense of humor around the world.
I live here in the Philippines and I am a chinoy and the english here is very clear so come to the Philippines and don't forget to visit
El nido
Boracay island
St paul subterranean river
Mactan island and
Chocolate hills
Say mabuhay when you arrive at the airport
Mabuhay means hello
So come here to the Philippines but be careful cause there are many motorbike thieves and when you go snorkeling you can see beautiful fishes and jellyfishes so comment my comment when you think it is really the best place to go
I can say that philippine is the best place in asia because they are not cheating other culture maybe they have the other traditions from other countries just because the foreigner gave it to us without any doubt. And also that's why other country want this place because the people and places here are very natural made by god this place is very beautiful no need a surgery for the people, no need a construction for the places to visit the essenceof being natural will always appear
Filipinos are clannish so family welfare is on top of their priority list.
Resilience is the hallmark trait of Filipinos. In times of calamities, they can still afford to smile while helping one another get over the crisis.
Fiilipino overseas foreign workers can be found virtually in most countries of the world because of their good skills, talents, and proficiency in English.
Under the helm of development-oriented and incorruptible leaders, the Philippines outpaces all Asian countries with its GDP growth rate 7.8%.
Above all, the majority of Filipinos are united in their firm faith in God.
The philippines is a very great country, great people, beautiful nature, very hospitable, talented, brave, amazing history. When I first saw this country when I'm at america, I fell in love at first sight, its shape looks like a chopped dog when you saw it on the map.. Even though there is a heavy traffic in edsa, I still love it.. On the first day of my journey in this country, I was captivated on its natural beauty.. For me, the philippines is deserving on this rank one as the mopst beautiful country in asia.
Great people, great food, great places... AND... My soul mate live in this country...
Well, filipinos are really creative and intelligent..
Philippines is beautiful!
Home of beauty and success..
.. Philippines is a nice country with lots of nice people living in it.. Speaks English fluently. :))
The people here are very accommodating and caring.. A catholic country.. Very religious and have faith in our Lord Jesus Christ..
It seems to me that Philippines' education system is merely an inferior version of the more sophisticated, American version. I am Filipino, and am strongly opposed to the teachers' greed of authority and power, enough that they would hit students and such who simply do not have the mindset to sustain a grade primarily based on discipline. Their education system is not only boring, but they are not TEACHING kids how to learn. They shove a bunch of multiplication tables down their throat and shove them down their throat. That is quite disagreeable. The Philippines needs more creative, young binds to boost and solve the problems of corruption and poor infrastructure. It needs more innovators and inventors, not simply boring formulaic people who are quite linear. I mean such people are acceptable in tolerable amounts, but not as a dominance. Think of the best countries in the world and look at their education systems and compare them to the countries not faring as well. Merci, et Bon nuit.
YEAH! Mabuhay PILIPINAS! Although Philippines is the most corrupt country in the world, They have the most Talented, Hardworking men and women I Ever seen! So thank you Philippines I am a Half Filipino and I am PROUD OF that
Why is Philippines the best for me?... their are 3 reasons why: first its because of the most beautiful places (Land formation and body of water) design by God and the world class bio-diversity you can found in this country.. Second its because of Uniqueness you can found in this country their are unique arts, food, culture, tradition etc. and the most interesting history of this country, and the last and the best thing I can proud of in this country are the people the Filipino fighting spirit, because a lot of tragedy that can test how Filipinos are fighters and stable such us natural calamities like historical super typhoons, earthquakes, tsunami, historical volcanic eruption, etc. and man-made such as Wars, political issues, bullied buy big country, garbing of territory, poverty etc. but Filipinos are survivors they pass this trial, that is the reason why is the Philippines is the great and top country, its because of the citizen that symbolize how their country is the best one. ...more