Top Ten Male Asian Athletes
Here is a top ten list of the athletes in professional sports that are full or part Asian.

The Top Ten

1 Manny Pacquiao - Boxer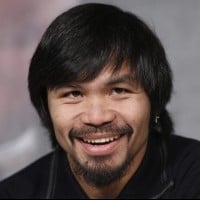 Emmanuel Dapidran Pacquiao is a Filipino professional boxer and politician, currently serving as a Senator of the Philippines. He currently ranks #4 in BoxRec's ranking of the greatest pound for pound boxers of all time.
Manny Pacquiao represents not only Philippines but the entire Asia in boxing... He proved that Asians can be one of the best boxers in the world...
Only Boxer to win 7 different major titles in 7 different weight divison. 2007, 2008, 2009 Fighter of the year. #1 Pound-For-Pound champion
Filipino
He's the greatest athlete EVER. He beats guys that look twice as big as him.
The Most Unbreakable feats earned by Warrior Athlete..
2
Suzuki Ichiro - MLB
He can hit, he can run, he can make amazing catches. Here's some stats for the 9 season's he's played: 200 hits, a. 300 batting average, a Gold Glove and All-Star selection EVERY YEAR so far, 2x batting champion, 1x MVP and rookie of the year. Holds records for most hits in a season (262) and most consecutive seasons of 200 hits (9). He also makes some great catches, and has robbed many people of what would otherwise be home runs or extra base hits. Holds Mariners record for consecutive games with a hit (27). I could go on and on...
Five years after his retirement, he must be in the hall of fame and the club team's permanent missing number.If he had been in the major league since the first career year, the ranking position would have been raised further.
He's a 5tool player. He makes the hall of fame on roller-skates. It's a shame he had to play for seatle
Can you even name anything in baseball that this guy can't do. He can run, bat, homerun...
3
Tiger Woods - PGA Tour

Eldrick Tont "Tiger" Woods is an American professional golfer who is among the most successful golfers of all time.
hahaha that list is a laugh ichiro suzuki number one how can tim lincecum be four spots below ichiro and kariya is retired. I had to choose over pacquiao or woods but I will take woods his controversy is so overrated and if he isn't the best golfer right now he will be when he is retired I had to decide over man-pac and tiger but in the end I took tiger woods
African American, Native American and Thai
4
Yao Ming - NBA

Yao Ming is a Chinese basketball executive and retired professional basketball player who played for the Shanghai Sharks of the Chinese Basketball Association and the Houston Rockets of the National Basketball Association.
Definitely the best Asian Basketball I have ever seen.
5
Taufik Hidayat - Badminton
I think lee chong wei & chen long more champion than him..
Taufik hidayat very handsome
Inventor OF Trick Shorts And King Of Back Hand
6 Hideo Nomo - MLB
7
Tim Lincecum - MLB
I think pitchers are the most dominant position in baseball. I don't think any Asian has won more awards(Cy Young) in baseball than he has. by the way you forgot to list Manny Pacquaio who is now being considered one of the best boxers of all time and is currently rated the best right now.
8
Lee Chong Wei - Badminton
He is arguably one of the best badminton players of all time. He never gave up I the Olympics.. He played with pride and dignity for Malaysia. Definitely in the top 5.
The most successful badminton player ever, despite losing in big tournament, he never gave up and always consistent in his play.
He is the great badminton player all time
9
Hines Ward - NFL
beast if there's a fight he not afraid to jump in it... just look at Super Bowl 2009
10
Park Ji-Sung
The best asian footall player
The Contenders
11 Paul Kariya - NHL
12
Lee Yong-dae - Badminton
Too may records he made on badminton
13 Andik Vermansyah - Football
14 Tantowi Ahmad - Badminton
15
Ron Darling - MLB
Hawaiian, Chinese and Caucasian
16 Michael Chang - Tennis
17 Lin Dan - Badminton
18 Chris John - Boxer
19 Liem Swie King - Badminton
20 Dionysius Hayom Rumbaka - Badminton
21 Simon Santoso - Badminton
22 Park Joo-bong - Badminton
23 Kim Moon-soo - Badminton
24 Kiatisuk Senamuang - Football
25 Cristian Gonzáles - Football
PSearch List