Top Ten Cincinnati Reds Players
The Top Ten
Pete Rose, IF/OF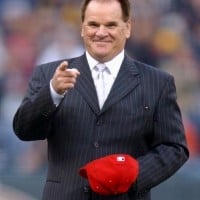 So what if he gambled, you can't argue with his numbers.
MOST HITS! Ya'll should know that! It's quite obvious to tell you the truth! Most hits! DUH!
Best Reds player all time. Too bad he makes poor decisions from time to time.
It's a good player
Johnny Bench, C
What a great ball player! He has been my HERO since I saw him at spring training when I was 12 years old!
No player ever owned his position like Bench. His 1976 World Series was legendary. Also a great ambassador for the team.
Johnny is my idol. because in a softball catcher. I love the reds. I also love catching. Everyone I know is wishing the best of luck to the reds.
Greatest catcher ever! Greatest Red ever! And pure class all the way. Let's don't forget homered final at bat also
Ken Griffey Jr.

George Kenneth Griffey Jr. nicknamed "Junior" and "The Kid", is an American former professional baseball outfielder who played 22 years in Major League Baseball.
More of a Mariner, but still great for the list
Arguably greatest player ever, but had his share of injuries with the Reds, that is why he is not higher on the list
Pitch, crack, gone
Frank Robinson, OF
frank may have world series rings in Baltimore, but he'll always be number one in the hearts of Reds fans.
Its Joeysworld
He may have World Series rings in Baltimore, but he's stilll number one in he hearts of Cincinnati Reds fans/
Its Joeysworld
I was wrong, you're right. I looked at the stats, and his ten years with the Reds clearly included better years than his six years with the Orioles. He made a Triple Crown (for whatever that's worth) in his first year with the Orioles at age 30, but he had three consecutive great years in his mid-20s. I guess I'm guilty of being nostalgic about my own childhood years when Frank was part of a dominant Orioles team.
Had his best years with the Orioles but was a great Red too
Barry Larkin, SS
its a crime if he is left out of the Hall of Fame
Maybe not the "Greatest SS of All Time" but I wouldn't have a worry in the world with #11 playing SS, with it all on the line!
Can you say "MVP"
Joe Morgan, 2B
arguably the greatest second baseman ever
Tony Perez 1B
Probably one of the best "team" players of all time. Great at keeping the newer players on a more even keel.
Heart of the big red machine. 1967 thru 1977 eleven straight years of 90+ rbi's. Unheard of in the 60's and 70's. Not Mays, Aaron, McCovey, Killebrew, Mantle, Robinson, or Jackson accomplished this.
Hall of Famer, first baseman on Big Red Machine
Heart of the big red machine. 90+ rbi's from 1967 thru 1977 no other player of his era did this, not Mays, Aaron, McCovey, Killebrew, Mantle, Robinson, or Jackson. eleven straight years of 90+ rbi's unheard of in the 60's and 70's.
George Foster
great Reds career especially in 1977 when he hit. 320 with 52 bombs
Joey Votto, 1B
Already one of the best pure hitters in Reds history, and he's still cementing his legacy. He should already be in the top 10.
Joey Votto is AWESOME!
If Votto is still wearing a Reds uniform in 2021, he will be near the top of this list.
Joey Votto is the new reds machine
Jim Maloney
Gene Alley, Pittsburgh shortstop to me that Maloney was as good as anybody in the 60s. Koufax, Gibson or any others. He batted against all of them so I take his word on it. If healthy and pitching in the 70s Maloney would be in the Hall of Fame
The Contenders
Tom Browning
Dave Concepción
Best jumping, play making short stop ever!
Best short stop in his day
Eric Davis
Could do it all. Nobody played at such a high level of defense while smoking homers and grabbing bases. His reckless abandon shortened his amazing career
Vada Pinson
Ted Kluzuszki
Greatest slugger of his era!
Ernie Lombardi
Brandon Phillips
Edd Roush
Sean Casey
Edwin Encarnación
Bronson Arroyo
Cesar Geronimo
What an arm! He could catch a ball anywhere in the outfield & throw batter out at any base. Wow!
Joe Nuxhall
By far the best
Shin Soo Choo
What? One solid season with the Reds and then grabs the big $$$ in free agency.
Paul Derringer
PSearch List