Top 10 Guitar Models of All Time
The Top Ten
1
Fender Stratocaster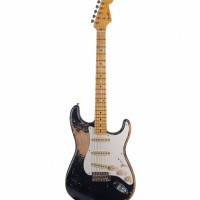 2
Gibson Custom 50th Anniversary 1959 Les Paul Sunburst Reissue Golden Cherryburst Electric Guitar

Simply the Best
3
Gibson Les Paul

All my favorite guitarists use the les paul. Jimmy PAge and Slash both used a les paul and a EDS-1275 (my next favorite guitar)
4
Rickenbacker 360 Electric Guitar

"The sound of a Rickenbacker 12-string is a sound in it's self." -George Harrison
5
Fender Telecaster

The telecaster is a versatile classic. It has a unique design with a great sound that has lasted through the ages. Merle haggard and Johnny greenwood of radio head both play them. Enough said
The greatest guitar ever. I have one that has amazing sound.a tiny little paint chip witch makes it look somehow even me awesome and half of rock music was made on the tele
Ohhh the fender strat is niwhere near the fender or squier tele
6
Fender Jaguar

7
Fender Custom Shop Stratocaster Pro Relic Electric Guitar

Stratocaster (Standard version) has better headstock with better tuning keys. Straight across the line. Which actually makes it little bit of better than Les Paul (standard) tuning keys. Cause les paul's tuning could be frequently out of tuning than fender.

Another great thing about Stratocaster is that it has built in vibrato arm. Which les paul doesn't have.
8
Epiphone Casino

The Beatles, Paul Weller, Noel Gallagher, have all played the Epiphone Casino at some point in their careers. Great for that jangly guitar sound typical of British music over the years.
9
Schecter Solo ii Custom

10
Schecter TS/H-1 Classic

The Contenders
11
Gibson Flying V Electric Guitar

LOVE THESE GUITARS! If I were on stage right now and had a pick of any guitar, I would choose this purely because they look so nice.
This baby can shred, rock, PLAY ANYTHING! and is really attractive
12
Ibanez Jem

13
EVH Eddie Van Halen Frankenstein Replica Electric Guitar

Eddie van halen guitar is sick:D. Nothing can top it idk y everyone is voting for a stupid gold top les Paul? :(
14
Jackson King V

15
Gibson EDS-1275

16
Fender Squier J. Mascis Jazzmaster

17
Schecter C-1 SLS Elite

18
Schecter Ultra III

19
Fender Jazzmaster

20 Gibson Les Paul Double Cutaway
21
Gibson Custom VOS SG Custom Electric Guitar with Maestro Tremolo

22
Gretsch Guitars G6128TDS Duo Jet Electric Guitar With Bigsby

23
Gibson Explorer

The best of the best
looks cool
24 PRS PS #2032 Private Stock Single Cutaway Hollowbody 1 Electric Guitar
25
Gibson Firebird X

It's the best guitar I have ever seen! Its really light and comfortable an plays rally fast. It sounds awesome and you feel like a pro while playing on it!
PSearch List