Top Ten Pittsburgh Steelers Players
The Top Ten
Mean Joe Greene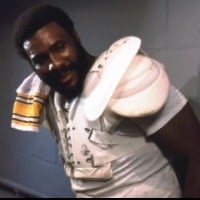 Charles Edward Greene, better known as "Mean" Joe Greene, is a former American football defensive tackle who played for the Pittsburgh Steelers of the National Football League from 1969 to 1981.
I can't knock anyone on this list cause they're all Steelers, but Mean Joe has got to be at the top. If you saw what the Pittsburgh Steelers looked like before Mean Joe was drafted, it was sad. He was the best player on the best defense in the history of football and changed the Steelers from losers to winners!
Mean Joe Greene he is part of history. New guys are good but Green is the Best
He's cool! He's my favorite definitely
I think joe Greene is the best player of the team and I think that this list is really accurate
Troy Polamalu

Troy Aumua Polamalu is a former American football strong safety who played his entire twelve-year career for the Pittsburgh Steelers of the National Football League.
I think troy polamalu is the number one player and thats what other people should think too!

How can you not like troy polamalu? He's hard working and he's a beast on the field! One of the greatest football player of all time
There ain't no other safety that can play like polamalu he is the main reason why the steelers had a great aggressive defense in 2009 do to his interceptions and great forced fumbles, and one of the main factors the steelers won Superbowl 43 kinda ironic but very well deserved
How can you not vote for the greatest Saftey ever? There is not one player in the league with the same intellegence that Polamalu has. Best ever, no competition...
Ben Roethlisberger

Benjamin Todd Roethlisberger, Sr., nicknamed Big Ben, is an American football quarterback for the Pittsburgh Steelers of the National Football League.
Big Ben is just so awesome he is the best quarterback on the steelers team
He is my favorite player and I think he is a really good quarterback.
Makes playes when they are needed, and a star and coach on the field
I like your playing
Jack Lambert
I think that he really should of been in the #1 spot! To me, mean Joe Green didn't play anywhere near as good as Jack Lambert! I mean at least put him in the #2 spot for sure!
just the best team player ever would die for the team
Reflected the city in which he played. Rough, tough, no nonsense and intense. His style of play was emulated by every high school linebacker in America.
Together, Jack & Terry were the best I can remember, to make them winners on both sides of the ball (not that they both didn't have a lot of helpers).
Terry Bradshaw

he lead us to 4 super bowl but ben is kinda canging on
Led the Steelers to 4 Super Bowls in 6 years
He is way better than Big Ben and I'm a Steelers fan.
He brought the Steelers from lovable losers to super bowl winners.
Jerome Bettis
This guy trucked Brian Urlacher
He's the bus no-one can stop him
He is in the hall of fame
A mack truck who was also nimble of his feet
Franco Harris

Franco Harris is a former American football player. He played his NFL career with the Pittsburgh Steelers and Seattle Seahawks. In the 1972 NFL Draft he was picked up by the Pittsburgh Steelers in the first round, the 13th selection overall.
2 words: Immaculate Reception
Mean Joe Greene said they didn't start winning until Franco Harris.
With out him they would have not won all those super bowls
The man, and he's Italian. What's better than that?
Lynn Swann

Lynn was the most acrobatic and graceful receiver in NFL history. Truly a treasure of the best Steelers team in history.
He was probably the best wide receiver there ever was. Between him and Jerry Rice.
Its Lynn Swann for me. Probably the greatest athlete in NFL history. Who catches the ball out of bounds in midair like a ballerina then lands back in. He played on another team other than Pitt he would have crazy numbers. He also played half his career in a dead ball era where wrs couldn't get into routes. The receptions he made vs Dallas in the first SB matchup in 76 were when the dB's could do like jack Tatum.in my opinion
Hines Ward
He is simply Unstoppable. Agreed without that amazing pass from Ben Roethlisberger Ward would not be able to make such huge runs leading to Touch Downs
My favorite! One of a kind player. He's an outstanding receiver, committed to his team, and does everything with a smile!
Great consistent player with pittsburgh
Steeler4life
John Stallworth
The Contenders
Mel Blount
Mel Blount is my #3 Top Pittsburgh Steeler of all-time. He was the best DB of his era & caused the NFL to change the contact rules of the game. Mel still played at a Pro Bowl level after the rules changed.
Rod Woodson
Mike Webster
Iron Mike made great blocks for Franco Harris.
Your nuts! Greene, Lambert, Blount, Bradshaw, Woodson, Dawson, Swann, Webster, Harris, Polmalu.
.. Ben=not top ten! Next 5 = Ham, Ward, Shell, Greenwood, Stallworth.
Antonio Brown

Antonio Brown is an American football wide receiver and punt returner for the Pittsburgh Steelers of the National Football League. He is often regarded as one of the best Wide Receivers in today's game in the NFL. Brown was selected 195th overall to the Pittsburgh Steelers in the sixth round. ...read more.
He can run really fast and can do front flips catch really good
Should easily be #5! (at least! )
He is really good and makes a lot of good plays
You are the best player on the team
Jack Ham

Jack Raphael Ham Jr. is a former American football outside linebacker who played for the Pittsburgh Steelers of the National Football League from 1971 to 1982. He is considered one of the greatest outside linebackers in the history of the NFL.
He was considered the best linebacker. No offense to lambert
The best
James Harrison

James Henry Harrison Jr. is a former American football linebacker. He played college football for Kent State University and was signed by the Pittsburgh Steelers as an undrafted free agent in 2002. A five-time Pro Bowl selection, Harrison won two Super Bowls with the Steelers: XL and XLIII.
James Harrison has the most sacks for Pittsburgh Steelers.
Very aggressive and one heck of a power hitter
Really old but plays like he was 28 years old again.
Looks great in the 1960's jersey
William Gay

William Gay is an American football cornerback for the Pittsburgh Steelers of the National Football League.
This guy is not only a great player, but fun to watch he has the best td dance ever.
You are my favorite player!
Bobby Layne
Juju Smith-Schuster
He should be higher
Emmanuel Sanders

Emmanuel Niamiah Sanders is an American football wide receiver for the Denver Broncos of the National Football League.
One of the most up and coming Steelers Rookies in the league today! Hard not to love #88!
He has been catching ever thing in touchdown that how we one game
Greg Lloyd
Bad @$$ when the steelers started to get mean again after the lean 80'so and early 90's.
Mike Wallace

Andy Russell
LaMarr Woodley
Sign more for your fans
PSearch List