Top Ten Female Rockers
Beginning with the 70s to today, count down the top ten female rockers.

The Top Ten

1 Ann Wilson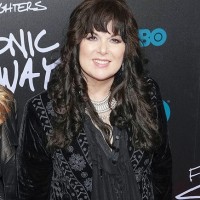 Ann Dustin Wilson (born June 19, 1950) is an American musician, best known as the lead singer and songwriter of the hard rock band Heart.
Every female rocker on the planet owes Ann and Nancy Wilson immense gratitude for kicking open the door so that they may follow. If Heart weren't around, Joan Jett, Patti Smith, Pat Benatar, The Donnas or The Bangles wouldn't be around either. No mystery here:These Rock Legends need to be in the Hall of Fame.
Absolutely agree, if wasn't for Ann & Nancy Wilson. The heavier genres wouldn't be what they are today. But I would be remiss if I didn't mention the Runaways, with greats like Lita Ford & Joan Jett. Even though they didn't have near as many hits as Heart. They too, paved the way for women in the harder genres.
Yes Heart is great, but when you talk about ladies kicking the door open, Have you ever heard of Suzi Quatro?
She kicked the damn door right off its hinges...
Wow! Finally, Ann Wilson is number 1, she is the best female rock singer I ever seen in my life, Go Ann Wilson, you rock!
2
Joan Jett

Joan Marie Larkin known professionally by her stage name Joan Jett, is an American rock guitarist, singer, songwriter, producer and occasional actress, best known for her work with Joan Jett & the Blackhearts, preceded by success with The Runaways, including their hit song "Cherry Bomb".
Joan Jett is one of the only women who are repeatedly called the "Queen of Rock" throughout their career. She is the only "Godmother of Punk. " At least she will always be featured as one of the top female rockers! She and Lita Ford practically invented the thought of female rockers!
Joan Jett is THE QUEEN of rock n roll! I've been a fan for over 25 years and no one rocks harder and with as much heart as she does. You can see, feel, and hear her rock n roll soul in all her music! There is no one who rocks better, harder, longer than Joan Jett!
Joan Jett is Amazing! Even now in this day in age, those thinking all these others new rockers are better are officialy insane. Joan Jett will always be number one on my list.
Joan Jett was more rock than any woman on this list and yes I saw the Wilson sisters on the list.
3
Nancy Wilson

Nancy Lamoureaux Wilson is an American musician, singer, songwriter, producer, and composer. She rose to fame alongside her older sister, singer Ann Wilson, as a guitarist and backing vocalist in the rock band Heart, which she joined in 1974.
Nancy Wilson is awesome. I was suprised to see her here and that people know her. I love her songs "I Can't Make You Love Me", "Don't Ask My Neighbors" and "Don't Let Me Lonely Tonight". Her voice in concert is amazing.
She is a lead vocal of These Dreams - Heart
Nancy,s amazing, her vocals are angelic
4
Amy Lee

Amy Lynn Hartzler, known professionally as Amy Lee, is an American singer-songwriter, classically trained pianist and composer. She is also the lead singer to the Arkansas band Evanescence.
Yeah, the rest of them are great (Why's P! Nk at 15? ), but Amy takes the cake for me. She has AMAZING talent (Have you SEEN how long she can hold a note? ), a terrific fanbase that never ditched her even after the hiatus, and the band has the potential to be the greatest as they were in the mid-00's. Not many of the women on here can compete with that.
Amy's voice is amazing, it sounds like whatever type of "Heaven" you believe in! She can one minute go from calm, low vocals, to stong, passionate voices, heard in songs like, "Wight of the World", "Lithium", and "Lost in Paradise" (and more, just the easiest to remember off the top of my head :P)
She is the only person on this list that is classically trained in piano, Sings operatically, Throws rock music behind that, and makes it work. She is a beautiful rockstar. She definitely deserves it!
Shes beautiful and has the most haunting voice... She also is the only singer that I heard which made me cry when hearing the songs "hello" and "the last song I'm wasting on you" kudos Amy
5
Pat Benatar

Patricia Mae Andrzejewski, known professionally by her stage name Pat Benatar, is an American singer, songwriter, and four time Grammy Award winner.
According to Billboard, she is the most successful female solo rock artist. Her voice was as powerful as Whitney Houston, she still would have been out even if Heart came out a few years earlier.
This lady was an absolute original and an inspiration to so many female artists to come later
Pat Benatar still has the pipes!
Great voice-vocal range.
6
Kimberly Freeman
Kimberly Freeman of One-Eyed Doll has a unique vocal range that absolutely rocks! She's super active on-stage, and puts on a fantastic show!
So much energy, so active, so entertaining in concert! Must see!
See her live in concert -- then you'll understand
7
Stevie Nicks

Stephanie Lynn "Stevie" Nicks is an American singer and songwriter, best known for her work with Fleetwood Mac and an extensive solo career, which collectively have produced over forty Top 50 hits and sold over 140 million albums.
I don't care what anyone says. When she struck out on her own solo career outside of Fleetwood Mac, it make everyone listen to her solo songs and think,"Okay. So this is her true character."
Her voice and songwriting, that's raw talent right there. Give her a microphone, and her sound and words will have you swept away into a spiritual and emotional journey.
She has quite a bit of achievements. She was the only Female Rock Star to have a number 1 album with a group (mirage) and solo (bella donna) she worked her ass off, and it about killed her
Steve nicks is undoubtably the goddess of rock! Yeah she doesn't rock the hardest but every word she writes and sings has the most feeling and rawness than any others musician ever
8
Janis Joplin

Janis Joplin (1943-1970) was an American singer who rose to fame as the main singer of acid band Big Brother and the Holding Company. She was known for her eccentric hippie style and psychedelic rock music.
I don't understand this. What Janis brought to the world of rock and roll no one above her in this list was able to. Janis Joplin was ranked Number 28 in The Rolling Stones Greatest Artists of All Time, and I have not seen nay of the others on this list. Janis Lyn Joplin, "The Queen Of Rock and Roll, " as well as ""The Queen of Psychedelcic Soul, would've been better recognized if it weren't for her untimely, tragic death before the release of Pearl, which was to be her biggest breakthroguh yet. She soared through the 60s and the 70s and anyone who saw her live, knew of her strength and power on strong, the way she knocked you straight off your chair with her presence, even though she was known to be an insecure, vulnerable girl. Her music is timeless, her voice was one of a kind and so powerful. She has the diversity and the right to be classed as Number One on this list, just as her friend Jimi Hendrix was ranked number one for greatest Artists of All. I'm sorry, but she was ...more
She brought more power, depth and passion to her singing than anyone before or after her. She fully expressed the pain and longing, strength and fragility of the women of her generation, and her music and message is as powerful today as it ever was.
Those Top 10 on this list are cool, but nowhere NEAR the caliber of the following: Janis Joplin, Lita Ford, Joan Jett... With exception to Lzzy Hale. She will be an Icon in the future!
Janis should be number one and everyone knows it... She sing with so much feeling and soul... Her words puts you in a trance.. Janis is one of the rock Goddess
9
Hayley Williams

Hayley Nichole Williams is an American singer, songwriter and musician. She is best known as the lead vocalist, occasional keyboardist and primary songwriter of the American rock band Paramore. In 2020 she started a solo career.
Hayley Williams is so awesome. She is very talented at a very young age. I have so many friends who are fans of her great powerful music.
Her voice is amazing! Paramore is still great now because of hayley still in the band. She's better than avril no matter what
Hayley is the best female rocker ever! The easy she commands the stage is great avril is a close second
So underrated vocally... She Is one of few singers that can actually sing live as well as in the studio...
10
Grace Slick

Grace Barnett Slick is an American singer-songwriter, musician, artist, and former model, widely known in rock and roll history for her role in San Francisco's burgeoning psychedelic music scene in the mid–1960s.
This list is disgraceful. Half of these women ARE NOT "Rockers"!
In the spirit of this list, I vote for Maria Callas. She has a better voice and is more popular than anyone listed here!
Avril Lavigne, indeed!
Grace set the standard that the rest of the list aspired to.
This is rock, not pop.
An archetype... along with Janis...agreed... rock n roll is not pop...
The Contenders
11
Lacey Sturm

Lacey Nicole Sturm is an American singer and songwriter from Homestead, Florida, raised in Arlington, Texas. She is co-founder and former lead vocalist of the hard rock band Flyleaf.
It's a huge decision between Lacey, Hayley, and Amy for me, but I have to say Lacey because she has heart and passion, and even though she's taking time off music to take care of her child and be with her family, she still cares about her fans. She's easily one of the most inspirational female rock stars ever.
YES! I LOVE flyleaf. One of the most amazing bands in the world. She has a voice like no one else and can scream better than any other female I have heard yet.
Best singer I ever heard. I hope she makes music until it hurts her too much to do it.
12
Taylor Momsen

Taylor Michel Momsen is an American musician, singer, model, and former actress. She is known for portraying the character of Jenny Humphrey on the CW teen drama series Gossip Girl and Cindy Lou Who in the film How the Grinch Stole Christmas!.
It's Taylor! She has the greatest voice and style. Her voice is so awesome. And I usually listen her live. Her voice is so raw and amazing. Even more experienced singers can't sing like her live. GO TAYLOR!
Her voice is close to Courtney Love's voice. Also, she's just a teenager.
She's bringing the old Rock back! M/
Amazing she should be second
1. Amy Lee
2, Taylor Momsem
13
Lita Ford

Lita Rossana Ford is an English-born American rock guitarist, vocalist and songwriter, who was the lead guitarist for The Runaways in the late 1970s, an all-female rock band formed by Joan Jett and Sandy West. In the 1980s Lita Ford embarked on a solo career.
Lita Ford belongs in the top 5... period. She may not have had as many hits as some of these other female rockers, but that doesn't mean she wasn't fantastic!
Lita Ford is a true legend in my opinion and I cannot believe that she is as low on the list as she is. She should be way up higher!
Lita was rocking before avril and all these other gals. Lita had a much marvelous career than joan also.
How is Lita Ford below Sheryl Crow? Hell of a lot better singer and rocker than her.
14
Debbie Harry

Deborah Ann "Debbie" Harry is an American singer-songwriter and actress, best known as the lead singer of the new wave and punk rock band Blondie.
Gave new wave a face. Pure attitude.
Loved her then and now!
15
Lee Aaron

Lee Aaron is a Canadian rock and jazz singer. She had several hits in the 1980s and early 1990s such as "Metal Queen", "Whatcha Do to My Body" and "Sex with Love".
This Canadian Metal girl turned jazz woman has out-of-this world vocal ability. She is way underrated.
16 Elena Siegman
17
Bonnie Tyler

Bonnie Tyler is a Welsh singer. She is known for her distinctive husky voice, resulting from an operation to remove vocal nodules in the mid-1970s.
The Queen of power ballads, the rasp she gets is reviled on by joplin. How she is not at the tip I don't know. Hits like holding out for a hero, it's a heartache, and total eclipse of the heart. She has such pure emotion to her voice its insane and unmatchable
THE female rocker should be number 1 on every list
18 Alana Myles
19
Suzi Quatro

Susan Kay "Suzi" Quatro is an American hard rock singer-songwriter, multi-instrumentalist, and actress. She was the first female bass player to become a major rock star, breaking a barrier to women's participation in rock music.
Are you kidding me?
A list of female rockers and no Suzi Quatro, this is sacrilege, How in God's name did you forget Suzi?
Do you see that thing in her hand?
Sorry Suzi for their ignorance, see yah in Red Deer Girl!
Top 5 easily. She's on fire! And she's a true rocker.
20
Tina Turner

Tina Turner, née Anna Mae Bullock, is a singer, dancer, actress and author, whose career has spanned more than half a century, earning her widespread recognition and numerous awards.
With a comeback that would become known around the world, Ms. Turner has dominated almost ever genre there is but she is known to many as the "Queen Of Rock & Roll".
She owned it like no other. The heart of Rock is in struggle. She has evolved over her life to embody the heart of rock.
My 3rd cousin is Chris Franz and I'm a huge fan of the heads and Tina rocks
She sang "River Deep - Mountain High, " for pete's sake. She clearly should be number one, it makes no sense to see her all the way down at 35 :(
21
Lzzy Hale

Elizabeth Mae "Lzzy" Hale is an American singer, songwriter, and musician. She is best known as the lead singer and rhythm guitarist of the American hard rock band Halestorm, which she co-founded in 1997.
I'm sorry but Avril topping her makes no sense sure Avril has a nice voice but Lzzys voice is so diverse, she can have a beautiful singing voice then she can scream and growl so controlled, she sings actual rock too not pop rock or pop punk, shes so genuine and not only can she sing she plays piano and guitar and totally embodies the female rocker persona. Shes my Idol and she deserves to be in the top 5 right next to the greats!
If anyone belongs above her on this list, maybe it's Joan Jett. Otherwise, she should be at the top.
She definitely deserves to be on the top of the list. A true rock goddess.
Way better than Avril. Really? Do you even need to ask this question?
22
Avril Lavigne

Avril Ramona Lavigne is a Canadian–French singer-songwriter and actress. By the age of 15, she had appeared on stage with Shania Twain; by 16, she had signed a two-album recording contract with Arista Records worth more than $2 million.
She's awesome pop rock artist she's got All different sides to her and you can be in a hyper mood or in a sad mood and listen to her she can be crazy proper rock and she still helps out with her charity!
Damn damn damn
Why everybody not vote
This this this
I wish you vote here..

I think avril have quality to reach top 3 on this list, her voice, look, and songs, is so damn good..
Avril really rocks! Her songs are really great and her lyrics are so inspirational. She is the best ever
She is one of the only female pop rock artists today and has paved way for artists such as Ke$ha and Katy Perry.
23
Chrissie Hynde
Chrissie is such a badass. Not to mention one of the best singer/songwriters in rock, with some genuine guitar chops as well.
For over all Rock 'n Roll attitude this woman is the best. She looked like she could kick your butt and then sing about it.
For overall rocker chops, I think Chrissie has it all: good singer/songwriter/can handle an ax.
She's special, so special - Give it to me!
24
Jen Ledger

Jennifer "Jen" Carole Ledger is a English drummer mostly known for playing in the band and being the co-vocalist for Skillet since 2008 when Lori Peters decided to retire from the band. ...read more.
Jen is the best.
First, she Sings and plays the drums, no one else on this list does that.
Plus she is such an awesome person and a great role-model. She probably head bangs more then any of these other people on the list.
GO JENNY!
She's sexy, a good drummer, and a good singer. Anything more to say?
Jen rocks. That's all you need to know.
Everything about her is awesome
25
Courtney Love

Courtney Michelle Love is an American singer, songwriter, actress, and visual artist. A notable figure in the punk and grunge scenes of the 1990s, Love's career has spanned four decades.
PSearch List