Basketball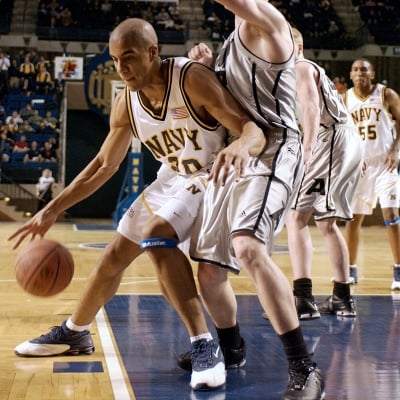 Found on wikimedia.org
Info
Basketball is a sport played by two teams of five players on a rectangular court. The objective is to shoot a ball through a hoop 18 inches in diameter and 10 feet high mounted to a backboard at each end.
Comments
Top
Popular
Newest
BASKETBALL IS VERY DIFFERENT FROM OTHER SPORTS. IN BASKETBALL ITS EASY TO SCORE that's WHAT MAKES IT FUN. IN OTHER SPORTS ONCE SOMEONE SCORES ITS OBVIOUS THEIR TEAM WILL WIN. IN BASKETBALL ITS DIFFERENT CAUSE THE SCORE IS ALWAYS CLOSE AND EVEN TAKES ONLY 1 SECOND TO MAKE A GAME WINNING SHOT. BASKETBALL IS REALLY GOOD EXCERCISE AND IT MAKES YOU USE ALL YOUR SKILLS. MICHAEL JORDAN BECAME THE GREATEST ATHLETE EVER BECAUSE OF BASKETBALL.
It has a good balance of physicality, (under the hoop), finesse, (just good Michael Jordan), and IQ (Magic Johnson). Although not a collision sport like hockey or American Football, there is definitely contact. You need to be able to sprint for as long as you are on the floor, since if you don't you could possibly give up an easy bucket. The combination of speed (Derrick Rose, Allen Iverson), strength (Shaq), and verticality (Blake griffin) make it in my opinion the most entertaining sport to watch. In basketball, a comeback cannot simply be gained by getting a lucky shot or rebound like in other sports. If there is a ten point difference, the losing team will have to literally outscore the winning team 11-0 to win. One shot doesn't do it.
Basketball is awesome! I've always loved basketball. I've never loved any other sport more, even when I was a little kid who didn't know what a layup was. It's not like soccer where all you do is run around and kick a ball. In basketball, you have to run and use your hands and feet. It's more exercise! I think ball control is most important, and I am best at dribbling the ball and shooting. That why I'm the star of my travel team who gets 20 points per game and 5 assists. I'm a guard who likes to cross up people and put them on skates a lot. :-D BASKETBALL FOR LIFE!
Basketball is the most hardworking sport because in soccer you can be famous in any league you play in basketball has different leagues but you can really only be famous in one plus you can actually win a game and not just end the game with a tie ain't no fun in that and some people think that it is easy to score why don't you step on a basketball court I have never seen a love for the game like in basketball
Basketball has the qualities of all the good sports. Running, Sprinting, not waiting an hour to score and definitely never has a boring 0-0 scoreline. In the NBA, the average score per team is around 95, and usually is very intense. It also contains dribbling, dunking, acrobatic moves, hard fouls and most of all, down to the wire game winners, not +5 minutes into injury time, or 17 seconds to go 20 yards... 1 shot, in or out win or lose. Just plain awesome.
I really love Basketball...it's the most dangerous sport...but from my fifth grade I've been inspired...and I think it's the best sport...It gives exercise to all the body parts including your brain...MY life is basketball and I can sacrifice anything for it...One of my aims is to make all the sports to be treated equally...especially in India because they give importance to only cricket...
THIS SOULDVE BEEN #1! Soccers just kicking a ball at a goal with your feet. Basketball actually requires hand-eye coordination, and requires actual skill. You have to be able to dribble and shoot a ball at a small hoop, while in soccer, the players have an 8 foot space to kick the ball into. Plus, in basketball, defenders are way up closer and defending others is harder because touchingly person the wrong way will get you a foul, and you an get fouled out if you pick up 5 fouls - mpgami
Basketball is a physical sport. It involves a lot of practice. It's a tough sport. I do not understand why soccer is the best sport. Really all you do is kick the ball or jog, which is literally walking. The only time when it gets physical is when you are on the break. Basketball is competitive in every part of the game.
My daddy plays basketball he says it good so I play at night when my parents are arguing, I put on my hoodie and turn up my favourite rapper. Eminem, I play til' dawn, I am so under-rated. I go hunting and I once shot a boar with a 360 flick, this is a minor achievement in my life. Once I got a deep flesh wound and I had to stitch it up in the wilderness with a fishing line and some rusty nails. I get straight A's, wake up at 5 and practice with gym and basketball. I also can squat 150kg.
Basketball, by far, is the best sport. All a person needs is a ball and a place to play. You really don't need anybody else to play with, just dribble and shoot. Sometimes I try to watch soccer on T.V., the players look like a bunch of ants running around. A lot of the players are out of view because the sport only focuses on the scorer and the goalie. Another thing that bothers me about soccer, is that they have this giant goal and no one can hardly ever score.
Basketball is the best of both worlds in sports. Soccer is boring to watch honestly. NBA players like Michael Jordan and LeBron James are more athletic than other sports players. Look at LeBron James. He is bigger than most NFL players yet he can keep up with Soccer players in terms of speed.
It should be a tie between basketball and baseball. Soccer is such a pansy sport, they flop all the time. Football is boring, the play only last 4 seconds max. Basketball and baseball are the most exciting and hardest sports to master.
No freaking way basketball is behind track, gymnastics, and all that. I mean, basketball's only comopetitions are football, soccer, and baseball... - armageddon_bassist
I think MJ is the Best player ever so in Sports history RIGHT NOW and they have the best players playing right Now Kobe, Lebron and Dwight all play like legends and you don't think it's the best.
I am not good at basketball, but it is great to play though. You need to have good dribbling and ball throwing skills, as well as speed and agility. I used to hate basketball, but now I like it and I am practicing dunking the ball so I can shoot a basket. - AnimeDrawer
Basket is not soccer where its not surprising if the game finishes in 0-0. Your team can get so many points and there are so many different moves.
Basketball is just really amazing some people in my class think it's boring and footballs better but I love basketball it's so much better than scoring goals. BASKETBALL is the best!
I have to be honest, Basketball is slightly a international sport but look at the other sports like... Hockey (played in many countries) Cricket ( Biggest sport in Asia ) etc. But I get it's your opinion.
Basketball is the best, not because of the shoes they wear but the beauty of the game. College is the best because the players seem to try a lot harder. Also, you can see their faces when they run up and down the court.
Soccer is a good sport too butt I think you can find basketball in every country, soccer too butt basketball is for me a better sport to do.
Basketball is the best game because it is easy to play easy to rebound easy to shoot easy to play defense and is probably the easiest games in the world
It's not points RETARD it's goals and by the way unless your were like elite and they were a bunch of eight year old girls you definitely didn't score at least five goals pe game
Basketball is my favorite sport we have players then they do look at Michael Jordan, Kobe Bryant, Kareem Abdul Jabbar, Lebron James, Jerry west, Oscar Robertson,etc. I believe it's more difficult that soccer because you need to work on ball handles and other stuff but that is why I think basketball is way better than soccer and any other sport.
In front of football for sure! Michael Jordan, Kobe Bryant etc! This game has legends, nobody knows football players!
It is the best game because it involves jumping and running which helps us to stay fit and it entertains the audiences or spectators
Related Lists

Best Basketball Players of All Time

Best Slam Dunkers in Basketball

Best Basketball Players of 2012

The Top 10 Best NBA Basketball Dunkers of All Time