Stephen King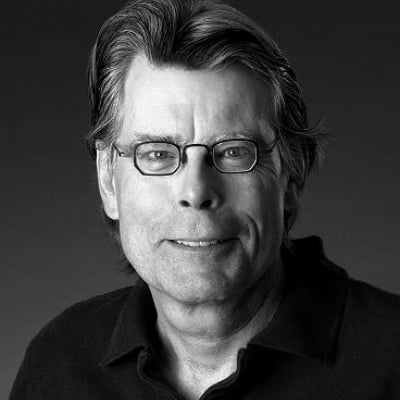 Found on chrisjonesblog.com
Info
Stephen Edwin King is an American author of contemporary horror, supernatural fiction, suspense, science fiction, and fantasy. Many of his most well-known novels include Carrie, It, The Shinning, The Stand, Misery, The Dark Tower series, and Rita Hayworth and the Shawshank Redemption, which was later ...
read more
.
Comments
Top
Popular
Newest
No one else writes like Stephen King. He can make me laugh, cry and scare the crap outta me like no one else can. He's always addressed as the best horror writer but I think he's much more than that. He writes with such wit and depth, it goes beyond the average horror novel standards. (Just take The Shawshank Redemption). And seriously, I've read a decent amount of books, but never I had such a fit of laughter as when I read chapter V of Duma Key. I was literally rolling and gasping for breath and had sore abs the next day. Worked the first time and works every time I read it. I couldn't thank enough for this man to write books like that.
Not only master of horror but also master of mainstream fiction. King's enormous talents are showcased in horror masters like IT, Shining, Salem's Lot or scifi and fantasy like Insomnia Firestarter or mainstream stories like Different Seasons, Green Mile and lastly 11.22.63. He is one of the greatest fiction writers in 20th and 21st century
The first Stephen king book I read was the shining and it was an amazing read. I like this book because despite the fact it was very scary it was also very moving and the characters had great personality. I have also read misery, carrie, doctor sleep and cujo. I understand that a lot of people are put of by his writing because his stories can be confusing but once you have read a handful of his books you will get used to it. Thanks
Simply the best. a genius. An otherworldly man. Thank God you were born and decided to be an author.Every other author has one or two best books but when it comes to Stephen King you can't decide which one is the best as there are minimum 15 books that you can call the best depending on your mood. It, The Stand, Salem's Lot, The Shining, The Dead Zone, Carrie, Skeleton Crew, Misery, Talisman, The Dark Tower, Night Shift, Skeleton Crew, Different Seasons, Bag of Bones, Green Mile, 11/22/63, The Long Walk, Duma Key, Under the Dome...Incredible...
I am a huge fan of horror because it inspires me to write some of my short or feature-length stories so it can be the top rated. I loved 'The Gunslinger', the first Dark Tower book, Carrie, The Shining, Firestarter, Christine & others. I just enjoy the adaptations and I thought as well as others I would also like to be apart of the Number One Masters of Horror.
I have read all of Kings books and find it amazing how he has been able to stitch characters from "The Gunslinger" (Roland Deshaine) into a lot of his other books. I have read and reread some of his books twice once I caught onto what he was doing. To always have characters from another book interjected into new work is amazing. The Book From a Buick 8 is one such great reads. I enjoy his characters and depth he builds into each book.

He may not be "an oldie" but he is a "goodie"!
Wow! He's what I had in mind, I knew he would of been up there, but I was wrong because he's already at the top. His books are the only books that truly scare me. I get so scared that any noise startles me, even turning the page! Reading The Shining at night in my room by myself was the worst mistake I ever made. I love Stephen King!
Read Salem's lot, IT, The Shining and The Green mile, and can honestly say no guy can write like this one does. His ability to draw on traditional American Gothic features and incorporate them into grisly modern day horrors is astounding. His film adaptations have never let me down, with The Body being a definite favourite. It's rare to find an author today that can write both horrors and dramas and recieve critical acclaims for both. definitely an all time favourite
I Love his concepts. The way he wrote those novels that I loved from the deep of my heart and mind. He really gives you sleepless night! Believe me or not. I became a bookworm just because I read one of his early novels. Yet the best author for me.
Quite simply the master of horror. His latest collection of short stories (bazaar of bad dreams) is up there with his greatest short story collections. The Dickens of the twentieth century.
I LOVE STEPHEN KING BOOKS! The only one of his books that I've read was The Shining and that was good enough to say that he's my favorite author! I'm currently reading Carrie and can't wait to read all of his works!
Stephen King is by my favorite writer. His characters are always believable unlike Koontz who makes them so cheesy I have to skip over paragraphs describing them. Love King!
He doesn't need ghouls and goblins to his stories scary. He takes rabies which is a very dangerous disease, and takes it to a whole new level.
My first read horror writer and will always be my no. 1. I have just found Matheson so it's a real treat to be reading his work now.
What can I say other then. He deserves first place in this poll, outstanding author. King is by far my favorite writer, can't wait to read the shinning.
No one can possibly write any horror novel like King does, anyone who says overwise is living in a dream world. He has acomplished so much and you only have to mention IT or The Shining or Misery and people know straight away what you are talking about. That's fame!
I love how some joker actually also put OTHER people on this list as if they had a chance. Long live the King!
There is no doubt that Poe is a great horror novel writer. He was considered by others as the foundation of modern horror. Yet, King's multiple novel became a hit movie like IT, Pet semetary and Carrie. His novels don't stuck on one theme. He has a wide range of stories that anyone knows.
Stephen King makes us feel like we're there ourselves facing the terrors of the unexplainable world. You'll never be forgotten
cujo is one of his best books of all time, stephen king always has been and always will be a horror film, and writer legend.
- shikatoku
It and The Shining rock, there's no question that Stephen King is the greatest author of all time, not just horror wise
Master of the macabre, King is givin one of the moments to leave a lesson behind within the horror of his work
I am sure this guy is the best. The way it sounds
So real is one out of 1,000,000 reasons why. And
Give you terrible nightmares.
My favorite author - once you start one of his books it's hard to put down. He has an amazing imagination.
Draws you in by the first page holds you through the end. Never disappointed. I feel like I am in the moment.
Related Lists
Best Stephen King Movies
Top Ten Stephen King Books

Best Characters from Stephen King's It
Top Ten Best Performances In Stephen King Movies