Leafpool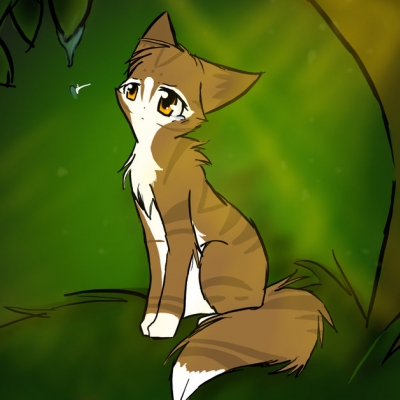 Found on deviantart.net
Info
Leafpool is a character in the Warrior Cats series. She's the daughter of Firestar and Sandstorm, sister of Squirrelflight, mate of Crowfeather, and mother of Jayfeather, Lionblaze, and Hollyleaf
Comments
Top
Popular
Newest
Although she lets some people down when finding a mate in Crowfeather, and leaving her clan, she was always compassionate to all of her patients, and had to go through a lot when her sister, Squirelflight went off with Brambleclaw for the prophecy, and right after she was captured by twolegs. She always remained brave when her sister went off and she was the only one who knew, and kept loyal to her promise, keeping her sisters secret no matter how much it hurt her. Even when she found she loved Crowfeather, she tried to push away her feelings, knowing what was best for the clan. When she had kits, she knew that it would hurt them if the clan knew they were half-clan kits, and she gave them to Squirelflight to handle, even though it broke her heart. When her kits found out and declared that they hated her, she continued to serve her clan with pride and loyalty, even though she could hardly stand her own feelings. When Hollyleaf, her own kit, told her secret at the gathering, she ...more
First of all, she basically ruined Squirrelflight's relationship with Brambleclaw, by mating with stupid Crowfeather, and Squirrelflight, however was just being a good sister, and covered up the lie by raising Hollyleaf, Jayfeather, and Lionblaze. I sort of hate Leafpool for ruining everybody's life. But mostly Squirrelflight's life. Leafpool should have just held her tongue, and stuck to the warrior code. STUPIDEST MEDICINE CAT EVER. When she mated with Crowfeather, she ruined everything for the other cats. Squirrelflight needed to tell a lie to cover it up, and it also ruined Hollyleaf's life. Thinking that mating with Crowfeather is not going to do anything. And, she ran away from her clan, then lied to her kits and her clan. Knowing she was a medicine cat and knowing the code, not only falls in love with Crowfeather, but runs off to meet him all the time. She only realizes she's an idiot when Cinderpelt died. When she left Crowfeather, UH OH SHE'S PREGNANT. When she has kits, she ...more - RavenKitty
She held on through everything even when her former mate was so mean and her kits hated her. She lost everything! I think she should get another mate, even though she and crowfeather are purrfect for each other! BOO NIGHTCLOUD! BOO! WHY YOU SO MEAN!?
I like Leafpool so much. I mean, usually I like all medicine cats, but this one is different. She had a tragic life. Her kits hate her. Her mate abandoned her. She was forced to step down from being a medicine cat. Sure, she left off with Crowfeather, but she came back when realizing where her heart truly lied. And she's sweet. She cared and loved her kits although they hated her. Yeah, maybe she broke the warrior code, but then where would Jayfeather and Lionblaze be? Hollyleaf might not be part of the prophecy of three, but she was still a big factor and she helped her brothers. She is a sweet cat. And she should be somewhere in the top ten.
WHY ISN'T SHE IN THE TOP?! Leafpool tried to do anything she can to protect her clan. People says that she broke the warrior code, and that they hate her, but think about it! She regrets running away and misses her mentor dearly! She suffered a lot through her life and she deserves something awesome! She tried doing the best for her kits so she would still be the medicine cat. She admitted that they are her kits. She LOVED HER KITS. In fact, she was devastated that Hollyleaf died. Her kits forgave her. She suffered a lot! She tried to do the best for her clan. - lilydoestopten
LEAFPOOL IS AWESOME! CROWFEATHER ACTED SO MEAN TO HER AND BASICALLY PRETENDED LIKE SHE DIED OR SOMETHING! AND HOLLYLEAF TRIED TO KILL HER! WITH DEATHBERRIES! CAN you BELIEVE IT? UGH! I HATE HOLLYLEAF! Anyways back to Leafpool. HER STORY WAS THE SADEST OF THEM ALL AND I IS WHAT IT MAKES WARRIORS THE BEST SERIES EVER! SHE IS SO KIND AND YET SHE MANAGED TO PUSH THROUGH ALL OF THE PAIN SHE HAD TO GO THROUGH! GO LEAFPOOL! VOTE FOR HER! SHE DESERVES IT! Thanks!
By the way SORRY FOR ALL HOLLYLEAF FANS!
She is my total favorite character and all she ever tried to do was love. Seriously, all the times in omen of the stars when Jayfeather or Lionblaze got mad at her or something like that, I couldn't help but want to go and punch them in the face. She was always so kind, so nice, even when cats were rude to her. And I felt so bad when she just wanted a chance to love Crowfeather! Yet he has to go and mate with Nightcloud the butthead. She was an amazing mother to Hollyleaf, Jayfeather, and Lionblaze when they were still kits in the hollow tree. I feel that she should really at least be in the top five. #BestCharacterEver!
I love Leafpool. She went through so much. She stayed strong and tried to carry on with her duties even when she loved Crowfeather. She went through so much pain and grief. She's amazing. If you hate her, then that's because you look at her so shallow. Look deeper. FEEL deeper. She really never deserved this much weight on her shoulders, the everyday pain, the deep dark secret, the forbidden love and everything bad that happened to her. I feel so sorry for her.
She is pretty, nice, compassionate and got the mate I would have loved. Honestly, how dare Erin Hunter? Crow feather deserves Leafpool, my favorite character next to Dovewing. Leafpool is best cat, and may Starclan give her time to be Crowfeather's mate when she joins them. I HATE that warriors from different clans can't be together! Also, it's not fair medicine cats cat experience the joy of having kits! And they should get to be in love! I feel for Leafpool every single day! She's so awesome! I love her!
I have an idea, they should become a warrior, have kits, and then become a medicine cat
Leafpool is a really, really awesome cat. But only 2 things I hate about her: She didn't do a THING to Honeyfern when she got bit by a snake and that she is with Crowfeather. Feathertail and Crowfeather would be much more clear if Feathertail didn't die. And Feathertail would been also a good mother but Leafpool is still my 4th favorite medicine cat after Yellowfang, Cinderpelt and Spottedleaf.
LEAFPOOL IS THE REASON WHY ALL THE CLANS ARE ALIVE. The Mother of Jayfeather (Sassy) Lionblaze (Awesome) and Hollyleaf (fab)
She is really brave I don't like that medicine cats can't have kits or a mate but I also understand why you wouldn't be allowed to have them because wouldn't you care more about your kits and mate then the rest of your clan.
I really like Leafpool, she is my favorite warrior cat. I can relate to being the shy quiet kid at school and I think she has had a sad life. People hate her for "killing Cinderpelt" when really it would happened if Leafpool was at the camp. I love her relationship with Squirrelflight and Crowfeather.
How. How is she the 16th? She suffered a lot and deserves our sympathy! She was a medicine cat, had forbidden love with Crowfeather, who then decided to leave it all behind, then had kits, who she had to push the duty to her sister, the honor to her sister, and then all the clans knew about it, hated her, and Hollyleaf, her own daughter tried to kill her. She lost her mate, kits, dad and mom. She even at one point gave up her spot as a medicine cat. Her story is just so interesting and twisty and turny!
I think its dumb how people hate her because she fell in love I still hate crowfeather but leafpool id okay people need to let it go (please don't start singing from frozen, I've heard enough of that lately)
Truly the best and most amazing cat ever. She was so strong. Her sister missing so much and they having a amazing strong connection. Crowfeather was seriously the worst she'd ever find. A medicine cat with kits? She was so smart to have a solution..
Leafpool is a good medicine-cat- she made mistakes, with the whole Crowfeather thing-you know, but a lot of the cats do make mistakes. So, PLEASE don't hate her for what she did! Leafpool is just plain AWESOME!
Leafpool was a great mom a great mentor a great medicine cat and a great warrior. She is so loyal kind helpful brave and patient. Over all she is a great cat
I like her and I don't care what others say. She was in love and she was blinded by it. She made a bad choice but it's good she did. Her kits saved the clans
I love Leafpool! Jayfeather Lionblaze and hollyleaf are bums! They misjudge Leafpool just because she was trying to do the right thing! Leafpool deserves respect!
Leafpool was such a kind cat! Since there were no other medicine cats in ThunderClan, Leafpool came back to serve her clan even though she loved Crowfeather and didn't want to leave him. - Lealu123
She was sweet and really kind! Why do people hate her so much? She deserves to be in the top 10 list along with Bracken and Dovey!
I don't dislike or like her. I know she loved crowfeather and all that but I feel like she really messed up her life so much and did so much bad stuff then tried to make up for it - it's just too messy to like or dislike her.
You know I think she's overly hated, people always seem to look at her mistakes. If you can forgive her, like I did, she's a great cat! She's also an awesome medicine cat! - Kittykat-Shinobi
She is awesome why do people hate her!?