Top Ten Young Guitarists
The Top Ten
1
Synyster Gates of Avenged Sevenfold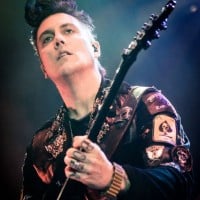 Brian Elwin Haner, Jr., better known by his stage name Synyster Gates or simply Syn, is an American musician, best known for being the lead guitarist and backing vocalist of the band Avenged Sevenfold.
Syn is the master in guitar...!
not only the best young guitarist he is by far the Greatest guitarist ever...! Krick, Slash, Dave Mustaine and all(period)... hands down to you guys... still love your talent and ever... but this guy got the talent...!
If you guys never listen to em,
Afterlife
Seize the day
Bat country
Nightmare
Secound heartbeat
So far away
Critical acclaim Or listen to any song cz in every solo he give his best,,,!
Personally my Faivorite guitarist ever...!
1. Synyster gates
2. Mark tremonti
3. Alexi laiho...
I was looking for a list like this, just made specially for Syn! I looked at the Greatest Guitarist Ever list, and I love Syn a lot, but I can't see him as the best guitarist ever yet, or 3rd or whatever he is. He's too young, we need to hear a lot more from him. But that doesn't take away from his immense talent! Keep going Syn, foREVer.
actually,29 IS young! there is going to be a future videogame called dragon elf and the faerys live up to 800! And remember, 29 IS NOT old.
A7X foREVERENDever! holy ravioli cherrybiscuits fizzledizzle syn and zacky are the best guitarists ever!
Synyster Gates has a way with guitar! He is an outstanding guitarist especially considering how young he is. His solos are extremely fast but just seems to be able to play with feeling no matter what. Now that's talent!
2
Alexi Laiho of Children of Bodom

Alexi "Wildchild" Laiho is a Finnish guitarist, composer, and vocalist. He is best known as the lead guitarist, lead vocalist and founding member of the melodic death metal band Children of Bodom, and is also the guitarist for Sinergy, The Local Band and Kylähullut.
In terms of popularity, I can see synyster being #1 (my personal vote would still go to Alexi Laiho) but in terms of skill, Alexi should be #1. Can frank lero and synyster gates pull off the mind blowing, insanely fast guitar solos? Even while singing at the same time? Just listen to the solos from If You Want Peace... Prepare for War, Kissing the Shadows, Sixpounder, Needled 24/7, Downfall, and Lake Bodom(there's so much more to list, but I only listen my favorites) So Alexi deserves the #1 spot here

(m/ COBHC forever! m/
This guy should be number 1... He plays insane solos and sings at the same time... can any of these listed guitarists do any of that?
Amazing guitarist! Listen to Kissing the shadows, Bodom after midnight, We're not gonna fall, and I could keep going!
He should be no:2 right after Synyster Gates.. What is he doing over here? Who came up with this list anyway?
3
Frank Iero of My Chemical Romance

Frank Anthony Iero, Jr. is a musician who was the rhythm guitarist and backup vocalist of the alternative rock band My Chemical Romance as well as the vocalist of the post-hardcore band Leathermouth and electronic-hardcore act Death Spells.
Frank is absolutely amazing and so dedicated to not only the fans, but also the band, I think he's the most inspirational guitar player there is, remember he'd play until his fingers literally bled? Plus he went onstage hooked up to an oxygen tank. He's the best.
I think that he deserves all the credit he get, cause after all there is no one that plays with the kind of person that frank does. and because he is often sick but still performs many of the times and keeps fighting he deserves to be number one on this list
There is no guitarist that plays with more heart than frank! He cares so much and once he even performed hooked to an oxygen tank because he didn't want to let everybody down! He is just a true hero! Love you frankie
Proud member of the MCRmy
Number two? Who is voting here? Well I am so yes yes yes. Frank Iero is so awesome. I love him. And he will never give up. He is so hyper is hilarious a good sense of humor... but wait. A ROCKING RYTHYM GUITARIST!
4
Michael Paget of Bullet for My Valentine

Michael "Padge" Paget (Born September 12th 1978) is a Welsh musician, known for being the lead guitarist and a backing vocalist for the Heavy Metal/Metalcore band Bullet for My Valentine.
Both My Chemical Romance guitarists overdub their guitars way too much padge and matt are all you hear on guitars in bullet and for the love of God synyster is too overrated padge needs to be higher on this list he is a brilliant and emotional guitarist capable of many classic riffs that outmatch all these guitarists
He Really shreds his riffs, he carries the essence of old school metal that was the most original and talented guitaring, that the world ever experienced through the 70's and 80's, I'd say it's between him and the guitarist from Atreyu.
When the lead vocalist of your band goes out and says that he isn't a vocalist but a guitarist that can sing and you still stand out that's pretty impressive
My all time favourite guitarist. Best known for his great solos
5
Ryan Ross of Panic! At The Disco

Ryan Ross used to be the guitarist, backup vocalist, and main songwriter for the band Panic! at the Disco. ...read more.
He's an amazing person in general, and awesome at guitar. He writes amazing lyrics and should have never left Panic! At The Disco.
6
Billie Joe Armstrong of Green Day
He is not young but he looks young and he is a good guitarist
Come on guys! He is better than synyster gates!
He's not young but he is one of my favorites
He is the best... He does guitar & also vocals
7
Aoi of Gazette
I've never seen smth more beautiful...
8
Daron Malakian of System Of A Down

Daron Vartan Malakian is an Armenian–American singer-songwriter, multi-instrumentalist, and record producer. He's best known as the main songwriter, guitarist, and co-vocalist for Armenian/American rock band System of a Down. After System of a Down's hiatus in 2006 he began to release music through ...read more.
if only for the sheer fact that the above guitarist have no sense of artistic expression what so ever, ya their cool, but they have no weight to they music or the lyrics they associate themselves with
I'm gonna vote for System of a Down because they are totally underrated on this list. Even though Synyster Gates is better, this guy is a lot better then Blood on the Dance floor.
48 years old is not young
Y is daron not # 1he is awesome
9
Mick Thomson of Slipknot

Mickael Gordon "Mick" Thomson is an American heavy metal musician. Born in Des Moines, Iowa, he is best known as one of two guitarists in Slipknot, in which he is designated #7.
Is he THAT young? The guy is mid-40s.
He's great but not young lol
10
John 5 of Marilyn Manson, David Lee Roth and Rob Zombie
I can't believe this guy isn't even on the list and two members of MCR are in the top ten (SRSLY GAIS, WTH. ) have you heard this guy's solo album? INSANE. very talented shredder. even designed a guitar himself for fender.
My Chemical Romance is good, not hating on these bands, they're good to but My Chemical Romance are better in my opinion
The Contenders
11
Matt Heafy of Trivium

Matthew "Matt" Kiichi Heafy is a Japanese-American musician, best known as the lead vocalist and rhythm guitarist of the Orlando based Heavy Metal/Metalcore band Trivium.
Good luck finding a guitarist that can play with such technicality and speed as Matt Heafy... Especially WHILE SINGING.
Pretty good
12
Jake Pitts of the Black Veil Brides

Jacob Mark "Jake" Pitts is an American musician and record producer best known as the lead guitarist of the rock band Black Veil Brides.
Brilliant guitarist in a mediocre band. If you actually take the time to listen to them, you will be blown away.
Just listen their fallen angel once...
Listen to His solo...Just listen
As much as I don't like bvb he actually is a pretty good guitarist his solo in rebel love song is pretty cool
13
Joe Trohman of Fall Out Boy
Guys have you heard him? His really amazing. Just listen to any fall out boy song and you will hear how talented he is.
14
Ray Toro of My Chemical Romance

Raymond "Ray" Toro is an American musician who served as lead guitarist and backing vocalist of the band My Chemical Romance until their split in 2013.
Seriously, you have to check out the soloing he does on "I'm not okay" it's one of my favourite guitar solos that I've ever seen! Ray Toro should be a lot higher up this chart!
he is awesome rock guitarist

like dead solo and the sharpest lives

Ray toro the best
Frank is an incredible guitarist, but Ray... he's so underrated it's sad. He should be way higher up.
His solos make me orgasm and just explodes my ovaries.
15
Jack Barakat of All Time Low
Amazing guitarist and super funny and a great, down to earth person.
16
Jack White of The White Stripes

John Anthony "Jack" White is an American singer and songwriter. He is best known as the lead singer and guitarist of the duo The White Stripes, but has also had success in other bands and as a solo artist.
This list is a joke
17 Josh Farro of Paramore
18 Matt Tuck of Bullet For My Valentine
19
Zacky Vengeange of Avenged Sevenfold
Wouldn't it be badass if the two top guitarists were from the same band? COME ON LETS MAKE THIS HAPPEN!
One of the best rhythm guitarist EVER. I mean, this man is amazing! Zacky Vengance for the win!
Playing a lot of arpeggio and best riff
20
John Frusciante

John Anthony Frusciante is an American guitarist, singer, producer and composer.He is best known for his time with the Funk Rock California based band the Red Hot Chili Peppers. He was also part of the Mars Volta, Swahili Blonde, Ataxia and more.
How is anyone from my chemical romance above the king himself
john is 50 but he ain't old yet.
I mean he's not the youngest of all which is why I wouldn't say first but he's still better than all of the people in the top 10, Synyster Gates is insanely good and I love billie joe Armstrong but they don't top frusciante
21 Zach Blair of Rise Against
22 Ryland Blackinton of Cobra Starship
23
Mark Tremonti

Mark Thomas Tremonti is an American musician, singer and songwriter, best known as the lead guitarist of the rock bands Creed and Alter Bridge.
Legit, as of this day and age, tremonti is the best guitarist, he has the greatest solo of all time under his belt, that combined with the best singer of today (Myles Kennedy) you have the best band of this age. alter bridge will be today's led zep.
He's got a signiture guitar! You've got to be outstanding to have your face put on a company!
Seriously? 19? This world is a joke, TREMONTI need to be in big 3!
One of the greatest guitarists ever... a master...!
24
Gavin Rossdale of Bush

Gavin McGregor Rossdale is an English singer, songwriter, musician, and actor, and is the lead singer and rhythm guitarist of the rock band Bush.
25 Christofer Drew Ingle of NeverShoutNever
PSearch List