Best Tourist Attractions in the United States
The Top Ten
1
Grand Canyon National Park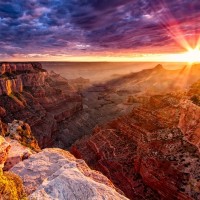 Grand Canyon National Park, in Arizona, is home to much of the immense Grand Canyon, with its layered bands of red rock revealing millions of years of geological history.
The best American natural wonder created by the Colorado River millions of years ago things to do are hiking and rafting in the Colorado river and simply enjoy the view
My family went here without me because I'm in school until the end of June/beginning of July
Looks beautiful, but I have never went there.
Always wanted to go here
2
Disney World

If its your first time, try to stay in a disney hotel and do the character breakfasts.
Well its almost every childhood dream to go to this place and its made up of several distinct theme parks, including the Magic Kingdom, Epcot, Hollywood Studios, Animal Kingdom and the Blizzard Beach Water Park.
The rides were very cool.
I'd love to go there
3
Times Square
I love visiting here on my 2015 NYC trip. I would LOVE to be there during New Year's Eve!
I second this! Seeing a Broadway show is super American touristy
If you're going to New York City for the first time this is a must. It's an iconic place. Really all of Broadway is for that matter. If you're gonna go to NYC you gotta go to at least one show
4
Washington, D.C.

The Capital of the USA has many activities to do like going to the famous Smithsonian going to the Washington,Jefferson, and Lincoln memorial and for those history buffs you can go to the national archives and see the Declaration of Independence
A lot of interesting monuments to see
I went there my dad lives close.
Always wanted to go there.
5
Yellowstone National Park

Located in 3 States and 2 million acres and the home of many wildlife and probably the best place to go camping and hiking
I don't know, but I think this is great for nature lovers. Then again, I'm scared of the Caldera volcano.
Yellowstone Memorial Day is a great song. For a while it made me scared of going here. But now I want to travel here more then ever. Come on down! Let's all head to Yellowstone!
When I was really little.
6
Alcatraz

For those people who are looking for history this former famous prison located on a single island in San Francisco California famous prisoners have been held here like Al Capone and Machine gun Kelly
I've seen it many times from the bridge, but I've never actually been there
When I was really little.
7
Hoover Dam

Finally, somewhere that I've been
I think I've been there.
Also been here.
8
Niagara Falls

Nice, but it's nicer on the Canadian side.
My Mom has been there, but not me.
I want to jump off for a swim.
Been there twice
9
Yosemite National Park

Yosemite National Park is in California's Sierra Nevada mountains. It's famed for its giant, ancient sequoia trees, and for Tunnel View, the iconic vista of towering Bridalveil Fall and the granite cliffs of El Capitan and Half Dome. In Yosemite Village are shops, restaurants, lodging, the Yosemite ...read more.
When you go up, and look down at everything including the waterfalls and the half dome, it looks like...I can't even describe it. It's breathtaking
This should be higher than Disney world
When I was really little.
Many things to do like nature walks, photography and art classes, stargazing programs, tours, bike rentals, rafting, mule and horseback rides, and rock climbing classes.
10
Statue of Liberty

The American monument and a gift from France is one of the most historic and important landmarks in the USA
I've seen it from a distance, but I haven't actually been there.
The Contenders
11
The White House

Always wanted to go to the White House.
Yes I went there a lot of security
How is this below Disney World?
Please don't just say you hate this place because of Donald Trump
12
Florida Keys

Never been there.
It is noice
13
Rock and Roll Hall of Fame
I've been there.
14
Las Vegas Strip
I've been here, and it's AWESOME!
Thanks, but I'd avoid that
Been here too.
Haha nope
15
Everglades National Park

Don't think so.
Alligators.
16
Space Needle

IT is so cool because you can see ALL THE LANDSCAPE around you and you have a nice view of the river in front of you. They also put in 11 ft and 7 in glass on the floor so you CAN SEE OUT OF THE BOTTOM, HOW COOL IS THAT!?!?!?. I've been there so I know what it's like. The lines are LONG.
If you're coming to Washington, You should visit the Space Needle because you can see EVERYTHING up above. And when they upgraded it they put Glass as a FLOOR!. So you can see EVERYTHING also beneath you :D. I have been there.
I've been here, and it's really cool. You can see everything!
IT's Amazing :D
17 Hawaiʻi Volcanoes National Park
18
Mount Rushmore

Mount Rushmore National Memorial is a massive sculpture carved into Mount Rushmore in the Black Hills region of South Dakota.
Another place that my family has been to that I haven't
Yep I've been their multiple times.
19 Central Park
20 Albuquerque, New Mexico
21
Boston

Boston is Massachusetts' capital and largest city. Founded in 1630, it's one of the oldest cities in the U.S.
Yep it is such a cool place. Besides Paris, this is probably the best place I have ever been to.
22 Miami Beach
23
The French Quarter
I've been their it is pretty cool.
24
Seaworld Orlando

25
Arovista National Park
Best park you'll ever find in Rancho Cucamonga!
PSearch List