10‌ ‌Best‌ ‌Places‌ ‌to‌ ‌Visit‌ ‌in‌ ‌Poland‌ ‌in‌ ‌Winter‌ ‌
Over the last few years, travel to Poland has increased in popularity, as people from around the world have realised how beautiful and friendly this country is, and deserves a special place in their bucket list. Most travellers visit Poland in summer (July-August) when the weather is pleasant and similar to other parts of Europe.

So, what about Poland in winter? When it gets really cold and chilling, and temperatures drop down to 12 degrees below zero. Which are the best places to visit in Poland during winter and what is there to do?
Well it turns out; there are several places to visit and plenty of things to do!

The Polish are used to the cold weather, and they really know how to handle it well. A winter holiday in Poland is all about its traditional food, snow-capped mountain peaks, an array of winter activities such as winter hikes, skiing, snow, and snowshoeing, or spreading festive cheer in the towns and cities, you'll find plenty of places to visit and things to do in Poland during winter.

Weather in Poland in winter
Winter in Poland starts in November and ends by February. The temperature stays within the range of -12 degree Celsius and 4 degree Celsius. But due to the recent climate change there are periods when you will experience warmer and pleasant weather. Nonetheless, as a traveller you are advised to always wear appropriate clothing.

November: If you are visiting at the start of November, you might get the tail end of autumn, but by mid-November the temperature begins to fall. In cities you can expect highs of around 7 degree Celsius and lows of -2 degree Celsius. In the mountains, it will be colder, although it's not time for skiing yet.

December : The temperatures hover around freezing point in most places. By now you will see snow in the mountains, and maybe a little bit in the cities.

January: The temperature is generally 2 degree Celsius to - 6 degree Celsius in the cities with a high chance of snow. In the mountains this is the peak season for skiing.
February : For most part of the month, the temperature will be similar to January, though it may begin to warm up by the end of February with a slow start of spring.

Things to do in Poland in winter
-Skiing
If you are a lover of winter sports and activities, this is the best time for you to visit Poland. Just like other parts of Central Europe, Poland also has excellent skiing venues. There are all types of slopes - beginners to advance - and what's more, the price of ski passes and rentals, food, and accommodation, is much cheaper here than anywhere in Europe. If you want more information about the skiing venues read the sections about Zakopane, Wisla, and Karpacz below. Thousands of tourists have begun to flock to these destinations every winter.

-Christmas Markets
Poland is a Catholic country and Christmas is celebrated with great pomp and show. For winter travellers, the high point of their holiday in Poland will be a trip to the Christmas market. Here you can purchase all kinds of unique local handicrafts and gifts, and sample traditional Polish delicacies, like Pierogi, cabbage rolls, and hearty soups. Even if you aren't a Christian there is still a lot to celebrate and enjoy at the Christmas markets and experience the best of Polish culture and traditions.

Read More : 10 Best Christmas Holiday Destinations in Europe in 2021

-Visit Beautiful Towns and Cities
The cities and towns of Poland are at their best during winters. As you stroll around the main market squares or old town areas you will see the best of Polish architecture famous for its pastel colours and terraces, historic houses, with a dusting of snow that makes them look even more charming.

-Eat Hearty Polish Food
Traditional Polish food is exquisite, besides having a lot of meat dishes; it also offers one of the best cuisines for vegetarians and vegans. Try some Borscht (beetroot soup), Pierogi (Polish dumplings served with a variety of fillings), to Gołąbki (cabbage leaf wrapped around rice), the food is wholesome and delicious. The Poles prepare their food keeping cold winters in mind, so after having a hearty meal you are assured that it will keep you full and warm for a while.

Read More : 12 Traditional Polish Dishes to Savor

-Visit Museums
Poland has an amazing history. Some part of it is very sad - the Poles suffered terribly at the hands of the Nazis during World War-II, and then again during the Communist period. Here's your chance to learn about the history of Poland through its excellent museums.
From the Polin museum of history in Warsaw to the most comprehensive Second World War Museum in Gdansk, you can explore them all. If you're more interested in ancient Polish history, then there are plenty of palaces and castles to explore throughout the country. Just in case the weather really isn't on your side, there are always some museums to duck into.

If you're planning a trip from November onwards, here are 10 best places to visit in Poland.

The Top Ten

1 Warsaw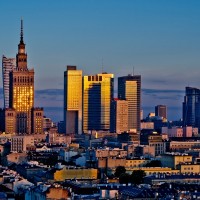 Warsaw, the capital of Poland, is one of the best destinations to visit in Poland during winter. Here, there are many things to see and do in winter.

Take a walk through the Old Town when the place is full of colored lights and Christmas decorations that can be seen everywhere. Have fun at the ice rink. Ice skating here in the evening is also one of the best things to do in Warsaw at night. Another great thing is going to the Royal Garden of Light at the Wilanów Palace. It's only in winter when you get to see such beautiful light displays in the form of plants, which look really impressive.

Like any other place in Poland, Warsaw can also get very cold in winter, so it's best to go for some indoor activities. There are many museums in the city where you can visit and learn more about the art, history, and culture of Poland while keeping yourself warm. Explore the Jewish Museum or the Warsaw Uprising Museum. Lastly, don't forget to try some hot chocolate. Warsaw is known for this delicious beverage, and you will find many cafes serving it.
2
Wisla
As winter sets in, small towns like Wisla are bursting at the seams with winter activities. Here, you will find many different ski runs for advanced skiers and beginners. Compared to other ski resort towns in Europe, you can enjoy skiing activities at a fraction of the cost. You can hire your own ski chalet close to the ski runs for a great price and make short trips from there.

If you are not interested in skiing, there are plenty of other things to do here. You can visit the Toboggan Runs and watch the ski jumpers at the famous Malinka Ski jump. Or spend some time throwing snowballs or walking through the snow-covered mountains, or take a horse-drawn sleigh ride in the snow. You can also explore the small local market that sells clothes, amazing lamb's wool slippers, tablecloths, souvenirs, and cheese.

The Christmas season and atmosphere add to the fun. You can admire the Christmas lights on display and enjoy a cup of Grzane Wino (mulled wine) from one of the small stalls at the marketplace. Besides recreational activities, Wisla also has some amazing attractions that include the Protestant church, the Habsburg's Hunting Castle, the Museum of Beskidy, and the President's Castle.

Whenever you visit Wisla, it will always be bustling with life. There are plenty of restaurants and drinking places that add to the vibrancy of the place, and there is never a dull moment.
3
Zakopane
This resort town is the capital of winter sports in Poland. It is situated in the south of Poland - Tatra Mountains and can be reached in 2 hours from Krakow.

The most exciting activity here is skiing at the famous Kotelnica Bialczanska ski resort. It's a perfect place for beginners with lots of beginner slopes and cheap lift passes. Did you know Zakopane is the second cheapest place to ski in Europe? It's great news if you want to enjoy a ski holiday on a budget. You can also experience other activities like snowmobiling, sleigh rides, ice skating, or even ski touring.

If you are not interested in skiing, there are lots of alternative activities. Take a trip to the south side of town to 'Snowlandia'. It's a huge attraction made entirely out of snow and ice. The highlights include a giant ice maze, a large pyramid with lots of fun ice carvings inside, and toboggan runs.

You can also take a horse-carriage ride through town and get a glimpse of various places. Don't miss Koscieliska Street, its 19th-century architecture set amidst the Tatra Mountains, and it will make you feel like you have wandered into a winter wonderland. There are plenty of authentic Polish restaurants in the center of town where you will find some much-needed hearty food.

Finally, after a perfect ending to a day of activities, sightseeing, and walking, don't forget to visit the thermal spas. The geothermal waters are said to contain healing minerals, perfect for soothing any aching muscles.
4
Gdansk
Gdansk, a city by the Baltic Sea, is one of the most beautiful places to visit in Poland. Like any other city, Gdansk is cold during winter, but since it's by the sea, it isn't freezing at the same level as other inland cities and towns in Poland.

Dress warmly and visit the city center for its beautiful architecture in the typical Polish style. It's even more magical when snow starts to fall. If you happen to be visiting around Christmas, you'll get to explore the wonderful Christmas market and enjoy plenty of mulled wine and hot chocolate to help you beat the cold.

The other must-see spots in Gdansk Old Town are the Town Hall of the Old City, Dlugi Targ (Long Market), The Royal Way, Zielona Brama (Green Gate), and the Długie Pobrzeże (Long Waterfront).

The weather is fairly pleasant during the day, so don't forget to check out Zlota Brama (Golden Gate) and the unmissable highlight of the Old Town - St. Mary's Basilica. You can climb to the top of this Gothic church to get a bird's-eye view of Gdansk and the surrounding areas. Another advantage of visiting in the winter is that prices are a lot cheaper. You can indulge in a luxury hotel or enjoy a delicious meal for a lower price.
5
Krakow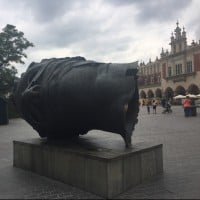 Krakow, the former capital of Poland, is beautiful in any season, and winter brings its own beauty and charm as the streets are adorned with spectacular lights and decorations.

There can never be a better way to celebrate Christmas than a visit to Krakow. The city hosts one of the largest and perhaps the most popular Christmas holiday fairs in Krakow's Market Square.

Here, you will learn everything about the local culture and traditions, as well as the most popular Polish foods during Christmas, like pierogi, cabbage rolls, and hearty soups. Or buy a few handmade souvenirs such as Lemko glass bead collars, crocheted lace, hand-woven baskets, pottery, or wood carvings.

There are several things you can do in Krakow in winter. Wander around the markets, have fun at the ice skating rinks, or simply admire the Christmas decorations dotting the streets. You can also visit the Wawel Castle, the Market Hall, get mesmerizing views over the city from Kosciuszko Mound, and take a tour of Schindler's Factory.

If you have a few extra days, you can also go for day trips from Krakow, which include a visit to Auschwitz, which is somber but well worth going to, or the Wieliczka Salt Mines.
6
Bialowieza
The Bialowieza Forest and National Park are home to a large number of species of European bison, and discovering these majestic animals in the snow-covered wilderness can be a thrilling experience.

In winter, the area of Bialowieza becomes incredibly scenic, and winter hikes are the best way to explore and enjoy its unique beauty. Besides the bison, the forest reserve is home to a variety of other wildlife, including boar, wild cats, and deer. Other activities at the park include cycling, walking, and enjoying the fantastic ambiance of Bialowieza Forest.

The importance of the forest and its remarkable beauty was recognized in 2014 when it was added as a World Heritage site by UNESCO. The forest is duly protected and preserved, and there are designated guides to take you on wildlife tours. The village of Białowieża lies deep in the forest and offers accommodation facilities if you wish to stay there overnight.
7
Karpacz
As winter reaches its peak, Karpacz becomes one of the best places to ski in Poland. If you are an avid skier, you must visit Kopa, a popular ski resort. It is a great place to ski and features seven lifts, two chairlifts, and five T-bars.

Orlinek is another ski hill you will love for its slopes and ski jumps. Here, you can enjoy telemark skiing, cross-country skiing, or whatever you choose, as your safety and security are guaranteed.

Those who aren't interested in skiing can indulge in other snowy activities like snow scooter riding, snowshoe hiking, snow tubing, and many more. The tourist town also offers an indoor ice rink, and if you don't want to skate, you can also play darts or table football.

If you are bored of snowy activities, it's time to visit some great attractions near Karpacz. Pay a visit to the 19th-century medieval church that was brought from Norway. Chojnik Castle is about a 20-minute drive from Karpacz and is a beautiful place to visit known for its scenic vistas. Karpacz is an ideal town where you can relax, unwind, and enjoy wonderful activities during winter.
8
Szczyrk
If your idea of a perfect holiday is admiring beautiful snow-capped peaks and breathtaking panoramic views, then head to Szczyrk. The town is located in southern Poland amidst the Beskid Śląski Mountains and is popular with nature lovers and outdoor enthusiasts.

In winter, it is one of the most visited travel destinations in Poland, thanks to its proximity to Krakow, a 2-hour drive. You can also take a day trip from Krakow.

The Szczyrk Mountain Resort is one of the largest ski resorts in Poland and features state-of-the-art infrastructure. It is considered a haven for skiers and snowboarders during the winter season. It offers over 60 kilometers of ski terrain and 30 ski lifts, comparable to the best mainstream European ski resorts. It is also a great place for beginners, with a number of wide, gentle slopes and a good-quality ski school.

If you are a thrill-seeker seeking an adrenaline rush, Mount Skrzyczne offers a popular spot for paragliding. Experience the rush of paragliding, flying through the air while taking in the stunning mountain views.

Once you are done with snow and adventure activities, you can spend time exploring the charming town, which has a beautiful 18th-century wooden church in the center. There are also several surviving pre-World War II villas for visitors to view. Szczyrk is a fantastic winter destination and an ideal place to spend time amidst nature and its stunning landscape.
9
Wroclaw
With its magnificent cathedrals, charming Old Town, beautiful Christmas markets, vibrant culture, and lively nightlife, Wroclaw is easily one of the best places to visit in Poland in winter.

Wroclaw is a small city, but it offers plenty of tourist attractions to visit in winter. The Old Town is an exciting place to explore, and in winter, it looks even more beautiful, especially when decorated with a giant Christmas tree, Santa's reindeer, and countless Christmas lights.

Another unique thing about Wroclaw is its little statues of dwarves spread across the city streets. These sculptures are really small, and you will have to keep your eyes wide open while exploring. They were built as a symbol of resistance in the age of communism.

The Market Square is another popular tourist spot in the city and is surrounded by colorful buildings ranging from Gothic to Art Nouveau styles. But the main highlight is the Wroclaw Christmas market. One of Europe's best Christmas markets, here you will see a variety of Christmas trees, small wooden huts and buildings, and windmills decorated and brightened up with colorful lights. Before you wind up, don't forget to taste mulled wine, hot chocolates, and other delicacies in the market.
10
Sopot
Located by the Baltic Sea, Sopot is a popular beach town in Poland. It is home to a few magnificent beaches and makes a popular destination for summer.

In fact, summer in Sopot can be too crowded and overwhelming. The white-sand beaches are full of tourists, and the bars are filled with party revelers. At times, there isn't a place to stand. While some tourists prefer this kind of atmosphere, it may be stressful for most.

This makes Sopot an ideal winter destination as it's visited only by a handful of tourists. During this time, the beaches reclaim their beauty. You can enjoy long walks along the expansive stretches of soft sand beaches and admire the swans that live in the area.

Winter time is too cold to swim in the Baltic Sea, so tourists can hang around on the Sopot Pier, the longest wooden pier in Europe.

After enjoying your time at the beach, don't forget to visit the cafes, bars, and the interesting Crooked House.