Top 10 TV Shows With the Most Annoying Theme Song
As good as some of these T.V. theme songs are, they can be incredibly annoying over time.
The Top Ten
1
Fanboy and Chum Chum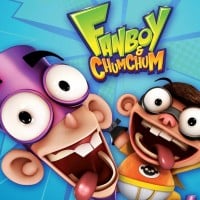 Fanboy & Chum Chum is an American 3D CGI animated television series created by Eric Robles for Nickelodeon. It is based on Fanboy, an animated short created by Robles for Nicktoons and Frederator Studios, which was broadcast August 14, 2009 to July 12, 2014 on Random! Cartoons. The series was first ...read more.
I like the comment that said Dumb Dumb. I agree with you. Fanboy and Chum Chum are a pair of dumb dumbs. Thank you!
The song is so...stupid. It's like they spewed out nonsense in a soup
Long story short, it's ANNOYING!
The theme is totally nonsensical! It talks about their underwear and getting a brain freeze!
Damnboy and Dumb Dumb... There, I said it.
2
Breadwinners

Breadwinners is a 2014 animated comedy television series produced by Nickelodeon. It is about the adventures of SwaySway and Buhdeuce, two ducks who drive in a rocket van delivering bread to their customers.
He starts the theme song by making bad live action duck smashing its head Ito bread then screams into our faces. Why?
I thought the first 3 seconds were good
at least it ended
3
Dora the Explorer

Dora the Explorer (2000 - 2019) is an American preschool educational animated TV series created by Chris Gifford, Valerie Walsh, and Eric Weiner in which Dora goes on adventures with her friend, a monkey named Boots.
And I Thought "It's a small World" was annoying that was until I heard this crap.
I wanted to kill myself when I first heard that stupid theme song at age 2
They call her an explorer well she hasn't been to even 1% of the places Anthony Bourdain has
I listen to this crap only when I want to be in a terrible mood
4
The Mighty B

The Mighty B is an American animated television series co-created by Amy Poehler, Cynthia True and Erik Wiese for Nickelodeon. The series centers on Bessie Higgenbottom, an ambitious Honeybee girl scout who believes she will become The Mighty B (a superhero) if she collects every Honeybee badge.
I watched this creepfest when I was 7. And I thought the "rainbow butterfly unicorn kitty" theme song was horrible. I'd rather watch PAINT dry then listen to this rubbish.
This show is hella cringe.
5
Barney

Barney & Friends is an American children's television series aimed at children from ages 1 to 8, created by Sheryl Leach and produced by HIT Entertainment. It premiered on PBS on April 6, 1992. The series features the title character Barney, a purple anthropomorphic tyrannosaurus rex who conveys educational ...read more.
I was always confused: why is this large, male, purple dinosaur hanging around little children and wearing a tutu?
No, Barney is the stupid purple devil, Baby Bop is a Misty Copeland ripoff, and B.J. is annoying as ever!
If I ever catch a fake dinosaur singing and dancing to little children I'd shoot him in the head
I like this theme song, what's wrong with the barney theme song?.
6
Sanjay and Craig

Sanjay and Craig is an American animated comedy television series that aired on Nickelodeon from May 25, 2013, to July 29, 2016, for three seasons and 60 episodes. The series is about a 12-year-old boy named Sanjay Patel who owns a talking pet snake named Craig.
Eh, it's just mediocre. Way better than every episode of the series though haha
The song is catchy but I hate the series in general
7
The Nutshack

The Nutshack is an American adult animated sitcom created by Ramon Lopez, and co-created by Jesse Hernandez.
Apparently they were too lazy to come up with an actual theme song so they just have them shouting Nutshack over and over again.
Okay we get it it's a damn nut shack
What's a nut shack
The Nutshack theme meme
Cringy and weird
8
Angela Anaconda

Angela Anaconda is a Canadian–American children's television series created by Joanna Ferrone and Sue Rose, the latter of whom who also voices the title character.
9
He-Man and the Masters of the Universe

He-Man and the Masters of the Universe is an American animated television series produced by Filmation based on Mattel's toy line Masters of the Universe.
10
Almost Naked Animals

Almost Naked Animals is a Canadian animated television series that is produced for YTV. The series premiered on January 7, 2011 on YTV.
Below Bill Nye the Sciece Guy? *starts crying in corner*
NYA NYA NYA NYA, NYNYNYNY, ALMOST NAKED ANI-MALS.x2
*random stuff*
Na Na Na Na Na Na Na Na almost naked animals. Seriously!?
The Contenders
11
Fish Hooks

Fish Hooks is an American animated television series created by Noah Z. Jones which originally aired on Disney Channel from September 3, 2010 to April 4, 2014. Twenty-one episodes were ordered for the first season.
I swear if I hear this one more time, I'm throwing my T.V. outside.
12
Happy Tree Friends

Happy Tree Friends is an adult animated flash series created and developed by Aubrey Ankrum, Rhode Montijo, Kenn Navarro and Warren Graff for Mondo Media.
Deserves a higher spot
Annoying theme song, brutal show... I don't know why I enjoy watching this...
Sorry spongebob but happy tree friends beat the score of annoying theme songs and by the way I think this was meant to be annoying for a show to trick kids when it is actually an adult show just like poppe the performer
13
Little Einsteins

Little Einsteins is an American animated children's television series on Playhouse Disney. The educational preschool series was developed for television by Douglas Wood who created the concept and characters, and a subsequent team headed by Emmy Award-winning director Aidan Abril and JoJo's Circus co-creator ...read more.
We're going on a trip, watch me nae nae, watch me whip, going through the sky Get your dab on!
Pretty much explains what I hear at my high school
This song is a thing at my school
The theme song is so annoying.
14
Annoying Orange
I love the youtube version much better, I really liked how orange keeps calling Grapefruit Ape fruit
This theme song is annoying, I like the youtube version better!
15
Dora and Friends: Into the City

Dora and Friends: Into the City! is an American CGI interactive educational animated television series.
Dora and Friends: Into The City sucks a lot more than Dora the Explorer
I hate it, it's so eeennoooyyiing!
It's Dora
So It's Going To Be Terrible
16
SpongeBob SquarePants

SpongeBob SquarePants is an American animated television series created by marine biologist and animator the late Stephen Hillenburg for Nickelodeon. SpongeBob is currently the most popular show on Nickelodeon, as well as the longest running show, running for 20 years, and is beginning its 12th season. ...read more.
Are you kidding? I actually ADORE this theme song! You know what should be on this list? The Amazing World Of Gumball theme song. That's the most annoying! Please remove this.
Actually, the creator of this show wanted to make the theme song the most annoying song of all time. I think he succeeded.
If I hear this song one more I swear I'm going to break something
What? Spongebob's theme is great!
17
Shaggy & Scooby-Doo Get a Clue!
I'm gonna sing this song ALL DAY LONG!
18
The Brothers Flub

The Brothers Flub is an animated television series produced by Sunbow Entertainment and co-produced by Ravensburger.
It's not a song; It is just random noises in the background while a chainsaw goes off in someone's throat.
This was the Breadwinners of the 90s
Needs to be in the Top 10.
HA! Below the X-Files?
19
Teen Titans

Teen Titans is an American animated television series created by Glen Murakami, based on the DC Comics characters of the same name.
What? Who put this on here? The theme song is AWESOME and super catchy and has the best parts of action and calm. And there's a JAPANESE version of the song and it's EXACTLY one minute long. I don't know who said this was annoying. IT'S AWESOME!
I always found the theme song annoying, not the entire show, just the theme song
Who put this on here!
20
Johnny Test

Johnny Test is an American-Canadian animated television series produced by Warner Bros. Animation, for the first season, and Cookie Jar, for the remainder of the series.
The theme song ripped of american idiot
The Intro Isn't As Atrocious As The Cancerous Show
21
Mega Babies

Mega Babies is a Canadian animated series created by the Tremblay brothers, Christian and Yvon, who previously had made the H-B's show SWAT Kats: The Radical Squadron.
22 Kung Fu Dino Posse
23 One Piece (4kids Dub)
24
My Little Pony: Friendship Is Magic

My Little Pony: Friendship Is Magic is a children's animated fantasy television series developed by Lauren Faust, produced by Hasbro Studios and DHX Media Vancouver. Despite the target demographic of young girls, Friendship Is Magic has also gained a large following of older viewers, mainly young and ...read more.
A retarded song that I despise to hear. Even the characters are annoying!
I am not a crybaby, but I'd sob in the corner if I hear this 2 more times.
Oh I hated this song even when the movies had just come out!
Whoever posted that started the fort mac fire! you are under arrest!
25
Liv and Maddie

Liv and Maddie is a live-action Disney Channel sitcom that started on July 19, 2013, and ended on March 24, 2017. It is about two identical twin sisters named Olivia "Liv" Rooney and Madison "Maddie" Rooney (both portrayed by actress Dove Olivia Cameron; born in January 1996 as Chloe Celeste Hosterman) ...read more.
Welp, it's only 5 seconds in the theme song and Maddie is trying too shave her armpits with a jacket. Ummm, I think I should leave...
Why is this on here?
This is a great theme song!
PSearch List