Top Ten TV Shows That Have Not Stood the Test of Time
The Top Ten
1
Married with Children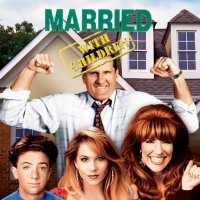 Married... with Children is an American television live-action sitcom that aired on Fox, created by Michael G. Moye and Ron Leavitt. Originally broadcast from April 5, 1987 to June 9, 1997, it is the longest-lasting live-action sitcom on Fox, and the first to be broadcast in the network's primetime ...read more.
A family that barely tolerated each other and for whom nothing at all seemed to improve or go right was a novelty in the late 80s/early 90s. Now it's become the standard.
2
Land of the Lost
This show is disturbing.
3
The Incredible Hulk

Robert Bruce Banner, also known as The Hulk or Bruce Banner, is a fictional superhero appearing in American comic books published by Marvel Comics. The character was created by Stan Lee and Jack Kirby and was portrayed by Edward Norton and Mark Ruffalo in the Marvel Cinematic Universe.
Watching Bill Bixbsy transforming into the hulk was exciting to watch now it quickly lost its appeal - egnomac
4
Mighty Morphin Power Rangers

Mighty Morphin Power Rangers is an American superhero children's television series that premiered on August 28, 1993, on the Fox Kids Network.
Fun show as a kid but now it looks cheesy and way out dated. - egnomac
And it still hasn't gotten any better! - llamabaconllama37
5 Gilligan's Island
6 Xena: Warrior Princess
7
iCarly

iCarly is an American teen sitcom that ran on Nickelodeon from September 8, 2007 until November 23, 2012. The series, created by Dan Schneider, focuses on teenager Carly Shay, who creates her own web show called iCarly with her best friends Sam Puckett and Freddie Benson.
8
Home Improvement

Home Improvement is an American television sitcom starring Tim Allen that aired on ABC from September 17, 1991 to May 25, 1999, with a total of 204 half-hour episodes spanning over eight seasons.
Tim Allen was funny as Tim the Tool man Taylor but the rest of the show wasn't that great. - egnomac
I remember watching this. It was a pretty good show too - llamabaconllama37
9 Martin
10
Goosebumps

Goosebumps is a Canadian-American horror anthology television series based on R. L. Stine's best-selling Goosebumps book series.
Not as scary as it was when you were a kid. - egnomac
The Contenders
11
Roseanne

Roseanne is an American television sitcom starring Roseanne Barr and revolving around the fictional Conner family.
12
South Park

South Park is an American adult animated sitcom created by Trey Parker and Matt Stone for the Comedy Central television network. The show is about four boys, who are Stan Marsh, Kyle Broflovski, Eric Cartman, and Kenny McCormick, and their adventures in South Park, Colorado.
The episode that seems to be considered the funniest by a lot of critics is one that was obviously made when Ben Affleck was dating Jennifer Lopez. Who these days even remembers that they were a thing?
As was said under another list item, shock value only goes so far. The creators did realize that, but switched to topical humor as a result. Yeah, that's not gonna hold up forever, either.
The switch to topical humor doesn't help
13 The King of Queens
14
Arthur

Arthur is a Canadian/American animated educational television series for children, created by Cookie Jar Group and WGBH for PBS.
15
The Mighty B!

The Mighty B is an American animated television series co-created by Amy Poehler, Cynthia True and Erik Wiese for Nickelodeon. The series centers on Bessie Higgenbottom, an ambitious Honeybee girl scout who believes she will become The Mighty B (a superhero) if she collects every Honeybee badge.
16
The Amanda Show

The Amanda Show is an American live action sketch comedy and variety show created by Dan Schneider that aired on Nickelodeon in April 4, 1999 as a pilot, then as a regular series from October 16, 1999 to September 21, 2002. It starred Amanda Bynes, Drake Bell and Nancy Sullivan, and featured John Kassir, ...read more.
It use to be funny now its just overrated. - egnomac
17
Ed, Edd n Eddy

Ed, Edd n Eddy is a Canadian-American animated comedy television series created by Danny Antonucci for Cartoon Network, and the sixth of the network's Cartoon Cartoons. The series revolves around three preteen boys: Ed, Edd "Double D," and Eddy—collectively known as "the Eds"—who live in a suburban ...read more.
The more I look at it now, it feels unfinished. Like, how come we never got to see the parents or what was under Double D's hat? I have once read an article online saying that the movie was not only going to reveal Eddy's Older Brother, but it was going to reveal what was under Double D's hat, the kid's parents, and the school teacher.
Well that all was a complete lie because we never got to see any of those things in the movie except Eddy's Older Brother.
I honestly thought The Ed Touchables was a horrible way to start off the show. Seriously. That kind of episode to start off as your first episode of the show is absolutely atrocious. Think about it. It'll just have us think the three main characters of the show are unlikable jerks that we shouldn't be rooting for. It'll have us thinking like that for the whole series.
I loved this show. But the more I look at it now, it feels a little incomplete. Like, how come we never got to see their parents or any other adult besides Eddy's Brother? And how come we never got to know where Rolf came from? And how come we never got to know what was under Double D's hat?
It was great back then, but now it's just really cheesy and dated. Seriously. After the movie, no adult characters were ever shown on the show except Eddy's Older Brother. And we never got to see what was under Double D's hat. And again, seriously. Who names their character Double D?! That's a nickname for a woman's breast!
18
Fanboy & Chum Chum

Fanboy & Chum Chum is an American 3D CGI animated television series created by Eric Robles for Nickelodeon. It is based on Fanboy, an animated short created by Robles for Nicktoons and Frederator Studios, which was broadcast August 14, 2009 to July 12, 2014 on Random! Cartoons. The series was first ...read more.
19 The Flying Nun
20
American Idol

American Idol is an American talent reality television series that first aired in 2002. As of May 2019, there have been seventeen seasons.
I think Kelly Clarkson and Carrie Underwood are the only big winners on this show who had much of a career afterwards. Yeah, Kelly Pickler and Chris Daughtry were on there too but they didn't win.
Seasons from 1 to 12 were awesome but you have to admit season 13 sucked.
Don't waste your time watching this show. It is not worth it. Trust me.
21
The Ren & Stimpy Show

The Ren & Stimpy Show, often simply referred to as Ren & Stimpy, is an American animated television series created by John Kricfalusi for Nickelodeon.
22
Drawn Together

Drawn Together is an American adult animated sitcom which ran on Comedy Central from October 27, 2004 to November 14, 2007. The series was created by Dave Jeser and Matt Silverstein, and uses a sitcom format with a TV reality show setting.
Shock value only goes so far
23
Everybody Loves Raymond

Everybody Loves Raymond is an American sitcom television series created by Philip Rosenthal that aired on CBS from September 13, 1996 to May 16, 2005, with a total of 210 episodes spanning over nine seasons. It was produced by Where's Lunch and Worldwide Pants, in association with HBO Independent Productions. ...read more.
24 The Tonight Show
25
Beavis and Butt-head

Beavis and Butt-Head is an American animated sitcom created and designed by Mike Judge. The series originated from Frog Baseball, a 1992 short film by Judge originally aired on Liquid Television.
PSearch List