Top 10 TV Shows with the Dumbest Characters
Good or bad these are shows with the dumbest characters

The Top Ten

1 Breadwinners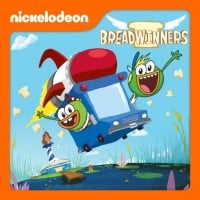 Breadwinners is an American animated television series created by Gary "Doodles" DiRaffaele and Steve Borst for Nickelodeon. ...read more.
Idiots. Horrendous animation, dumb plots, and, of course, moronic characters. Buhdeuce is WAY more annoying than SwaySway, but does anyone like these two dimwits? Nicki Minaj's duck children!
The characters in this show are just stupid and retarded screw this show and its stupid characters
I can't believe one of my favorite kids shows is the worst!
The characters are all retards, they think twerking and farting is good!
2
Fanboy & Chum Chum

Fanboy & Chum Chum is an American 3D CGI animated television series created by Eric Robles for Nickelodeon. It is based on Fanboy, an animated short created by Robles for Nicktoons and Frederator Studios, which was broadcast August 14, 2009 to July 12, 2014 on Random! Cartoons. The series was first ...read more.
This show is bad enough to make a toddler die of high blood pressure - TwilightKitsune
They're idiots, both of them. Chum Chum is the perfect way to destroy cuteness forever. - DCfnaf
Oh GOD the main characters are annoying and stupid - christangrant
3
Dora the Explorer

Dora the Explorer (2000 - 2019) is an American preschool educational animated TV series created by Chris Gifford, Valerie Walsh, and Eric Weiner in which Dora goes on adventures with her friend, a monkey named Boots.
People forget that this show is aimed for people under the age of 7. I used to be literally addicted to Dora the Explorer until I reached 7-8 and I'm pretty proud to be honest. If it wouldn't be for the show, I wouldn't even know a single Spanish word, and that includes how to say hello ('Hola'). I also blame this show for giving me my huge interest of languages and culture.

Anyways, this is about dumb characters. So away from the show.
Dora is a girl who knows both Spanish and English fluently. How does this makes her dumb? Most English-speaking people can't speak a second language well. If she's dumb, that means pretty much every English-speaking person is. Also, she's literally a little kid exploring alone, far from home, with a monkey for company. She knows how to read a map damn well and she's not at all scared of the outside world.

People are so ignorant that they don't know the difference between being disliked and being dumb. But who wouldn't expect Dora the ...more
@christangrant Bandwagon much? I have to be the only one who is sick of the Dora BS. It's a kids show, she's trying to interact with the kids when she asks where the mountain is. It's an interactive kids program.
Wow, Dora isn't the stupidest cartoon character in history? I'm relatively surprised.
I Hate This Show. But Again, It's Aimed Towards Toddlers.
4
Sanjay and Craig

Sanjay and Craig is an American animated comedy television series that aired on Nickelodeon from May 25, 2013, to July 29, 2016, for three seasons and 60 episodes. The series is about a 12-year-old boy named Sanjay Patel who owns a talking pet snake named Craig.
Both of the main characters are retards who think farting every 10 seconds is funny - christangrant
Sanjay is a dumbass. Craig is slightly less annoying - DCfnaf
5
Teen Titans Go!

'Teen Titans Go!' is an American animated television series produced by Cartoon Network. The show follows a superhero group called the Teen Titans, and shows what happens when they go home and have silly adventures. This show is Cartoon Network's revival of the popular 2003-2006 American animated television ...read more.
Raven is pretty much me in class. She keeps to herself and she just isn't a loud arrogant ignorant annoying, unlike the others who make me want to rip my hair out from the roots in just an episode.
Just basically turned all the great characters from the original into retards which is one of the reasons why I hate this show
Screw Beast Boy, and screw Robin the most. They also RUINED Raven, my favorite Titan, for me.
Beast Boy is the dumbest
6
The Powerpuff Girls (2016)

The Powerpuff Girls is an American animated television series created by animator Craig McCracken for Cartoon Network. The main characters of this show are Blossom, Bubbles, and Buttercup. The show is about the Professor Utonium creating three little superhero girls that save the day from villains. ...read more.
Yep, the old one had much more intelligent characters. By the way, I agree with DCfnaf, Bubbles is a spoiled, annoying brat in this one. I much prefer Bubbles in the original than in this one.
The old one was better. The new one looks like it was made by a dysfunctional retard who was extremely high on marijuana.
Bubbles is such an annoying little prick in this one! Overrated...
Basically the same as TTG
7
Fred: The Show

Fred: The Show is an American television series, created by Lucas Cruikshank that originally aired on Nickelodeon, in the United States from January 16 to August 3, 2012. It was cancelled after the first season due to low scores.
This one is self explantory Fred is just a moron - christangrant
Fred's a dimwit on YouTube, so he's a dimwit on T.V.. - DCfnaf
8
Liv and Maddie

Liv and Maddie is a live-action Disney Channel sitcom that started on July 19, 2013, and ended on March 24, 2017. It is about two identical twin sisters named Olivia "Liv" Rooney and Madison "Maddie" Rooney (both portrayed by actress Dove Olivia Cameron; born in January 1996 as Chloe Celeste Hosterman) ...read more.
Yeah I agree with you. One of the worst shows ever made. The characters may never be smart examples or good role models either, especially if those main twin sisters aren't perfect.
There are worse Disney Shows. Trust me. - DCfnaf
Thanks for adding this here - Neonco31
9
Henry Danger

Henry Danger is an American superhero sitcom television series airing on Nickelodeon. The series was created by Dan Schneider and Dana Olsen. The series revolves around a 13-year-old boy who becomes the sidekick of a local superhero. On March 2, 2017, Nickelodeon announced that a new animated series, ...read more.
Ugh, Piper and Jasper are annoying. - DCfnaf
10
The Thundermans

The Thundermans is an American tween sitcom created by Jed Springarn. The show first aired in 2013. This show is about a family of superheroes who have adjusted to living a normal suburban life. On July 27, 2017, Nickelodeon released a statement to J-14, stating that the series has wrapped production ...read more.
Totally agree. All the characters are stupid, but Billy is the dumbest
The Contenders
11
Teletubbies

Teletubbies is a British pre-school children's television series created by Ragdoll Productions' Anne Wood CBE and Andrew Davenport, who wrote each of the show's 365 episodes. It is owned by Canadian Studio WildBrain, which is the largest independent Children's and Adolescent's Film Studio
Creepy and cancerous show to watch, even for the most tolerant and youngest of kids. When I was a kid, I was always very much scared of this show.
12
Beavis and Butt-Head

Beavis and Butt-Head is an American animated sitcom created and designed by Mike Judge. The series originated from Frog Baseball, a 1992 short film by Judge originally aired on Liquid Television.
Ah yes my favorite show does have dumb characters bit ironically they are probally smarter than all the other shows on this list LOL - christangrant
13
Family Guy

Family Guy is an American adult animated sitcom created by Seth MacFarlane for the Fox Broadcasting Company. The series centers on the Griffins, a family consisting of parents Peter (Fat, Idiotic Dad) and Lois (Nagging Bitchy Wife), their children Meg (Socially Awkward Daughter) Chris (Fat, Idiotic ...read more.
14
The Loud House

The Loud House is an American animated television series created by Chris Savino for Nickelodeon. The series revolves around the chaotic suburban everyday life of a boy named Lincoln Loud and his ten sisters, to which he survives as the middle child and only son in a large family of eleven children. ...read more.
15
SpongeBob SquarePants

SpongeBob SquarePants is an American animated television series created by marine biologist and animator the late Stephen Hillenburg for Nickelodeon. SpongeBob is currently the most popular show on Nickelodeon, as well as the longest running show, running for 20 years, and is beginning its 12th season. ...read more.
Good shows can have dumb characters. Spongebob and Patrick.
Patrick is dumb
16
Barney and Friends

Barney & Friends is an American children's television series aimed at children from ages 1 to 8, created by Sheryl Leach and produced by HIT Entertainment. It premiered on PBS on April 6, 1992. The series features the title character Barney, a purple anthropomorphic tyrannosaurus rex who conveys educational ...read more.
Well...it's teaching social skills.
Retarded
17
Pickle and Peanut

Pickle and Peanut is an American animated television series that premiered on Disney XD on September 7, 2015. The series was created by Noah Z. Jones, creator of Fish Hooks and Almost Naked Animals.
18
Austin & Ally

Austin & Ally is an American teen sitcom that premiered on Disney Channel on December 2, 2011, and ended on January 10, 2016. The series was created by Kevin Kopelow & Heath Seifert, the writers and producers of the Disney Channel sitcoms Sonny with a Chance and Jonas.
19
T.U.F.F. Puppy

T.U.F.F. Puppy is a cartoon created by Butch Hartman. It ran on Nickelodeon from October 2, 2010 until April 4, 2015. It focused on Dudley Puppy and his partner Kitty Katswell as they protected Petropolis under the Turbo Undercover Fighting Force, or T.U.F.F.
20
Sam & Cat

Sam & Cat is an American teen sitcom that originally aired from June 8, 2013, to July 17, 2014, on Nickelodeon. It is a crossover spin-off/sequel of both iCarly and Victorious.
Disney1994 is right about this one. - DCfnaf
21
Ed, Edd N Eddy

Ed, Edd n Eddy is a Canadian-American animated comedy television series created by Danny Antonucci for Cartoon Network, and the sixth of the network's Cartoon Cartoons. The series revolves around three preteen boys: Ed, Edd "Double D," and Eddy—collectively known as "the Eds"—who live in a suburban ...read more.
22
Cow and Chicken

Cow and Chicken was an American animated comedy television series created by David Feiss for Cartoon Network, and the third of the network's Cartoon Cartoons.
23
The Wacky World of Tex Avery

The Wacky World of Tex Avery is a French–American–Canadian animated comedy television series produced by DIC Entertainment and created by Robby London in 1997. The series was named after Tex Avery, a cartoonist who is known for his work at Warner Bros.
24
The Nutshack

The Nutshack is an American adult animated sitcom created by Ramon Lopez, and co-created by Jesse Hernandez.
25
Kickin' It

Kickin' It is an American martial arts-inspired comedy television series that originally aired on Disney XD from June 13, 2011 to March 25, 2015. Created and executive produced by Jim O'Doherty, the series is rated TV-Y7 and follows the karate instructor at an under-performing martial arts academy, ...read more.
PSearch List