Top Ten Twilight Saga Guys
Tanya126 Who's the most popular guy in the Twilight Saga? You choose.
The Top Ten
1
Edward Cullen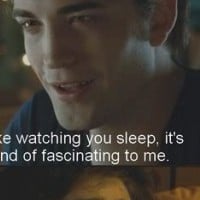 Edward Cullen is a fictional character in Stephenie Meyer's Twilight series. He is featured in the books Twilight, New Moon, Eclipse and Breaking Dawn, and their corresponding film adaptations, and the as yet unfinished novel Midnight Sun—a re-telling of the events of Twilight from Edward's perspective. ...read more.
I would DIE LITERALLY to be bella. Getting kissed everyday by him. Really hot too.
He's too hot and handsome for me to live in this earth
He is super duper cute I wonder why Bella and him always kiss
OMG IN THE BOOKS HE IS SO FRIGGIN HOT OMG AND I LOVE JACOB TOO WTH WHY IS HE NUMBER 5 EXCUUUUUUSEEEEEE ME? EDWARD SHOULD BE #1 BUT JACOB SHOULD TOTALLLLY BE # 2! HAWTIES! - shawdyslikeamelody
2
Jasper Hale
He is cooler than all the other guys in Twilight, and has a awesome background story
Really cute, a gentleman (very hard to come by)and really sweet. - Tanya126
Definitely the most good looking in twilight- and is a warrior!
He's so much hotter than Edward. Smthn about him is just so damn sexy- maybe it's his combat experience. Something about a guy who knows how to fight is just hot.
3
Emmett Cullen
EMMETT IS THE SEXIEST MOFO OUT THERE KAY? TEAM EMMETT
Fun-loving, funny, cute, happy, energetic. - Tanya126
Love that boy he's the SEXIEST ONE AND HE HAS A SIX PACK AND SPARKLES LAST TIME I CHECKED EDWARD doesn't HAVE A SIX PACK! 1
Emmett is so cool and is really awesome👍
4
Jacob Black
A man's best friend and Bella's too. So, Jacob easily wins. He's his own best friend! I like him with short hair. He's smokin in the movies, too. Meaning... Well, attractive. VERY.
NUMBER 5 ARE YOU GUYS BLIND THIS GUY IS HOT!
Why does everyone like Edward more I MEAN REAL MEN DON'T SPARKLE, and he's just too serious
Jacob's also much better looking
He cannot be so much behind edward. Unbelievable, impossible to believe that there are people who rate any one better than Taylor Lautner. He's just THE BEST.

5
Carlisle Cullen
He is the most amazing person I could imagine! He is just so strong and nice and handsome! I think he should be number 1
Such a caring father and so hot
Deserves to be at least number 3! :) he is so hot :D they describe him as perfect :')
The handsomest character in Twilight in my opinion; he's also caring, gentle and intelligent
6
James
sadistic, cruel, cunning, cute & stylish. - Tanya126
7
Alec
Ya know, I always thought "Shouldn't there be an x instead of a c? " I guess I figured it out when I realized that they wouldn't mispronounce it and spell it wrong at the same time. Yeah, I feel really dumb, but I'm used to it.
cute, powerful, mean & quiet. - Tanya126
Everyone sees him as one of the Volturi, but really he seems kinda cute in a bad boy way. I would vote for Edward but he's already #1 and I don't want to boost his ego up more.
8
Benjimen
Happy, sweet, kind, nice & a joker - Tanya126
9
Aro
cunning, smart, mean & the more jovial of the Volturi leaders. - Tanya126
10
Seth Clearwater
Perfect, handsome, kind, cute, friendly, adorable, amazing, perfect and make the Twilight Saga be more than a movie..! Keep calm Seth! Love Booboo Stewart! :D
kind, happy, nice, cute, friendly, peace loving & fun to be around. - Tanya126
Not hot as Jacob and others, but still cute
The Contenders
11
Riley
cruel, mean, believes what he's told & mildly skilled fighter. - Tanya126
Riley is really HOTT if you notice. he's really trusting and he actually cared for Victoria an it's a shame that he got cut off in the books. maybe the Cullen's could have turned he good but no, a werewolf had to go kill him.
12
Garrett
Truly the sexiest guy in all of the twilight series, should be number 1!
Garrett is so hot...Like I totally don't see why he is number 13. He is like so much hotter than Edward Cullen!
13 Embry Call
14
Caius
He deserves to be in the top 10 to be honest
15 Marcus
16
Demetri
I know he's essentially just one of the two main vulturi bodyguards but he definitely deserves to be in the top 10 list! He's featured almost a second much as Jane and Alec- more than Marcus- and is super hot!
17 Laurent
18
Charlie
He is funny, shy, smart and good looking. He can be too overprotective sometimes but that shows how much he cares.
19 Paul Lahote
BAdd New Item