U.S. States With the Most COVID-19 (Coronavirus) Cases
The COVID-19 pandemic has spread to every state in the Union, has infected famous athletes and prominent politicians, and had precipitated the shutdown of sports leagues, major businesses, and even the Wall Street floor.

What follows is a list of the individual states in the United States that have seen the highest number of documented

cases of

COVID-19.
The Top Ten
New York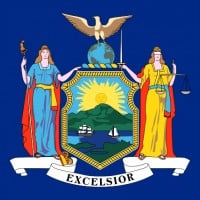 New York is a state located in the Mid-Atlantic Region. New York was one of the original thirteen colonies that formed the United States. With an estimated 19.54 million residents in 2018, it is the fourth most populous state. In order to distinguish the state from the city with the same name, it is ...read more.
New Jersey

New Jersey is a state in the northeastern and mid-Atlantic regions of the United States. It is bordered on the north and east by New York, on the southeast and south by the Atlantic Ocean, on the west by Pennsylvania, and on the southwest by Delaware.
California

California is a state in the Southwestern United States. With 39.6 million residents across a total area of about 163,696 square miles (423,970 square kilometers), California is the most populous U.S. state and the third-largest by area. The state capital is Sacramento, and the largest city is Los Angeles. ...read more.
Washington

Washington is a state in the Pacific Northwest region of the United States located north of Oregon, west of Idaho, and south of the Canadian province of British Columbia on the coast of the Pacific Ocean. It is the only state named after a president.
Michigan

Florida

Florida is a state located in the southeastern region of the United States. Florida is the southeasternmost U.S. state, with the Atlantic on one side and the Gulf of Mexico on the other.
Illinois

Illinois is a state in the midwestern region of the United States. It is the 5th most populous state and 25th largest state in terms of land area, and is often noted as a microcosm of the entire country.
Massachusetts

Massachusetts, officially the Commonwealth of Massachusetts, is the most populous state in the New England part of the northeastern region of the United States.
Louisiana

Georgia

Georgia is a state located in the southeastern United States. It was established in 1732, the last of the original Thirteen Colonies.