Top 10 Ugliest Actresses
Alexandr
The Contenders: Page 2
21
Cynthia Nixon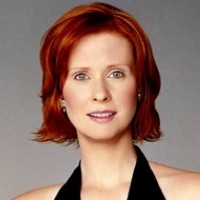 She's not that ugly. As a matter of fact, I think she's attractive 'cause she has a certain something that not many women have. She has a positive radiation in her face.
Not many ginger haired woman look good so give her a break! It's not her fault she was born with ginger hair and lily white ugly skin. Is she ugly? Yes
I understand why she's a lesbian. What man who is sane in his head would like to date a ugly woman like that.
Poor thing -- especially in contrast to her co-stars in SATC. (Yes, I actually DO think Sarah Jessica Parker is attractive -- don't shoot me! )
22
Katie Holmes
An actress with no charisma on screen ( and in real life ). Too overrated for her so-called acting skills. Just because she became popular in the tabloids and in certain circles doesn't make her an good actress.
Her beauty is also way too overrated. She too tall and thin ( with a flat ass ) and that lunar shaped face of her is unwatchable. The ugliest brunette in the movie industry!
Katie Holmes is pure plain Jane and her acting is only so so.
Smiles from one side only can't act and no personality
I strongly disagree -- I think she's adorable and love the shape of her eyes!
V 3 Comments
23
Gayana Sudarshani
Are you Insane! Have you ever seen a more Uglier Actress than the Sri Lankan Gayana Sudarshani!? And How on Earth can Super Beautiful, Goddess like, Aphrodisiac American Women be Ugly!?
Uma Thurman, Mischa Barton, Gwyneth Paltrow, Jennifer Aniston, Katie Holmes, Kate Hudson, Julia Roberts, Meryl Streep, Emma Watson, Natalie Portman, Scarlett Johansson, Jessica Alba, Penelope Cruz, Angelina Jolie, Ariana Grande, Sandra Bullock, Julianne Moore & Cameron Diaz are a TRILLION Times more Beautiful than this Sri Lankan Piece of Trash can! - Nirmal1991USA
Without a doubt the Ugliest Actresses ever Born!

It's preposterous, ludicrous, farcical & burlesque that she's enthroned as being The Sex Goddess and the Supreme Sex symbol of Sri Lanka. Her face looks even worse than a pile of rotten cat poop. There are no words in the English language to describe how terribly pugnacious this woman looks like. To be honest from the way she looks, I'd swear she's an ugly, washed out Tranny. She thinks that because she has a Prestige series signature Panty issued by Gayathreedias Panties (Gayathreedias Gayana Sudarshani XKV8000 Extreme) that she's the Sex Goddess or Sri Lanka, but the 100% pure truth is that she's the Ugliest Female ever to walk on this Planet!
The Ugliest Woman on the Planet & she's from Sri Lanka!

She's also the Ugliest & the Most disgusting woman to play a Lesbian Role in a Motion Picture: In 'Mamath Geheniyak' with fellow Actress Anusha Sonali. Youtube Mamath Geheniyak Lesbian Scene, tell me Gayana is not the Ugliest Actress of All-time! (She's the Darker one out of the two) That scene made me Puke on my own Lap! Yaik!
She is not ugly! She's not cookie cutter blonde/blue stick figure - that makes her more attractive by a mile!
V 1 Comment
24
Julia Roberts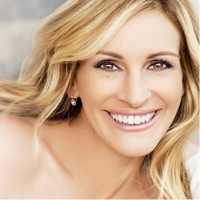 Julia Fiona Roberts is an American actress and producer. She became a Hollywood star after headlining the romantic comedy Pretty Woman, which grossed US$464 million worldwide.
Ugly long donkey face.. Her and lyle lovett are actually bro and sis.. I will never. Ever watch anything she is in or I will barf
Huge mouth which my partner says is only good for one thing! (too rude to say so use your wild imagination) Huge mouth ruins her would be pretty face. She looks like a homeless person when not done up.
There are some tough people on here! Does ever actress have to look perfect to be accepted as a good actress? Surely not! Some of the best have been not so perfect in looks, like that wonderful actress who was in Misery.
It amazing how long her boobs hid that face.
V 13 Comments
25
Miley Cyrus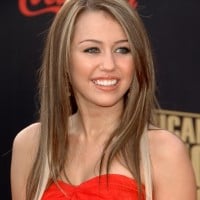 She is one ugly looking young girl.. She has a deep man's voice which is horrid and talks so fast its like she is on speed. She is an ugly creature with teeth too big to fit in her mouth. She will be a nobody by the time she hits 30! Her generation can't stand her as she has no morals and they are already bored seeing her exposed fanny in every shot you see on the internet in her singing videos. Guys think she is butt ugly and she has no class and never will.
She is a disgrace to the whole celebrity scene and to the youth. What she has inside her makes her ugly outside. When I see her performing I just want to shoot her. Sorry, but that is what I think of her.
Ugly looking inside and out. She needs to learn to keep her legs closed when performing on stage. Kinda sick of seeing her snatch! She is a disgrace to the younger generation.. No talent and ugly to look at.
She wonders why whats his name left her
V 12 Comments
26
Camryn Manheim
The size of a steamroller.
27 Jenna Ushkowitz
29
Angelina Jolie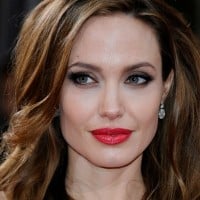 Pity she's not 100% natural looking. She definitely has had work done and had a great surgeon. She comes across as high and mighty and so in love with herself, but when you see her in person she is actually quite plain looking and very scrawny looking. Very boney arms, legs etc.. Quite shocking actually and not what you see in magazines and on the T.v
Angelina Jolie is completely hideous and I couldn't believe Brad Pitt left Jennifer Aniston for her. He must be trash, like Angie is. She's another one with the skinny, ugly, veins arms...great for shooting up, I'll bet.
She's one of those people who look good in magazines, but horrifically ugly in real life. Her time is over. Not to mention her nasty personality.
She has basically nice features, but there is no feminine softness in her face. Hard and severe looking.
V 12 Comments
30
Shelley Duvall
I can't believe she isn't in the top 5
Oh god! She is very ugly... Is she british?
A two-sacker---you wear one in case hers falls off.
31
Cate Blanchett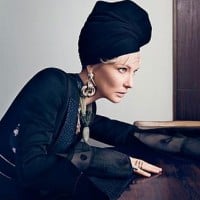 Eyes too wide set and too small. Looks like she had golf balls implanted in her cheeks, harsh pointy chin and overly angular jaw, gash of a mouth. Her features aren't symmetrical. She too thin and boney. I don't think anyone mentioned on this list is UGLY, but many are unattractive.
Cate Blanchett ugly? No way. Also, she is an extraordinary actress. Take her off the ugly list.
What's that about the English thing? Born in England : Kate Beckinsale, Naomi Watts, Felicity Jones, Lena Headey, Alice Eve and so many others.
This are all very beautiful and talented actresses like Cate Blanchett, so I think it's almost racist to make a statement that it is a English thing to Judge someone's beauty.
She looks different but think she's gorgeous.
V 4 Comments
32
Cher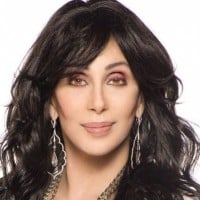 Cher is an American singer and actress. Described as embodying female autonomy in a male-dominated industry, she is known for her distinctive contralto singing voice and for having worked in numerous areas of entertainment, as well as adopting a variety of styles and appearances during her five-decade-long ...read more.
All that plastic surgery has made her look like a wax dummy. She has a very long face with eyes sunken into her face and plastic surgery can't even fix that. She actually looks her age of 70.. So all that plastic surgery was money up in smoke. She is ugly for sure.
She's perfect for a blind date--for someone who is blind. Her photo should be next to the word ugly in the dictionary.
Cher was never pretty to begin with and all that plastic surgery is ridiculous. She can't get her youth back so why try to look 20-30 years younger. It doesn't work.
She should be higher! She is super ugly! - Powerfulgirl10
V 2 Comments
33
Fergie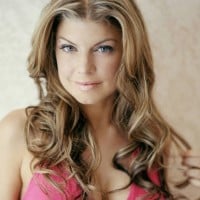 Stacy Ann "Fergie" Ferguson is an American singer, songwriter, fashion designer, television host, and actress.
Much more attractive before the many, many, many trips to the plastic surgeon. Was once a beauty, but now looks likes a frozen-faced zombie... Sad. :(
Just how old is she anyway? From her looks I'd say about 60.
She looks like a trannie! Why did the surgeon pull her eyebrows halfway to her forehead? She must have the absolute best personality to score Mr Duhamel!
34
Kate Hudson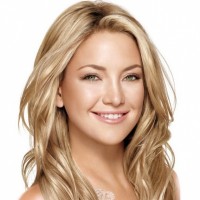 Way overrated. Her mom was really hot in a cute way but she's nothing special. Very ordinary looking. Worse still, I think she's ugly inside because she's obnoxiously spoiled and self-absorbed.
Kate Hudson would have never made it to Hollywood if it weren't for her mother, Goldie Hawn. Goldie was a cutie back in her Laugh - in days and had a much better personality. Katie thinks she's all that and she isn't. Her acting is mediocre and she's not as cute as Goldie was at her age.
She is ugly nothing like her mom. Its quit unfair that she is a actress just because she got her foot in the door due to her mom. Even worst have you seen her in brown hair!? She is horrific!
I can't stand her. She is completely annoying and stupid!
V 2 Comments
35 Yashoda Wimaladharma
36
Emma Stone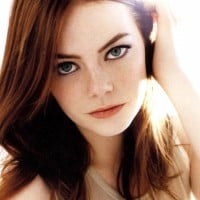 Emily Jean "Emma" Stone is an American actress. One of the world's highest-paid actresses, she has been nominated for an Academy Award, two British Academy Film Awards and two Golden Globe Awards, and has won two Screen Actors Guild Awards.
Emma Stone is very cute. I remember her from the movie The Help. She's a pretty good actress too and she doesn't belong on any ugly list.
Not ugly, good next door looks. She is rather plain but her great acting ability makes up for her looks, so she can be excused.
She looks reptilian, especially around her eyes.
Sorry but she looks like an alien with that round head and that weird, creepy face.
Like from a horror movie.
V 4 Comments
37
Debra Messing
Something is wrong with her nose and she's got no boobs at all.
I think Debra Messing is cute. Not gorgeous but not ugly.
Never, ever saw the appeal of this overrated supposed actress.
V 1 Comment
38
Thandie Newton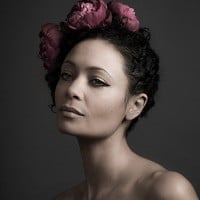 Her nose is the worst part of her body, you see her side face and take a look at her nose, yuk! Yuk! I did not believe she was against tom cruise
By far, the ugliest in Hollywood... Wondering who chose her with tom cruise for mission impossible
She looks like a chimpanzee. Sorry but true.
V 5 Comments
39
Kristen Wiig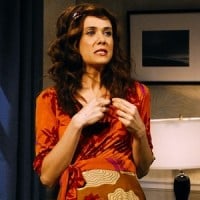 Not only ugly, but a terrible actress, and NOT funny, even in the slightest! Who knows though, maybe she's the coolest person on the planet...
Being funny doesn't make you pretty. Journalists do not understand this.
Thankfully, her acting skills cover up everything.
40
Natalie Portman
Natalie Portman is an actress, film producer and film director with dual American and Israeli citizenship.
Emaciated yes, but ugly? Oh my goodness, her face is beautiful!
Some people believe it or not are born slender. I know you hate it because you are fat and whiny. YOU are the one that is whiny... Admit it!
Natalie is gorgeous, not ugly by a long shot.
She looks like an alien.
I never got the whole thing about her.
She even used to be an ugly kid and doesn't have any talent in acting.
V 4 Comments
PSearch List
Recommended Lists
Related Lists

Best Actresses

Most Overrated Actors/Actresses

Best Indian Actors and Actresses

Top 10 Best Actresses In the Philippines

Top Ten Hottest Bollywood Actresses
List StatsUpdated 21 Feb 2017
2,000 votes
136 listings
7 years, 204 days old

Top Remixes (8)

1. Toni Collette
2. Tori Spelling
3. Sarah Jessica Parker
ruined

1. Glenn Close
2. Melanie Griffith
3. Cynthia Nixon
terminatorx

1. Sarah Jessica Parker
2. Tori Spelling
3. Tilda Swinton
CollegeRuled1
View All 8
Posts
Error Reporting
See a factual error in these listings? Report it
here
.