Ugliest Disney Channel Girls
The Top Ten
1
Peyton Elizabeth Lee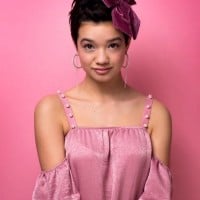 She used to look kinda cute when she was younger, but now she looks weird. Her head has a weird shape and she looks funny in Cobra Kai. She has a nice rack though. I'd smash that in a minute! (Seriously, I wouldn't last much more than a minute in there...)
She's really ugly and doesn't deserve Asher Angel.
She looks like a 5 year old with small boobs. She is so ugly and looks like she has terrible BO
Honestly I don't think she's ugly, I mean she's not the usual appearance of a Disney teen star but she not ugly though.
2
Kayla Maisonet
She is gorge! I have an obsession with her hair.
Shes gorgeous
I think she is pretty
3
Rowan Blanchard

Rowan Blanchard is an American actress. She is known for her role as Riley Matthews on the Disney Channel series Girl Meets World.
yes she is I think that's why the show didn't make it I don't like her at all
Anybody Calling Rowan ugly just got some really high standards
Shes one of the prettiest I don't know what yall saying though
4
Miranda May

Looks like a donkey
Not really all that pretty but talented
Like the one from shrek
She has a huge face drink water to lose the chubbyness
5
G. Hannelius

6
Jenna Ortega

Jenna Marie Ortega is an American actress. She is known for her roles in Jane the Virgin on The CW and Stuck in the Middle on Disney Channel.
Ok she's not drop dead gorgeous but I think she's far from ugly. And I'll give a pass on her acting cause she still fairly new to it
7
Sarah Gilman

Sarah Gilman is an American actress, known for her role as Delia in the Disney Channel series I Didn't Do It.
8
Madison Hu

I disagree with anyone that think she's ugly. She's actually good looking.
Not only is she ugly, but maybe the most annoying character on T.V.
Yes indeed
Ugliest girl I've ever seen!
9
Nina Lu

10
Grace VanderWaal

Grace Avery VanderWaal is an American singer-songwriter from Suffern, New York. She is most well-known for winning the eleventh season of "America's Got Talent" singing her original songs at 12 years old. Her album, "Just the Beginning" was released in November 2017, and she has two EPs, "Perfectly ...read more.
She's really talented and all, but you can't deny she is just a bit ugly.
The Contenders
11
Skai Jackson

Skai Jackson is an American actress. She is best known for her role as Zuri Ross in the Disney Channel sitcom Jessie, and is currently starring in the Disney channel series Bunk'd.
12
Lulu Lambros
She has a big ass head and big lips so she looks like a guppy she is so ugly
13
Sky Katz

Oh my gosh I can't even! This girl wow! Sky is literally the most annoying girl EVER! So what if she can rap and act and blah blah blah! Her character on Ravens Home is the worst I can't even begin to start on that. She has the cringiest voice ever! And her acting sucks. Plus her face makes me wanna gag it looks like it belongs to a hippo. And she totally makes her voice sound like a black rapper but she's bad at that also. She thinks she's so cool... well she's NOT! And the worst thing is she's constantly making people feel bad about themselves! She's always taking pics of herself and putting them on Instagram completely flawless! That just makes girls hate themselves not love you! Ultimately in the end everyone will hate Sky Katz trust me!
You and your foot fetishes peeple wow
Skylar Katz (Sky Katz) is a rapper, basketball player, and actress. She's known for her cringy rapping on AGT and for playing "Tess" on Ravens Home.
Ok guys first of all I'm seriously not kidding about this! I'm Sky Katz's foot slave and I'm so scared right now! She lays her bare feet on my face constantly and I can never breathe! And if I want to breathe I always have to get a whiff of her cheesy sweaty smelling foot. Everyday I'm her foot rest. Her feet hurt I'll rub them. Her toes are too cold they get warmed up in my mouth. She just wants to torture me with some of her barefeet, I'll get her feet rubbed all over my face until all I see are soles! And every night she makes me sleep right next to her feet in her bed. I always go to sleep sniffing and licking her ugly little toes! I can't DO IT ANYMORE! She always tickles my nose and cheek and tummy with her bare feet and says she's my mummy. She licks me and sticks her dirty sweaty socks in my mouth! She calls it my dinner. I can't smell Sky's feet anymore I just can't! Please help me! If u want to help call this number! 636-498-1237 thanks! 😣
14
Raini Rodriguez

Raini Rodriguez is an American actress and singer. She is best known for her roles as Trish in the Disney series Austin & Ally and Maya Blart in the films Paul Blart: Mall Cop and Paul Blart: Mall Cop 2. She has also appeared in an episode of The Suite Life of Zack & Cody and on the Disney XD show I'm ...read more.
15
Kristina Pimenova

kristinapimenova2005 Oh listen you guys I'm really sorry that this is how you all feel about me. I understand how I would make you feel jealous, insecure, and maybe even worthless I'm truly truly sorry dearly! But everyone has to understand that true beauty is on the inside not the outside. I'm beautiful because I have a kind heart, not a kind body. Are you all beautiful? I really don't know because you all seem to be ugly on the inside with hate and jealousy and envy all up in your system. You may be beautiful on the outside which is good too but that doesn't mean that your inside is beautiful. Because if all you do is literally just sit there and hate on me then your definitely not a beautiful person! I'm really sorry but that's just the truth! We need to start thinking about our words and how they'll affect others in the long run. And if you guys are curious how these words have affected me, well I'm gonna tell you! These words have had no affects on me whatsoever at all! Because I ...more
Ugh come on guys, let's just all use some common sense here. Kristina is only 11 years old right now, voted the prettiest girl in the world, a better model than you'll ever be, and you guys are really hating on her?! Listen you may hate Kristina but it's only because your jealous. Yeah, I know! Your so jealous you just can't even handle it so you spill out all your thoughts on here! Mhmm... Kristina is a beautiful girl with a purpose and a passion and you cannot EVER take that away from her
Prettiest girl in the world? I don't think so
Does anyone actually believe that Kristina Pimenova actually reads and posts at TTT?
16
Olivia Rodrigo

Out of all the current Disney girls ain't none got nothing on her cept maybe...well I'll keep that one to myself
What, she is beautiful! As is Kristina Pimenova and Peyton Elizabeth Lee and many more!
Love,
Hannah
P.S. Love you from Bizaardvark, Olivia! I wish I could meet you!
17
Raven Symone

Raven-Symoné Christina Pearman, sometimes credited as Raven, is an American actress, singer, songwriter, television personality, and producer.
she is a pretty girl
18
Ronni Hawk

She doesn't deserve asher I deserve him I'm from Philippines hi asher angel!
She is sooooooo pretty
19
Selena Gomez

Selena Marie Gomez is an American actress and singer. She is best known for songs like "Come & Get It", "Good For You", "Same Old Love", and "It Ain't Me". Selena Gomez's voice is mezzo-soprano but she usually sings in alto. She is best known for her role as Alex Russo in Wizards of Waverly Place.
Get her and Sky Katz off this list.
what selena Gomez is pretty
20
DeVore Ledridge

21 Lisa Mantler
22
Debby Ryan

Deborah Ann "Debby" Ryan is an American actress, director, and singer. Ryan is known for starring as Jessie Prescott in the Disney Channel Original Series Jessie and as Bailey Pickett in Disney Channel's The Suite Life on Deck.
This list is wrong.
23
Dove Cameron

Dove Cameron is an American actress and singer. She is known for playing a dual role as both title characters in the Disney Channel teen sitcom Liv and Maddie.
Who ever is putting this on here is probably calling them ugly because they are jealous. They are all beautiful and most are also beautiful on the inside unlike everybody who is calling other people ugly.
24
Cara Delevingne

This is the ugliest androgynous thing I ever seen.
25
Sabrina Carpenter

Sabrina Ann Lynn Carpenter is an American singer, songwriter and actress. She stars as the young version of Chloe Goodwin in The Goodwin Games and as Maya Hart in the Disney Channel series Girl Meets World. She plays Jenny Parker in the Disney Channel Original Movie Adventures in Babysitting . (She) ...read more.
She looks like a zombie though
Not bad
PSearch List