Uncoolest Super Mario Characters
The Top Ten
1
Pink Gold Peach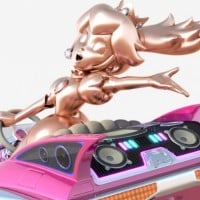 Pink Gold Peach is a character who debuts in Mario Kart 8, where she appears as an unlockable playable character.
How in the literal hell is this pink gold pile of garbage at #18. Every other character is somewhat unique (yes even Waluigi) or at least relevant to the franchise (yes even Metal Mario) Baby Rosalina should be #2
Pink Gold peach is crap.
Why does she even exist?
Uncoolest = Worst
2
Peach

Princess Peach is a major character in the Mario Bros. Franchise. She is the lead female of the The Mario franchise. She is usually the character who needs saved in most Mario Games, but also has appeared as a playable character in the Main-Series Mario Games, including Super Mario 3D World, Super Mario ...read more.
She obviously has the power to defend herself from Bowser, why else would she be in the Smash Bros series? In Bowser's Inside Story she tosses Bowser across the Mushroom Kingdom only using one hand. She can defend herself, but why doesn't she? Always leaving the dirty work to Mario...
In Bowsers inside story, I sorta get it because, well, its fawful. fawful was tricky enough into putting Bowser in? A cave, hopefully to starve and kill him and knock him out for a long time, so why not peach? In the start, she lost her power and stuff, so that's fine? In the other ones, though, shes weak. "Mario! HELP! "
The fact that the greatest fictional character of all time, Mario, is #1 is an insult to everything I know...
The only time she actually attacked was in super smash bros series's
3
Metal Mario

Terrible character
4
Birdo

Birdo is a dinosaur that is well known for her (or his) confused Gender. It was originally stated that Birdo was a male who believed he was a female, but this was changed in later games. Birdo is commonly referred to as a girl, however, they are in a relationship with Yoshi. Birdo first appeared in ...read more.
Birdo is the best
On some cases her dialogue is he and on some it she. On some cases she's evil and once she met Yoshee, she became good.
5
Kamek

Kamek is a common enemy in the Mario Bros. Franchise. He usually appears in New Super Mario Bros. Games, Super Mario Bros. Games, or other similar games. He also appears in spinoff titles, like Mario Party, in which he is not a playable character but creates an obstacle for the players on their way ...read more.
Awesome one. True villian of the franchise
6
Baby Rosalina

Baby Rosalina is an infant version of the major character from the Mario Bros . Franchise, Rosalina . She first appeared in Mario Kart 8 as a playable character and is now one of 5 baby characters in the roster, alongside infant versions of Mario, Luigi, Princess Peach, and Princess Daisy .
Terrible filler and contradicts her adult counterpart's backstory. Disgrace
She shouldn't even exist in the series
7
Baby Daisy

Baby Daisy is the infant version of the major character in the Mario Bros . franchise, Princess Daisy . She is known for her appearances as a playable character in Mario Kart Wii and Mario Kart 8 . She is also found as a playable character in Super Mario Sluggers for the Wii .
Terrible
Her cry's are squeals
8
Baby Peach

Baby Peach is the infant version of the major character from the Mario Series, Princess Peach. She is mostly known for her appearances in the Mario Kart Franchise in Mario Kart Wii and Mario Kart 8 as a playable character, but she also appears in other Mario games, including Yoshi's Island DS, in which ...read more.
Bad
9
Pauline

Pauline, also known as Daniella Verducci, is the original damsel-in-distress whom Mario must rescue from the eponymous ape in the original Donkey Kong.
She is not bad
10
Boo Mario
This is Mario though
The Contenders
11
Yoshi

Yoshi, once romanized as Yossy, is a fictional anthropomorphic dinosaur who appears in video games published by Nintendo. He is most known for his appearances in the Yoshi and Mario franchises.
One of the most overrated ever
GET HIM OFF THIS LIST
GET HIM OFF THIS LIST OR ELSE
12
Daisy

Princess Daisy is a fictional character in the Mario series of video games, in which she is the princess of the fictional region of Sarasaland.
Daisy stinks at all the games and she steals Rosalina and Birdo's places. They are like the best females! She's a bad guy who steals Luigi and Peach.
How does Daisy steal Rosalina's place?
Daisy is so overrated honestly
13
Luigi

Luigi is a character featured in video games and related media released by Nintendo. Created by prominent game designer Shigeru Miyamoto, Luigi is portrayed as the slightly younger but taller fraternal twin brother of Nintendo's mascot Mario, and appears in many games throughout the Mario franchise, ...read more.
Luigi is awesome
OVERRATED
14
Mario

Mario is the main character in the Mario Bros. Franchise, who was created by the creative director and video game designer at Nintendo of Japan, Shigeru Miyamoto. Mario has appeared in almost every Mario Game, including spinoff series, as a playable character, with few exceptions including New Super ...read more.
Even though Mario is on every game, he looks like he owns it all. It is not fair to all these other cool dudes like Hammer Bro., Cheep-Cheep, Daisy, and Bowser Jr. All he does is save Peach from Bowser. But in 13 different games. The only Mario game without the same stupid story is Mario Party 8 which I've beaten. Then here comes these other Marios. Boo Mario, Fire Mario, Penguin Mario, and Bumble B Mario. I hate the Mario games because you have to pass stupid levels with a goomba. I CAN'T BEAR PLAYING Mario STYLE! I wish Cheep Cheep owned his own game. He rocks and Mario sucks.
Why isn't luigi on the list they both look the same
He is one of the coolest
Mario SHOULD NOT BE ON HERE. HE IS THE GREATESTG
15
Donkey Kong

Donkey Kong is an arcade game released by Nintendo in 1981. It is an early example of the platform game genre, as the gameplay focuses on maneuvering the main character across a series of platforms while dodging and jumping over obstacles.
Donkey Kong just keeps acting bad. I think he's bad but my brother says he's good.
He is decent
16
Rosalina

Rosalina, known as Rosetta in Japan, is a major character in the Mario Franchise created by Nintendo. She first appeared in the 2007 Mario Game, Super Mario Galaxy for the Nintendo Wii and later returned for the game's sequel in 2010. Since then, she has been featured in many main-series Mario Games ...read more.
Space Peach, enough said.
Boring bland and annoying she is
Rosalina is cool
Overrated!
17
Larry Koopa

Larry Koopa is the youngest koopaling. He first appeared in Super Mario Bros 3, which came out in 1990. He is known for his blue mohawk hair. He was created by Nintendo.
He is not cool
18
Fawful

Fawful, known in Japan as Gerakobits, is a fictional character appearing in the Mario & Luigi series of role-playing video games developed by AlphaDream.
Fawful is one of the least interesting villians ever
19
Wario

Wario is a character in Nintendo's Mario series who was originally designed as an antagonist to Mario. His motives are driven by greed and he will take the side of whoever will give him the most pay. Although he may seem like just a mean man with no heart, he does have a very tragic past.
He is one of the greatest
Wario's a LEGEND
20
Waluigi

Waluigi is a lanky self-centered, brusque young lad as he is considered evil and the main rival of Luigi. Waluigi is shown causing local havoc in most games he appears in alongside his partner Wario. Waluigi is not instinctively evil or the antagonist (not counting DDR), as a matter of fact, he shows ...read more.
Why is Waluigi on this list?
Very underrated character
21
Koopa Troopa

Koopa Troopas, or just simply Koopas, known in Japan as Nokonoko, are a fictional race of turtle or tortoise-like creatures from the Mario series, as well as its sister Yoshi series.
Koopa Troopa is cool
He's a Stupid Brat like Princess Peach.
22
Iggy Koopa

He is the coolest Koopaling tied with Ludwig
23
Bowser Jr.

Bowser Jr., or sometimes simply Jr., is a video game character who appears in Nintendo's Mario franchise as the secondary antagonist. He is the youngest son of the series' primary antagonist, Bowser.
I don't care honestly
Bowser Jr. is a lame bratty idiot.
24
Wendy O. Koopa

Wendy O. Koopa is a female villain in the Mario Bros . Franchise . She is the only female member of the Koopalings and can usually be found assisting Bowser and Bowser Jr . on their wicked plans with the rest of the Koopalings . She first appeared in Super Mario Bros . 3 in 1988 and since then has been ...read more.
She is decent
25
Bowser

Bowser is the main antagonist of the Mario Bros. Franchise. From kidnapping Princess Peach to simply destroying a fun game between Mario and Friends in the Mario Party spinoff series, this king of the Koopas has set up a certain hatred towards himself amongst the large cast of Mario Characters. He first ...read more.
One of the GOAT villians
PSearch List