Most Underrated Metal Vocalists
The Top Ten
1
Max Cavalera (Soulfly, Sepultura)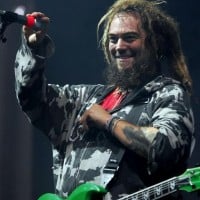 Massimiliano Antonio "Max" Cavalera is a Brazillian singer, guitarist, and songwriter who currently plays in heavy metal bands Soulfly, Cavalera Conspiracy, and Killer Be Killed.
He is amazing.. With both bands
For Seplutura hear :-Roots Bloody Roots, Arise, Dead Embryonic Cells, Territory
For Soulfly hear :- Jumpdaf***up, Eye For An Eye, Back to the Primitive, Inner Spirit - nooreldeen
2
Chuck Schuldiner (Death)

Charles Michael "Chuck" Schuldiner (1967-2001) was an American singer, songwriter, and guitarist, best known as the founder and vocalist, guitarist and bassist of the American heavy metal band Death. He is considered the most influential figure in Death Metal, with some publications referring to Chuck ...read more.
I have never heard such growling skills like chuck seriously and I love his style in ordering the music in the song
Hear Crystal Mountains, Spirit Crusher, Empty Words, Symbolic, Without Judgements, Flesh And Power It Holds, Lack Of Comphersion, Zombie Ritual, Infernal Death.. And you will know the real meaning of death metal.. He is not so underrated actually but for me he is - nooreldeen
Randy Blythe, David Draiman, Mikael Åkerfeldt are underrated? You're joking right? I like those dudes as vocalists but come on, they aren't underrated. The Father of Death Metal, however, is an exception. R.I. P Chuck, the most underrated vocalist in death metal history.
3
Alexi Laiho (Children of Bodom)

Alexi "Wildchild" Laiho is a Finnish guitarist, composer, and vocalist. He is best known as the lead guitarist, lead vocalist and founding member of the melodic death metal band Children of Bodom, and is also the guitarist for Sinergy, The Local Band and Kylähullut.
He is awesome vocalist.. He is not so underrated but he is amazing.. He is the vocalist who got me into death metal..
Hear every time I Die, Are You Dead Yet, Transference, Angels Don, t Kill, Needled 24/7, SixPounder, Kissing The Shadows, In Your Face, Downfall.. - nooreldeen
Without Alexi, I don't think I would be a death metal fan... And children Of bodom are so awesome
His music perfectly highlights what I loved about Thrash Metal. Complexity that fits the music and is fun to play on guitar. Listen to their covers, they are a fantastic band, not a weak member.
favorites: Mask of Sanity, Angels don't kill, Lake bodom LIVE!, Downfall LIVE!, ALL their covers exceed originals,I don't have a bodom song I don't like or skip. Love it all. VERY FEW bands can I say that about.
4
Joe Duplantier (Gojira)

Joseph "Joe" Duplantier is a French musician best known as the guitarist and vocalist of metal band Gojira.
He is amazing vocalist with an amazing band really... Gojira deserve to have a more-popularity..
Hear L'enfant Savauge, Flying Whales, Vacuity, The Heaviest Matter Of Universe, The Axe, Liquid Fire, Adartion For None, To Sirius, Art Of Dying, Wolf Down The Earth... - nooreldeen
5
Chino Moreno (Deftones)

Chino Moreno is an American musician. He is best known as the lead vocalist and contributing guitarist of Deftones.
This god among men has the voice of a metal angel he can go full on hardcore scream to a smooth melodic voice the eases the waves of brutalness
CHINO IS AWESOME LIKE WAY UNDERRATED HE IS THE BEST FRONTMAN OF ANY NU METAL BAND!
6
Miljenko Matijevic (Steelheart)

Miljenko Matijevic is a Croatian-American singer and songwriter. He is best known as the lead vocalist and songwriter of rock band Steelheart. He has a big following in South Korea and has worked on several South Korean TV series.
He's being underrated because of his accident back in 92'. If not, he and his band is the best rocker of all time.
7
Randy Blythe (Lamb of God)

David Randall "Randy" Blythe is the vocalist and lyricist of American heavy metal band Lamb of God and side-project band Halo of Locusts.
Pure awesomeness he got every skills and talent
Hear Omerta, Black Label, 11th Hour, Laid To Rest, Walk With Me In Hell, Grace, Set To Fail, Blacken The Cursed Sun, Ghost Walking, King Me.. And amazing lyrics writer really.. - nooreldeen
8
David Dariman (Disturbed, Device)
It's amazing this is even on an under-rated list.
He is awesome and he is my favourite metal vocalist really he got awesome catchy vocals... But I Put randy blythe 1st because randy blythe is more underrated..
Hear.. The Night, Stricken, Down With The Sickness, Warrior, The Animal, Voices, Indestructible, Haunted, Infection
And hear Device's You Think You Know, Villify, Out Of Line, Haze, Hunted.. - nooreldeen
Draiman underrated? Lmao, u making Me laugh, that guy is overrated with his one style of singing and music..
9 Lajon Witherspoon (Sevendust)
10
Till Lindemann (Rammstein)

Till Lindemann is a German singer, songwriter, musician, actor, poet, and pyrotechnician. He is best known as the lead vocalist and frontman of the German Neue Deutsche Härte band Rammstein.
He is so amazing, underrated, vocalist from the most underrated metal band in my mind...
Hear Reise Reise, Stein Um Stein, Rammstein, Sonne, Ich Will, Ich Tu Dir Weh, Mein Herz brennt, Kokain, Amerika..
And you will know why I Put him 5th in this list... - nooreldeen
The Contenders
11 Björn Strid (Soilwork)
12
Tom Araya (Slayer)

Tomás Enrique "Tom" Araya Díaz is a Chilean American musician, best known as the bassist and vocalist of the American thrash metal band Slayer.
13
Mikael Åkerfeldt (Opeth)

Lars Mikael Åkerfeldt is a Swedish musician, prominently known as the lead vocalist, guitarist, and primary songwriter of progressive death metal band Opeth, as well as being the former vocalist of death metal supergroup Bloodbath for three albums up until 2012. ...read more.
He is the reason why I can hear a 20 minute song without feeling bored..
Hear Deliverence, Blackwater Park, Ghost Of Perdition, The Derpery Falls, Demon Of The Fall, Black Rose Immortal, Burden... - nooreldeen
14
Joey Belladonna (Anthrax)

Joey Belladonna is the American Thrash Metal singer, best known for leading the band Anthrax. He also sings and drums for the cover band Chief Big Way.
Joey is way too underrated? You Don't know what you have till is gone, I only love anthrax with joey...
15
Chuck Billy (Testament)

Charles "Chuck" Billy is an American vocalist, who is best known as the vocalist for the thrash metal band Testament.
So underrated thrash metal vocalist really.. In my mind he is the best thrash metal vocalist of 2000+ because metallica sold out, Megadeth the same, Slayer became boring with nothing new at all. , Anthrax Ain, t Cool they sound almost like thrash metal with a side genre of rap but they got cool songs like Indians, Caught In A Mosh..
But metallica's 1st 4 albums for me are enough to be my favourite thrash metal band..
You should hear testament's Over The Wall, True American Hate, More Than Meets the Eye, Souls Of Black - nooreldeen
16
Trevor Strnad (The Black Dahlia Murder)

Trevor Strnad is an American singer and musician mostly known as the lead vocalist and frontman of The Black Dahlia Murder.
17
Serj Tankian (System of a Down)

Serj Tankian is a Lebanese-born Armenian-American singer-songwriter, composer, multi-instrumentalist, record producer, poet, and political activist. He's best known for being the lead singer of the Armenian/American rock band System of a Down. After System of a Down's hiatus in 2006 he began to release ...read more.
18
King Diamond (Mercyful Fate)

Kim Bendix Petersen, better known by his stage name King Diamond, is a Danish heavy metal musician. He is known for his extensive vocal range, usually sung in falsetto. King Diamond was originally known as the vocalist for Mercyful Fate, but has become notorious for his horror themed Concept albums ...read more.
19
James LaBrie (Dream Theater)

Kevin James LaBrie is a Canadian vocalist and songwriter, who is best known as the lead singer of the American progressive metal band Dream Theater.
20
Devin Townsend (Strapping Young Lad)

Devin Garret Townsend is a Canadian musician, songwriter and record producer. He was the founder, songwriter, vocalist, and guitarist in extreme metal band Strapping Young Lad from 1994 to 2007 and has an extensive career as a solo artist.
21 Midnight (Crimson Glory)
22
Mikael Stanne (Dark Tranquillty)

Bengt Mikael Stanne is the vocalist and one of the lyricists for the Swedish melodic death metal band, Dark Tranquillity and the ex-vocalist for Swedish power metal band HammerFall.
23
Bruce Dickinson (Iron Maiden)

Paul Bruce Dickinson, known professionally as Bruce Dickinson, is an English musician, airline pilot, and broadcaster. He is most well known for being the lead singer in heavy metal band Iron Maiden and his solo career.
24
Hansi Kürsch (Blind Guardian)

Hansi Kürsch, born Hans Jürgen Kürsch, is the lead singer, lyricist, co-composer and bassist for German power metal band Blind Guardian . Heavily influenced by Freddie Mercury, he creates a huge choir effect by overdubbing his own voice multiple times in complex, overlapping vocal harmonies. He records ...read more.
25
Tobias Sammet (Edguy, Avantasia)

Tobias Sammet is a German metal musician, best known as the vocalist and primary songwriter of the power metal band Edguy, as well as the founder, main singer and bassist of the metal opera Avantasia.
PSearch List