Most Underrated Songwriters
The Top Ten
1
Tuomas Holopainen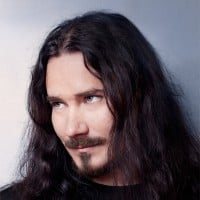 Tuomas Lauri Johannes Holopainen (born 25 December 1976) is a Finnish songwriter, multi-instrumentalist musician (but mainly keyboardist) and record producer, best known as the founder, leader, keyboardist and songwriter of symphonic metal band Nightwish. He also studied jazz and classical styles.
Keyboarder of Nightwish, and also their songwriter, producer and composer. His words are modern poetry, never is there a throwaway line or something that sounds trivial:
"Oh how I wish for soothing rain / All I wish is to dream again / my loving hearr lost in the dark / For hope I'd give my everything". This is the chorus of "Nemo" by Nightwish. Holopainen wrote it about a time in his life when he felt lost and depressed. Those are the words of a broken but truly gifted poet who often feels misunderstood by the world.
Nevertheless, he never fails to embrace and capture the beauty of the world: "The sun is sleeping quietly / Once upon a century / Wishful oceans calm and red / Ardent carresses laid to rest / For my dreams I hold my life / For wishes I behold my nights". The first six lines of "Sleeping Sun" by Nightwish, which has some of his best poetry.
But not only his words are enchanting: over the years his compositions, in other words the music he writes, reached the ...more - Martin_Canine
2
Ritchie Blackmore

Richard Hugh "Ritchie" Blackmore is an English guitarist and songwriter, best known for his work in the hard rock/metal bands Deep Purple and Rainbow. He was ranked number 16 on Guitar World's "100 Greatest Metal Guitarists of All Time" in 2004, and number 50 in Rolling Stone magazine's list of the ...read more.
3
André Olbrich

André Olbrich is a German guitarist, composer and backing vocalist, most known as the co-founder and lead guitarist of power metal band Blind Guardian, in which he serves as one of the main composers with other co-founder Hansi Kürsch.
A great contributor to Blind Guardian's epic and unique sound (together with Hansi Kürsch). - Metal_Treasure
4
Jeff Waters

Jeff Waters (born February 13, 1966) is a Canadian metal musician and founder of the metal band Annihilator. He's best known as the guitarist for Annihilator, appreciated for his fast riffs and solos. Waters is also the primary songwriter in the band. Very often he has taken on the role of lead singer, ...read more.
He wrote almost all songs by Annihilator - Alison Hell, Invite It, Human Insecticide, Phantasmagoria, King of the Kill (to name a few).
5
Jon Schaffer

Jon Ryan Schaffer is an American heavy metal musician. He is best known as the guitarist and last remaining original member of the Florida-based heavy metal band Iced Earth, which he formed in 1985 under the name "Purgatory".
He's one of my favorite songwriters - he's got natural musicality and even though he's a rebel, his songs come out heavy and intense yet melodic at the same time. What could be better?
Iced Earth - Dracula, Melancholy, Anthem, Damien
Demons & Wizards - Crimson King, My Last Sunrise, Path Of Glory, Fiddler on the Green
6
Mat Sinner

Mat Sinner is a bassist, vocalist, songwriter and record producer from Stuttgart, Germany. He is best known as the bassist and primary songwriter for the metal band Primal Fear.
Primal Fear - All For One, Strike, King For A Day, Diabolus - Metal_Treasure
7
Lupe Fiasco

Wasalu Muhammad Jaco (born February 16, 1982), better known by his stage name Lupe Fiasco, is an American rapper, record producer, and entrepreneur. He rose to fame in 2006 following the success of his debut album, Lupe Fiasco's Food & Liquor. He also performs as the frontman of rock band Japanese Cartoon ...read more.
8
Bill Kaulitz

Bill Kaulitz-Trümper, sometimes using the pseudonym Billy, is a German singer-songwriter born on September 1, 1989, best known for being the frontman, lead singer and writer of multi-platinum winning pop rock band Tokio Hotel. During the time his band was most popular in Germany, which was in the mid-to-late ...read more.
9
Tobias Sammet

Tobias Sammet is a German metal musician, best known as the vocalist and primary songwriter of the power metal band Edguy, as well as the founder, main singer and bassist of the metal opera Avantasia.
10
George Harrison

George Harrison (1943 - 2001) was an English guitarist, singer, songwriter, and music and film producer who achieved international fame as the lead guitarist of the Beatles.
He could never get out of the shadow of John and Paul while in the Beatles, but with All Things Must Pass, he finally broke free. He should be recognized for his great songwriting skill that does rival John and Paul's.
The most underrated and most beautiful songwriters of all time, something, here comes the sun, pure genius but simple...
Poor George, he was one of the greatest songwriters of all time, but only the third best in his own band.
The Contenders
11
Tarja Turunen

Tarja Soile Susanna Turunen-Cabuli (born August 17, 1977), generally known as Tarja Turunen or simply Tarja, is a Finnish singer-songwriter. She is a soprano and has a vocal range of three octaves. ...read more.
12
Kai Hansen

Kai Michael Hansen is a heavy metal guitarist and vocalist. Hansen is the founder, lead guitarist, and vocalist of power metal band Gamma Ray. He is also the co-founder and former member of German metal band Helloween.
13
David Foster

David Walter Foster is a Canadian musician, record producer, composer, songwriter, and arranger, who has won 16 Grammys.
14
Till Lindemann

Till Lindemann is a German singer, songwriter, musician, actor, poet, and pyrotechnician. He is best known as the lead vocalist and frontman of the German Neue Deutsche Härte band Rammstein.
15
Sharon Den Adel

Sharon den Adel, Dutch singer and the vocalist of symphonic rock band Within Temptation. ...read more.
16
Michelle Leonard

17
Ray Davies

Raymond Douglas "Ray" Davies is an English musician. He was the rhythm guitarist, vocalist, and songwriter for The Kinks, which he led with his younger brother, Dave.
Inmho ray davies write the most brilliant,witty,woeful,sarcastic and savage lyrics in all of rock history.its absolutely a crying shame that the kinks 4 year ban from the U.S.deprived Americans of some of their most incredible work.
18
Amy Lee

Amy Lynn Hartzler, known professionally as Amy Lee, is an American singer-songwriter, classically trained pianist and composer. She is also the lead singer to the Arkansas band Evanescence.
19
Laura Nyro

Laura Nyro was an American songwriter, singer, and pianist. She achieved critical acclaim with her own recordings, particularly the albums Eli and the Thirteenth Confession and New York Tendaberry, and had commercial success with artists such as Barbra Streisand and The 5th Dimension recording her songs. ...read more.
20
Mark Knopfler

Mark Freuder Knopfler is a British singer, songwriter, guitarist, record producer and film score composer. He is best known for being the frontman of the British band Dire Straits.
He never would get the credit for his songwriting. Although he is regarded as a very genius songwriter and pretty much famous. But critics would never choose him as "one of the best" songwriters. Cause his songs are full of criticizing. I doubt critics would every accept "that".
Mark has never got credit for his playing nor his writing..
21
Adrian Borland
Timeless music and lyrics from a excellent song writer. Thank you Adrian for your songs we have them for all time.
Excellent songwriter who left us in 1999. Honest, real, deep, textured and intelligent. So So very underrated. Front man for The Sound in the 80's and his 90's solo material is just excellent. Miss Adrian's musical but his music with live with me forever.
Who's miss Adrian? It's Mr. Adrian Borland. As a songwriter who has left us it's incredible how his lyrics are so timeless and true for any time and future. He left a mark for those of us who enjoy excellent writing.
Mr. Borland thank you!
22
Marit Larsen

Marit Elisabeth Larsen is a Norwegian singer and songwriter. She began playing violins at age of 5, and played it until the age of 8. She gained international fame during her teenage years as a member of the pop duo M2M with childhood friend Marion Raven.
23
Jim Peterik
Wrote "Vehicle" for the Ides of March as well as numerous songs with Suvrivor and several for 38 Special as well as Sammy Hagar
24
John Frusciante

John Anthony Frusciante is an American guitarist, singer, producer and composer.He is best known for his time with the Funk Rock California based band the Red Hot Chili Peppers. He was also part of the Mars Volta, Swahili Blonde, Ataxia and more.
25
Noel Gallagher

Noel Thomas David Gallagher is an English musician, singer, songwriter and guitarist. He served as the lead guitarist, co-lead vocalist and principal songwriter of the rock band Oasis.
Noel is Underrated
PSearch List