Unsportsmanlike Formula 1 Drivers of All Time
The Top Ten
1
Lewis Hamilton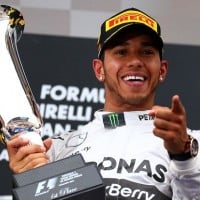 Lewis Hamilton is a British racing driver who races in Formula One for Mercedes AMG Petronas. A five-time Formula One World Champion, he is often considered the best driver of his generation and widely regarded as one of the greatest drivers in the history of the sport. He won his first World Championship ...read more.
He is an ass. No class and at all. And always playing the race card too, despite that he is perhaps the most silver spoon pampered since he was almost out of diapers driver in the history of Formula 1. Always with the fastest or 2nd fastest (80% of the time fastest) car on the circuit since Day 1, always treated like the #1 driver by staff, even as a rookie against the reigning 2 time World Champion, favored by Bernie and F1 and the rulesmakers.
Doesn't care about other drivers. Very selfish, sore loser and cries when he doesn't win. JUST GROW UP, BE A MAN
He clearly takes the cake here. Nobody comes close.
To those who say we are racist and is only here because he's black... you're not welcome here. I am not a racist, I just do not like this man. it just happens that he is black. in the same way there are white or mixed people I don't like.
2
Alain Prost

3
Fernando Alonso

Fernando Alonso is a Spanish racing driver and former Formula One racing driver. He is a two-time Formula One World Champion, and is often regarded as one of the greatest Formula One drivers in the history of the sport.
Ruining other drivers quali-runs out of spite - whar a complete ass...
4
Sebastian Vettel

Sebastian Vettel is a German racing driver currently driving in Formula One for Scuderia Ferrari. He is a four-time Formula One World Champion, having won the championship in 2010, 2011, 2012 and 2013 with Red Bull Racing.
Horrible attitude!
Proper cock
5 Kevin Magnussen
6 Lance Stroll
7
Pastor Maldonado
Lord Pastor
8
James Hunt

James Simon Wallis Hunt was a British racing driver who won the Formula One World Championship in 1976. After retiring from racing in 1979, Hunt became a media commentator and businessman.
9
Michael Schumacher

When you force an accident, including your own younger brother's, just to win then it speaks volumes about your character.
He was always kind of an ass and treated his various teammates (yes lesser drivers than he, but there still should be a certain element of respect) like garbage. The only one he was nice to was Rosburg at the end of his career, when he was slower and inf act regularly being outdrove by Rosburg, so he was all but forced to swallow some humility. And that race Barichello was forced to pull aside right at the finish and let Michael win was the biggest disgrace ever. I know it was team orders but I would have refused to go through with it. - roughstuff
10 Nico Hulkenberg
The Contenders
11 Nigel Mansell
12 Nico Rosberg
13
Max Verstappen

Needs to respect other drivers
14
Jacques Villeneuve

He was a pretty good driver but annoying whiner, who didn't seem to realize he wouldn't have even been in contention for the drivers title if he werent in the fastest car on the circuit. - roughstuff
15 Juan Pablo Montoya
16 Jenson Button
17 Rubens Barrichello
18
Dieter Peroni
Gilles Villeneuve...say no more
BAdd New Item