Top 10 Unusual Yet Effective Decisions Metal Musicians Made To Solve a Problem
The Top Ten
1
Nicko McBrain made his first appearance with Iron Maiden disguised as band's mascot Eddie because the news of Clive Burr's departure, their previous drummer, had not yet been announced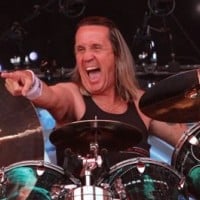 Michael Henry "Nicko" McBrain is an English musician, best known as the drummer of the British heavy metal band Iron Maiden, which he joined in 1982.
2
How and why Iron Maiden got 3 guitarists? They originally had two, Adrian Smith and Dave Murray, but Smith left and was replaced by Janick Gers. After 9 years of absence Smith decided to come back. Drama? No. The band decided to keep 'em all.

Iron Maiden are an English Heavy Metal / Hard Rock band formed in Leyton, East London, in 1975 by bassist and primary songwriter Steve Harris. The most critically acclaimed period for the band was from 1983-1989. With vocalist Bruce Dickinson, bassist Steve Harris, lead guitarist Dave Murray, rhythm ...read more.
A band with 3 guitarists is kinda unusual but I like how people in Iron Maiden value their bandmates, past and present. - Metal_Treasure
3
Metallica bought the rights to the film 'Johnny Got His Gun' to continue showing the music video to their song 'One'

Metallica is an American Thrash Metal band formed in 1981 . The original lineup was James Hetfield (Vocalist and Rhythm guitarist), Dave Mustaine (Lead Guitar), Lars Ulrich (Drums), Ron McGovney (Bassist). The group came into mainstream from their Self-Titled album and the hit single "Enter Sandman". ...read more.
Metallica's video to the song 'One' used scenes taken from the film Johnny Got His Gun. The song became popular and Metallica were routinely required to pay royalty fees to continue showing the music video. So Metallica bought the rights to the film. - Metal_Treasure
4
The building Deep Purple were supposed to record the album Machine Head burned down and the band members had to improvise, which included walking across a hotel balconies to get mattresses as sound-insulting "equipment"

Deep Purple are an English rock band formed in Hertford in 1968. They are considered to be among the pioneers of heavy metal and modern hard rock, although their musical approach changed over the years. Originally formed as a progressive rock band, the band shifted to a heavier sound in 1970. Deep Purple, ...read more.
The album Machine Head is one of the two Deep Purple masterpieces. Machine Head has the song Smoke on the Water on it, their most popular song, that actually describes the fire accident and the troubles they had. The title "Smoke on the Water" refers to the smoke from the fire over lake Geneva. The song was inspired by the accident. - Metal_Treasure
5
Metallica equipment got stolen in Boston right before their flight to Denmark to record Ride the Lightning. In Denmark they got all the Marshall amps from the metal bands that were in Denmark at that time, like 9 amps. And James guitar got a great sound!

James had a special, modified Marshall amp he used for Kill 'Em All but it got stolen. He wanted the same sound for Ride the Lightning. In Denmark they tested all those 9 amps and actually recreated James' guitar sound on Kill 'Em All. With a bonus: beefed up. James was more than happy. So are we, the fans. - Metal_Treasure
Now that's dedication! - Gg2000
6
Ne Obliviscaris announced a crowdfunding campaign to support a world tour with an initial target of $40,000 AUD. This target was reached in just two days, reaching a final figure of $86,132 AUD

Ne Obliviscaris (Latin for "forget not") are an extreme progressive metal band from Melbourne, Australia, formed in 2003.
A new Australian band that plays extreme progressive metal was at risk of not being financially supported by major labels. Australia doesn't have established metal traditions. It's not like in the US or Europe although a new band playing unusual (yet great) metal music would be in a vulnerable position even in America and Europe.
So Ne Obliviscaris did something unusual to make their dream come true - to play their music live in other countries. Their subsequent tour included Europe, North America and Asia.

They announced the campaign in 2014. They actually broke the Australian record for crowd-funding with that final figure of $86,132 AUD. - Metal_Treasure
7
Edguy had no singer and at the 2nd rehearsal told their keyboardist Tobias Sammet that he was the singer

Edguy is a heavy metal band from Fulda, Germany that was founded in 1992 by 14-year-old students Tobias Sammet, Jens Ludwig, Dominik Storch and Dirk Sauer.
Tobias Sammet was 14 yo at the time, the others were the same age, 14-15. But this decision was great because his vocal skills are actually incredible.
Tobias Sammet was originally the keyboardist and didn't want to be a singer because he didn't like his puberty voice. Well, some boys' voices don't sound good at 14-15 and it's normal. I would say Sammet's voice fully matured when he turned 20 (judging by his songs). Since then he's been a powerhouse and a technical vocal beast (since 1997-1998, i.e. for 20 years as of today). - Metal_Treasure
8
Cynic's bassist quit before the recording of the album Focus and Cynic hired their studio engineer, Sean Malone, who happened to be a bass player (jazz player though)

Cynic is an American band which incorporates elements of progressive, experimental, alternative, and heavy metal. Founded in Miami, Florida. Founding members Paul Masvidal and Sean Reinert publicly revealed their homosexuality in May 2014, a move that was broadly supported by the heavy metal community. ...read more.
Before the recording of the album Focus in 1993, their bassist quit and their studio engineer, Sean Malone, volunteered. He was originally a Latin Jazz player though. But he somehow succeeded to play fretless bass to death vocals.
The album is considered a classic. A masterpiece. Sean Malone became a band member. And began playing metal. With Latin jazz noodling. As of 2018, he's still in the band. - Metal_Treasure
9
Kobra Paige (Kobra and the Lotus) answered an ad for a drummer for a metal band, she showed up and told them she was not a drummer but a singer, and after some jamming, she had the job (as the lead singer)

Kobra Paige is a Canadian singer and songwriter. She is the founder, lead singer, and songwriter for the hard rock and metal band Kobra and the Lotus. She is also a guest vocalist for Kamelot and Metal All Stars.
She's a classically trained singer and she can sing - Metal_Treasure
10
Iron Maiden hired their frontman, Bruce Dickinson, to fly the band's tour plane

It's last because it isn't hard to find a pilot (i.e. not a big problem) but it's still unusual when your lead singer flies your tour plane. And it's effective, yes. - Metal_Treasure
BAdd New Item