Top 10 Best Victoria's Secret Models
We all know them when they are on the red carpet, but the harder part is to tell who is the best?
The Top Ten
Adriana Lima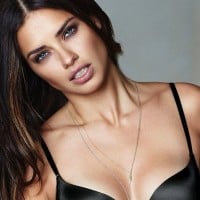 Adriana Lima is a Brazilian model and actress, best known as a Victoria's Secret Angel since 2000, as a spokesmodel for Maybelline cosmetics from 2003 to 2010 and for her Super Bowl and Kia Motors commercials.
She is one of the originals, so you have to love her. Her accent is smooth and rolls like marbles.
Adriana is so hot and sexy, and she also has a great personality.
This really is a woman, first, first, first place
I had a dream last night... It was about her.
Candice Swanepoel

Candice Susan Swanepoel is a South African supermodel, best known for her work with Victoria's Secret.
She is sexy and pretty
Pure beauty. She won't be leaving VS soon. She is extremely loyal to her job. We love that!
Gisele Bundchen

Gisele has the best walks
I love her hair, so pretty
Miranda Kerr

Miranda May Kerr is an Australian model. Kerr rose to prominence in 2007 as one of the Victoria's Secret Angels.
In my opinion, she's not pretty at all and also she is full of herself and cheated on her husband.
Of course this Aussie had to make it on the top three. She's married to Orlando Bloom and has child Flynn. What a life!
Alessandra Ambrosio

Alessandra Corine Maria Ambrósio is a Brazilian model and actress. Ambrosio is known for her work with Victoria's Secret and was chosen as the first spokesmodel for the company's PINK line.
Just like Adriana they were born in Brazil with the accent and the body. Also the personality!
Heidi Klum

Heidi Klum is a German model, television host, businesswoman, fashion designer, television producer, and occasional actress.
Super mom and Super model. We couldn't love her more!
i agree
Doutzen Kroes

Doutzen Kroes is a Dutch supermodel, actress, activist and philanthropist. She began her modelling career in 2003 in the Netherlands before being cast by lingerie giant Victoria's Secret.
Not only is she beautiful, she lead the Victoria's Secret charity event. No wonder she is one of the worlds highest paid models.
She has a healthy looking body with some curve, and her eyes are also gorgeous
Barbara Palvin

Tyra Banks

Tyra Lynne Banks is an American model, television personality, talk show host, producer, author, actress, singer and business woman.
I like Tyra Banks.
Rosie Huntington-Whiteley

Rosie Alice Huntington-Whiteley is an English model and actress. She is best known for her work for lingerie retailer Victoria's Secret and for being one of their brand "Angels" and has also worked for Burberry being the face for their 2011 brand fragrance "Burberry Body", and for M&S.
The hair, skin, and lips couldn't be any better. And she also starred in Transformers: Dark Moon. Gotta love her!
The Contenders
Behati Prinsloo
She is so down to earth, humorous, and has a fun personality. Love her!
Namibian beauty so happy so cheerful. Dating Adam Levine. Her life is great. One of my favorites!
Ana Cheri

Emma Glover
Stella Maxwell

Karlie Kloss

Karlie Kloss is an American model and entrepreneur. She was a Victoria's Secret Angel from 2011 to 2014.
BFF of Taylor Swift. She is different than other models she has such a shy expression. It fits her perfectly!
She has really good runway walk
Confident,Sexy & hss one of the best walks
That's what I call sex on a stick
Lily Aldridge

One of the most famous all American beauties. that's why she made the list.
Taylor Hill
Sofia Vergara

Sofía Margarita Vergara Vergara is a Colombian-American actress, comedian, producer, television host, model and businesswoman.
Naomi Campbell

Naomi Elaine Campbell is a British supermodel, actress, and singer. Recruited at the age of 15, she established herself amongst the top three most recognizable and in-demand models of the late 1980s.
Naomi Campbell acts like she cares, respects, loves and truly misses Michael Jackson. But when I watched her interview about her talking about his passing, she is lying. I'm not being negative and hateful towards her. I'm being honest. She's very beautiful though.
I'm glad she's below the list.
She's pretty but I don't like her personality at all.
I would have voted Naomi Campbell to be Number one on this list if she hasn't got a horrible personality. Especially when she gets angry, she acts tough by abusing her maids (especially throwing a phone at her) and it is her own fault that she got banned by British Airways for life by assaulting the police (which was illegal). When I watched her interview about her talking about Michael Jackson's death, she is not even caring and not even being respectful at all. Sh has no sympathy. Then she's posting on her social media that she misses him, which is all part of an act. Also she secretly hates his 3 children. And honestly 'm not being negative and disrespectful towards her at all. And especially I am not hating on her. I'm telling the truth.
Jasmine Tookes

Josephine Skriver
Romee Strijd
Romee is the new Queen. Her smile, hair, personality, face, body...you name it! She is so pretty yet so humble. I love her so much
Not even close. She's the prettiest by far.
Martha Hunt
Yanet Garcia

Karolina Kurkova
PSearch List