Kirby (Kirby)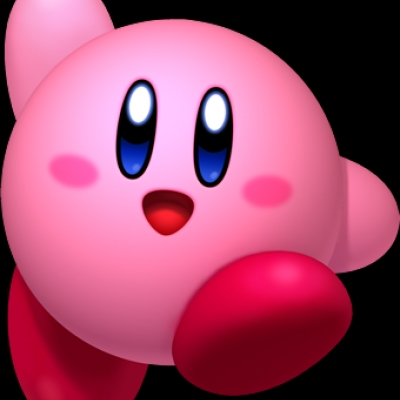 Uploaded by ToadF1
Info
Kirby is a fictional character and the protagonist of the Kirby series of video games owned by Nintendo and HAL Laboratory. His first game was created in 1992, and the pink puffball has made his way into the hearts of fans of all ages.
Comments
Top
Popular
Newest
No other dude is pink and sucks in air to hover and can eat enemies and get their abilities. Is there? No.
GET HIM IN THE TOP FIVE, for goodness sake! He's simply amazing! Kirby is not a wimpy game, if you stopped playing at the end of the game, go back and play it again! There are so many secrets.
I like using kirby in super smash bros. I just fly over everyone while they're fighting and then I turn into a hard thing which hurts the people who got hit. It usually works and sometimes two people die at once when I do it. Kirby is also really cute and can kill a bunch of enemies despite Kirby's cuteness. - Imreallyboredrightnow
Though Kirby looks like a adorable pink puff ball like creature, he's more then that! Kirby is a adorable-looking enemy-eating power-absorbing pink hero that you would be glad to have as your friend and not your enemy.
KIRBY RULES! HE IS SO CUTE AND IF YOU UNDERESTIMATE HIM HE'LL BLOW YOUR HEAD OFF WITH THE SWORD ABILITY ESPECIALLY YOU GUYS HARDCORE GAMERS! OH HO HO HO HO HO! META KNIGHT IS SO COOL! GO KIRBY! MUAHAHA! *MAKES EVIL FACE* the end.
He's adorable, and puffy. He can infinitely fly. The games are actually fun. He can suck up anything and change into it. The bosses are actually hard. There is so much stuff to do. And everything in the game is meant to look cute.
Kirby is in my opinion the cutest of all video game characters, only a Luma or Pokemon could compete, plus he has fun games and is not bad in super smash.
When it comes to games that have perfect blend of fun, charm, and plenty of activities, this little guy has the right games. - Garythesnail
Worst character in gaming history! Why? Stupid question 1: he looks ugly with his hands and feet growing out of his head 2: very babyish 3: terrible character 4: very annoying voice 5: all Kirby games suck! If Kirby was alive, I would shoot him with the gun! KIRBY SUCKS!
Kirby is EPIC! At first sight, I thought it was babyish. But I played it and IT IS EPIC!
( P.S. mario is FAT)
Kirby might not be too smart, but he's cute and can use a whole bunch of superpowers. I guess you could say he's some kind of a surprise superhero.
Kirby is THE most cutest character ever. He may look like you can keep him as a pet but when he attacks you seriously don't wanna be near him.
Kirby is one of my favourite Retro Video Game Character, First, Adorable as hell! Second, He's pretty badass, Third, his games are awesome!

He's a ass kicking machine!
Easily the best video game character ever. He's brave Strategic and smart kicks everyone's ass is super flippin awesome extremely diverse and cute! Oh yeah did I mention he has INFINITE power and the fact he is a baby! All the games are great and is an easy character to love! Go Kirby!
This pink guy will eat your ass, best pink puffball ever. In fact, he's the only guy who can rock the colour pink, he does it better than any girl could. DEAL WITH IT
I love my characters being super cute, but can kick your ass any day. That's Kirby in a nutshell. Also I know this is overused but... Kirby is shaped like a friend.
He is a cold-blooded killer and he has the best powers. Suck up some guy and swallow him to gain their powers and he can just about beat up anyone. AND FLYING
Play a kirby game and you will agree with me when I say that kirby is best by far
Kirby is the cutest video game character of all
Kirby is the best video game character ever! Meta knight too! Kirby and meta knight are both from the best video game series ever! Kirby is number 1! - kirbyfan
Kirby is adorable, plus the games are so fun and addicting- go Kirby!
Kirby is a lovable character. The best thing about him is he can turn into different character when he sucks them in. You rock Kirby!
Kirby is so cute! He can fly with his cheeks, and he is SUPER chubby. But kind of surprising to find out he is an amazing adventurer.
Lara croft is dirt in a cavern compared to kirby!
Kirby is the best character ever! He is an infant Star Warrior native to Planet Popstar. Kirby has defeated and destroyed countless of enemies and even their soul forms. Kirby has over 100 copy abilities, 5 super abilities, and the ultimate Hypernova (capable of devouring worlds)! Kirby is an innocent, young boy who fights and protects not only his country or his planet, but the entire universe.
Related Lists
Top 10 Best Kirby Games
Top 10 Hardest Kirby Bosses

Best Kirby Characters

Top 10 Kirby Villains