David Garrett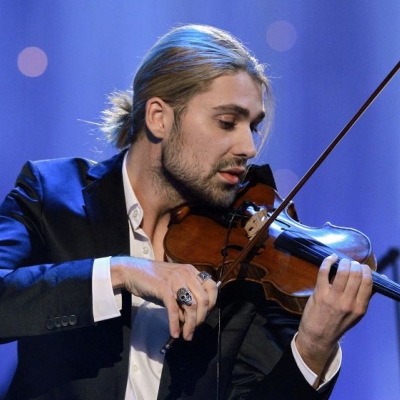 Found on musik-heute.de
Comments
Top
Popular
Newest
Listening to David play as renewed my interest in classical music. He plays with such emotion. No matter if he is playing classical or crossover material, David gives his all, making the music come alive. He makes the violin sing. David has made the beauty of the violin come into my heart. I have had the wonderful opportunity of attending David's concert over the last several years... Love Him
In my opinion, David is the best of the young violinists out there right now. He plays with such a PASSION for the music - and he works hard to get the music the way he wants it. Yeah. For a contemporary violinist, he has the chops. And he's first and foremost a CLASSICAL artist - the rock stuff he does is just for fun. He has learned from the best - Itzhak Perlman and the incomparable Ida Haendel, and he has NOT turned his back on his classical roots. He's simply amazing.
David is a musician of the highest quality, takes his work seriously, is extremely charismatic and has a refined musical taste. Anyway, he is the greatest violinist of all time, because it can bring people of all ages in their great concerts and charms everyone with his talent and his kindness. He really is the best!
I first saw him perform brilliantly in concert when he was 14. I was charmed with his virtuosity and I have not forgotten on that boy... And now in adulthood David Garrett is full of energy and performs stunning. It's absolutely fantastic!
I know nothing about classical music and quite frankly don't listen to it for long. That's until I happened to see a David Garrett concert on public T.V.. I couldn't turn away and ended up listening to his entire concert totally absorbed. Remarkable! While concert violinists demonstrate technical excellence David also makes music, transcending the instrument
He is the best of this generation... Paganini from this age!
Well David is a great violonist. When you start listen to him, you can't stop. Its like magic. I had the chance to meet him personaly, went to some of his concerts and will go again to see and listen to him soon. Its not only his music but his humility, his humour, his kindness, his personality. He is just himself: David Garrett. Thank you
David is an amazing virtuoso! He is also a brilliant musical arranger and a very strong upcoming composer. This young man has an unbelievable technical ability on the violin and his musical interpretations can be breathtaking. He is an incredible artistic force!
Vote now! David Garrett is the greatest Violinist of the 21th Century..
David had to face hard times, more than Paganini, when artists were payed to entertain or Heifez, when classical fans were already a strong comunity. Dig out the classical core of modern music and make the rock music sound so classical goes beyond the natural gift to play the violin, genius have the third dimension in the David's vision. The competition he has to face now is not like being in an exclusive club for music lovers, like happened in the past, we have to see also this point of view.
David makes not only the violin's voice come alive but gives life to each note with passion of dramatic, romantic, gentle or intense. Love his classic pieces especially but enjoy his style in all genres.
David is just so joyful when he plays! He has amazing talent as well!
He is only the greatest, best and friendly ever! Fantastic - classic and modern music!
Like all the great composers, David is unique; he plays all the big classics and transport them into the XXI cent.; he is an amazing violinist and great performer that makes young people want to go to concerts, real concerts...
I believe David Garrett is a revolutionary violin player for our time he plays with all emotion and feels every single note he plays I very much compare him with his mentor Paganini, plus he is very loveable and handsome.
David is simply great! I love all kinds of music he plays and I love the way he behaves. Sorry, my English is not so good, but as I am a great fan of David, I like to say: listen to him and enjoy!
David Garrett is the most astonishing and fantastic violinist. His work is brilliant, joyful, and magnificent. He is special and very different from other artists. He's not only a good musician, but so much more...!
David is one of the most talented violinist in the world. It wasn't until I heard his music that I turned my love to classical as well as crossover. His love of the violin comes through his heart!
His music speaks to me like no other.
Garrett gets a lot of heat for playing "pop" music on the violin, and I think people forget that he is actually talented and plays as well as any of the great Golden Age virtuosos and premier violinists of today.
David Garrett has inspired people all over the world with his style of combining classical music with popular music. The combination is wonderful.
David Garrett's music is so amazing! I love his style! Perhaps, there are also another violinists play as perfect as him but for me the style is important and David is perfect in it! Thanks David! Anne
I love his performances and his modesty. He's the best and still he didn't lose his natural, almost childish, charm. Thank you David. Your toil is a balm for our souls and makes this world more bearable.
I Love ALL the music of David Garrett! Listening to David's music is an inspiration to me! I listen to his music and then I practice my own music! when I am under the weather I listen to his music and I always feel better after hearing his music! Hearing the music of David Garrett and Seeing photos of David Garrett makes me smile and brings me great joy and makes me happy! David Garrett makes me happy!
David in a vary talented violinist,