Top 10 Washington Redskins Players of the 2017-2018 Season
The Redskins were a touchdown away from going to the playoffs, but got shut down by the Giants and there awesome defense. While look tough for Washington I gotta admit they have really good piec of players put in.

The Top Ten

1 Kirk Cousins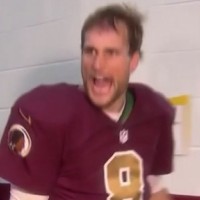 Kirk Cousins is an American football quarterback for the Minnesota Vikings of the National Football League.
Kirk Cousins is playing out of his mind right in Washington at the right time of his career. Let's hope for Washington fans is that he is there for life because this guy can at least bring you to a 7-8 winning team, and if you upgrade the rest around him it gets better. If I was Cousins I'd wanna stay here for life, you got the offensive line, you got a good cast of supporting weapons around you it should all work out, and the scary thing is he could go back to back 4,000 yards then you would have a reason to extend him. - htoutlaws2012
2
Jordan Reed

Jordan M. Reed is an American football tight end for the San Francisco 49ers of the National Football League.
Jordan Reed would like to go back to the beast mode season he had in 2015, hopefully he can stay healthy a all times because his Cousins favorite weapon it seems like the go to guy a massive dual threat.
3
Ryan Kerrigan

Patrick Ryan Kerrigan is an American football outside linebacker for the Washington Redskins of the National Football League.
Who knew this guy from Purdue would be the next London Fletcher of that defense. Ryan Kerrigan is probably the most underrated line backer in the league today, he has great awareness when to plant the quarterback down to the ground when he miss anticipates the middle side of the field here he comes like he is Jaws coming for you every time. He has started every single game that's how good this guy is. - htoutlaws2012
4
Trent Williams

Trent Williams is an American football offensive tackle for the San Francisco 49ers of the National Football League.
Trent Williams has been a force of nature being in the pro bowl 4 out of 6 times playing for the Redskins. He is even considered by many to be one of the top 3 best left tackles playing right now.
5
Jonathan Allen
I had a feeling he would fall exactly how I predicted in a system that needed the next Chris Baker (who is now with Tamp Bay). Jonathan Allen is a very unique player who could probably play both end, and that he was announced as a defensive tackle (Nose tackle). This guy could wow Washington fans for years just by his raw talent alone. - htoutlaws2012
6
Brandon Scherff

Brandon Scherff is an American football offensive guard for the Washington Redskins of the National Football League.
Freakishly big for a left guard, and reasonably picked in the top 5 because why not. Unlike Tony Madarich (who was more of the offensive tackle, but a top 3 draft pick in 89, and we know how that went) this guy learned from his mistakes, and so far has worked out great for the Redskins. Already got a pro bowl for his accolades could he play a much bigger role for the team will just have to wait and see. - htoutlaws2012
7
Josh Norman

Joshua R. Norman is an American football cornerback for the Buffalo Bills of the National Football League.
Norman did alright his first year had a step down from his awesome final season with Carolina. He may slip up down the road, but one of the better defensive players speaking he is a leader to that Washington defensive unit. You could say he may have much more help in the secondary then he did when he arrived on the scene last year.
8
Jamison Crowder
Crowder is the future wide Receiver for the skins to come. Last year he broke out in the best way possible I except him to be exactly consistent to how he was racking up close to 1,000 yards this could be his best year to come. - htoutlaws2012
9
Terrelle Pryor

Terrelle Pryor Sr. is an American football wide receiver for the New York Jets of the National Football League.
Pryor comes in as the replacement for DeSean Jackson essentially well he be a much better upgrade will wait, and see. I do not seem optimistic however since the Redskins have had terrible luck with Free Agent pickups in the past which is endless. - htoutlaws2012
10
Robert Kelley

Fat Rob Kelley played fairly well with that offensive line that I say is overlooked by many. Not quite a top 10 line, but just enough for the Redskins to be way too lethal on offense. - htoutlaws2012
BAdd New Item