Top 10 Winners of the 2019 NFL Free Agency
The Top Ten
1
Cleveland Browns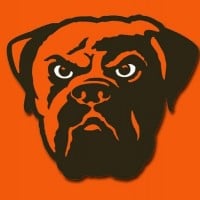 The Cleveland Browns are a professional American football team based in Cleveland, Ohio. The Browns compete in the National Football League as a member team of the American Football Conference North division. ...read more.
Can you say winner of the AFC North? Its gonna happen folks look at this team they are right there. John Dorsey is a dealing machine this offense looks lethally scary. Kareem Hunt may not play until 2020, but still a secret weapon that could be big. Speaking of big splash they took two former Giants away OBJ, and Olivier Vernon (add in Sheldon Richardson of the vikings) sure they lost their best guard, but they'll probably get one in the draft this Browns team looks so balanced on preview how can you not pick them as the favorite at this point for that division.
I am not a Browns fan (I am a Patriots fan) but I am not saying that the Browns won in FA, I AM TELLING you. Adding Kareem Hunt who led the league in 2017 AS A ROOKIE in rushing yards, Olivier Vernon who was ranked 29# in 2016 in the ESPN NFL rank, and Odell Beckham?! This team will get 10-12 wins in 2019.
It seems like we're in some parallel dimension where good things actually happen to the Browns for once. The pieces have arrived. They just need to execute next season and they can make the playoffs for the first time since 2002.
I mean just look at the team now. Mayfield, Beckham Jr, Landry, Chubb, Hunt, Njoku, Bitonio, Robinson, Garrett, Ogunjobi, Randall, Ward, Schobert, they will wreck havoc in 2019.
2
Buffalo Bills

The Buffalo Bills are a professional American football team based in the Buffalo–Niagara Falls metropolitan area that competes in the National Football League. Buffalo Bills had the longest playoff drought of any team which came to an end in 2017.
I really like Buffalo's style of approach Josh Allen has got some weapons now John Brown, and Cole Beasley and while there average pieces that's not bad to go with. Frank Gore is old, but there are times he does well in this stage of his career just not consistently as years past. They literally stole away Andre Roberts for kick return specialist. Got A Center in Spencer Long former Redskin. Took a flyer on Tyler Kroft who was healthy up until last season see how he fits in. The fact they focused aggressively on offense was very well done, and every necessarily seeing what needed to be done.
Yeah they did what needed to be done. If they want Josh Allen to be successful they had to give him some help and that's exactly what they did
3
San Francisco 49ers

The San Francisco 49ers are a professional American football team located in the San Francisco Bay Area.
I love San Fran's approach in this free agency they got three tail back threats. Significantly improved a very weakened linebacking core stole Dee Ford, and got Kwon Alexander. This is all or nothing for the 49ers its make the playoffs or back to the drawing board and there gonna show you.
I like what they did here. This upcoming season they will be all in for the playoffs
4
Tennessee Titans

The Tennessee Titans are a professional American football team based in Nashville, Tennessee. The Titans compete in the National Football League as a member club of the American Football Conference South division.
Titans go get extra benefits going after Adam Humpries, and also snatching up former Rams Guard Rodger Staffold which makes plenty of sense seeing the Guard position was their weakest on the protection. Kept Kenny Vaccaro long term, and a risky, but could be rewarding Cameron Wake coming in could provide pressure or is his days behind him who knows.

Update: Ryan Tannehill? I guess putting the Titans a bit higher than the Raiders looks more outrageous now.
Some interesting moves. Maybe they can finally get some consistency
5
Oakland Raiders

The Las Vegas Raiders are a professional American football franchise based in Las Vegas. The Raiders began playing in 1960 as a member club of the American Football League; they have been a member club of the National Football League since the 1970 AFL–NFL merger. ...read more.
While the Raiders are probably gonna still tank in preparation for Las Vegas relocation look at the moves they made pretty fascinating what they did it starts with getting AB. While his entering at age 30 he can still play although many receiver who go to the black hole don't always pan out, but maybe this could be where the curse is broken perhaps. Getting Tyrell Williams might be the underrated pickup though that takes away a favorite weapon of Phillip Rivers. Then look around position they got Trent Brown from New England that should be an improvement in the protection. Than to go out and get LaMarcus Joyner which makes sense since are they gonna dealt Karl Joseph sometime?
I'm pretty skeptical about the Antonio Brown acquisition. They tried the same exact thing in 2005 with a disgruntled Randy Moss and that didn't work out so well. And Brown is ten times the cancerous diva that Moss was in his prime.
Obviously the big move was getting Antonio Brown. But they also got a few nice pieces on defense. Including Trent Brown and LaMarcus Joyner. Of course they still have all those draft picks to work with as well. If they use them wisely then we'll talk about maybe getting out of the basement
6
Green Bay Packers

The Green Bay Packers are a professional American football team based in Green Bay, Wisconsin. The Packers compete in the National Football League as a member club of the league's National Football Conference North division. The Packers have won 4 super bowls and 13 NFL championships.
What I like what the Packers did the second day of activity is when they aggressively found depth at linebacker, and take a piece outta Da Bears as well adding in Adrian Amos. They need do to a lot in the draft if there gonna convince me the pack is back in form in 2019.
Ah yes, refreshing to see us doing something in free agency. Getting two Smiths for pass rushing, Adrian Amos for safety help, and Billy Turner for offensive line help? I'm in heaven. Now let's get out there and sign Eric Berry!
7
New Orleans Saints

The New Orleans Saints are a professional American football team based in New Orleans, Louisiana. The Saints currently compete in the National Football League as a member club of the league's National Football Conference South division.
If you think about it they didn't really lose that many players aside from just mark Ingram, and only replaced him with a pretty compatible Latavius Murray which isn't a bad #2 option. Teddy is still there nothing lost all a win for the Saints in my book.
Didn't do too much but they didn't have to. No reason to fix what's not broken. Especially on a team that was Super Bowl bound a year ago if not for that controversial non call
8
New England Patriots

The New England Patriots are a professional American football team based in the Greater Boston region. New England Patriots are one of the few teams to have 5+ wins in the Super Bowl.
If you think about it... yes they lost some players, but they were not gonna over pay for them to stay, and or keep some of their more mediocre pieces (I stand corrected Philip Dorsett). Adding in Michael Bennett though helps out that Defensive line even with Flowers off to Detroit.
We stunk. All we did was resign Jason McCourty, Brandon Bolden, Phillip Dorsett, and add Michael Bennett. We lost Trey Flowers, Trent Brown, Malcom Brown, LaAdriann Waddle, and Adran Clayborn.
9
Philadelphia Eagles

The Philadelphia Eagles are a professional football franchise based in Philadelphia, Pennsylvania. The Eagles compete in the National Football League as a member club of the league's National Football Conference East division.
Carson is going to prove so many people wrong in 2019. It amazes me how so many ignorant NFL fans have written him off as "overrated" and "injury-prone" when he was going to win the MVP award in 2017 before his injury. Now he's back 100% healthy with quite possibly the most talented receiving core in the entire league. A proven reliable #1 receiver in Alshon Jeffrey. A Top 3 tight end in Zach Ertz. One of the greatest deep threats in NFL history in Desean Jackson (who isn't nearly as drama-causing as people make him out to be and is finally back to playing for the team he never wanted to leave in the first place). A (now) reliable slot receiver in Nelson Agholor. And a young developing tight end target in Dallas Goedert. In my opinion, this team has very high potential to win the Super Bowl next year. Just as long as literally 1/3 of our roster doesn't get injured like they did in 2018, we should be golden.
While there's now way of keeping everybody, and perhaps losing Nick Foles could be a massive blow for this team down the future if Carson Wentz is indeed injured prone scare. Eagles did do some things that seem to make sense replace Michael Bennett with Malik Jackson. Then to get DeSean Jackson which was very interesting decision to accept seeing that he went to Washington and that didn't go too well hopefully he ain't a locker room cancer.
Seems a bit risky to get rid of the guy who saved your season two years in a row now and finally won a Super Bowl for you. Better hope Wentz doesn't get injured
10
Baltimore Ravens

The Baltimore Ravens are a professional American football team based in Baltimore, Maryland. The Ravens compete in the National Football League as a member club of the American Football Conference North division.
While they did lose some notable pieces on defense they gonna turn into a more offensive minded team next year which I don't mind them doing, but they did replace Eric Weddle with Earl Thomas which should be interesting, and now Mark Ingram is there premiere tail back which means Alex Collins is gone.
They made a few interesting moves and honestly I like the direction they are going
You guys got CASE KEENUM, EARL THOMAS, AND MARK INGRAM! WHY IN THE WORLD WOULD YOU BE COMPLAINING.
The Contenders
11
Jacksonville Jaguars

The Jacksonville Jaguars are an American professional football franchise based in Jacksonville, Florida.
How was Jax not on here? come on people! WE GOT BIG DICK NICK!
While yes that is a win, but who is he gonna throw to is the question?
BAdd New Item