Top 10 Best Beaches in the World
Where do you think is the best place to enjoy the sun and to have some fun?
The Top Ten
Bora Bora (French Polynesia)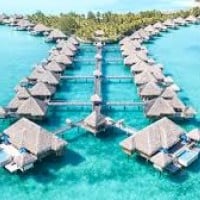 Bora Bora is one of the few places on earth that everyone hopes to witness in their lifetime and once you see it, you are forever enamored.

Undoubtedly the most celebrated island in the South Pacific, Bora Bora is French Polynesia's leading lady. Her beauty is unrivaled and her fame, unwavering.

Are you a beach lover? On the hunt for finding the best beaches in the world?
Bora Bora and the other islands of Tahiti have some of the best beaches. It is one of the reasons why I love Bora Bora and her sister islands.

Bora Bora beaches are definitely some of the best beaches in the world. Looking around at the white sand and beautiful turquoise lagoon, with Mt Otemanu as a backdrop, is like swimming in a screen saver.
Never seen anything like it before
Boracay (Philippines)

Boracay is a small island in the Philippines located approximately 315 kilometres south of Manila and 2 kilometres off the northwest tip of Panay Island in Western Visayas region of the Philippines.
This is an amazing beach I love coming here so much to do and so much to see
I have been to Boracay a couple of times. I keep coming back because the place is just amazing with its powdery white sand, great sunsets, and cheap beer. Wow! I miss it already.
Boracay is the best beach in the world. It has the finest and whitest sand. It has other features other than swimming. Plenty of restaurants, shops, party houses, hotels, tattoo shops, diving and snorkelling spots, banana boat ride, reef walking, etc. This place is amazing, exiting, adventurous, and romantic.
All the hottest girls in the Philippines & around the world flock to this island.
Baie d'Audierne, Brittany (France)
Bali (Indonesia)
Bali is the best beaches in the world. It has so beautiful sunsets scenery. The people are so kind and cheerful. You will be very amazed in Bali
Because the land in Bali's unspoiled really
Indonesia has a lot of amazing beaches.
I've been here
Ipanema (Brazil)
Absolutely the best beach in the world
beautiful
Plage de Tahiti (France)
Porto-Pollo, Corsica (France)
Corsica should be Italian
Woolacombe Beach (United Kingdom)
Anse Source d'Argent (Republic of Seychelles)
White sand and granite rocks. Small, intimic and there will only be a few people there at most.
Miami Beach (USA)
Miami Beach is the best by far. Clear, blue waters along with just being an amazing city. Architecturally and Culturally.
Why is Miami Beach number 7 on this list when it should be number 1?! Miami Beach DESERVES to be number 1! Where do I even start?! The beautiful water! The amazing weather! The EVERYTHING!...It's Miami~
Only beach on this list I've been to.
The Contenders
Gold (France)
One of the most historic beaches in the world.
Yes, Gold Beach in tribute to our American friends.
We will never forget.
Weymouth Beach (United Kingdom)
Nosy Iranja (Madagascar)
Cavalaire-sur-Mer, Provence (France)
Hidden Beach (Mexico)
I love Mexico its where my parents were born
Plage de St. Jean (French Caribbean)
Bondi (Australia)
Yass, wait a sec. 21st? Seriously? This beach is one of Australia's famous.
Bondi is the best! All Aussies know what makes a good beach, and bondi ticks all the boxes! It has beautiful clear water. Huge waves, but not huge enough to scare people. And it has the best trained lifeguards in the world. The sand isn't dirty like American beaches, and its always swarming with people. If you are Australian, or a surfer or beach lover from another country, you'll know what I'm talking about!
LOL OBVIOUSLY NOBODY ELSE HERE HAS BEEN THERE! I mean boracay? wtf is that? go to bondi and I bet you won't be able to honestly say it's not the best beach you've been to.
I love this beach its awesome I always go to bondi every summer
Anse Vata (Noumea, New Caledonia)
Pagudpud (Philippines)
Armadale Bay Beach (Scotland)
Destin (Florida, USA)
I love Destin. Good seafood, beautiful sand and beautiful water.
Go here almost every year for vacation
I live here and the sand is like. Sugar! Its made of quarts and it's so soft. The wateris emerald and awesk. E
Florida is know for beaches, and while most of the state is a peninsula, the best beaches are on the panhandle. Destin beach is so beautiful and amazing, it's almost unreal. It's like an American cancun, but safer, less tourists and the sand is even whiter. Fun fact, the sand in destin originated in the Appalachian mountains, but with rivers being created the sand drifted on to Florida's gulf shores.
Bohol (Philippines)
The sand here is comparable to that of Boracay beach...
7 Mile Beach (Jamaica)
Shipwreck Beach (Zakynthos Island, Greece)
PSearch List