Nicolas Cage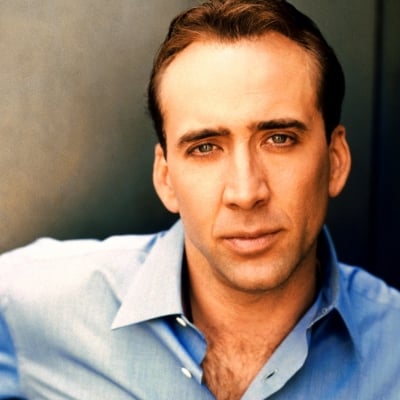 Uploaded by gaali121
Info
Nicolas Kim Coppola, known professionally as Nicolas Cage, is an American actor and producer. He is well known for his roles in Raising Arizona, Moonstruck, Vampire's Kiss, Wild at Heart, Honeymoon in Vegas, Red Rock West, Leaving Las Vegas, The Rock, Con Air, Face/Off, City of Angels, 8MM, Bringing ...
read more
.
Comments
Top
Popular
Newest
Nicolas Cage is without a doubt the worse, and I use the term actor with contempt, actor of all time. His break came because of his connection in the movie industry (Francis Ford Copala) His performance in every one of his films is far below the minimum expectable standard for a student in a high school drama club. I have never watched more than the trailer for one of his films, and even that was too much for me to stomach. Then, Hollywood adds insult to injury by awarding that fool an Academy Award. Get real, and you expect the general public to believe the awards are not fixed?
I am very shocked that Nicolas Cage is not in the top 5 of this list, because HE IS ONE OF THE WORST ACTORS EVER! And I seriously can't believe that they were gonna make a Superman movie with him as superman, which was a terrible idea because he looked terrible in the Superman costume.. Anyways, thank God they canceled it, but the bad thing is that the directors already paid him 20 million dollars before it got canceled... Anyways, NICOLAS CAGE SUCKS!
Nicholas Cage is absolutely one of the worst actors of all time, Con-Air was the last painstaking film of his I had to endure! I would rather sit through a Brendan Frazer marathon than watch another one of his films.
He has to be worse than any actor ever seen before. He is the exact same personality in every movie. As soon as I see him in a movie I make sure I steer clear from that disaster.

He is absolutely putrid and is worse than paris hilton.
Why is he in so many movies? He doesn't have the talent to range so much across the various roles he's had. It's frankly sad and embarrassing to watch sometimes. Now Raising Arizona was his brightest moment. That role was made for him! Been downhill ever since.
We all know he does nothing but "Cage outs", where he either gets so angry he shouts in nothing but rage or goes full on insane. Other than that, nothing is so special about Nick Cage and his acting. Equally bad are the accents he's put on in some of his roles.
He should be on this list. All his faces are the same. No expressions at all besides he is ugly and looks like his face is melting down. He is a talentless good for nothing relative of some well-known producer in Hollywood. AMEN
Cage isn't THAT bad of an actor, he just doesn't know what movies he should and shouldn't act for. And he tends to overdo it... A LOT. But he's far better than most of the others on this list, like Paris Hilton or Kristen Stewart.
The most wooden actor I have had the misfortune of witnessing. His performance in ConAir was truly excruciating and people who pay to see his work should be ashamed of themselves.
I am always amazed how this guy keeps getting roles. He can not sell it. Never are his parts realistic, I always thought of him as a poor Elvis impersonator. I have never been able to watch one of his films completely. He is without a doubt the worst actor I have ever seen. - Jackmerritt
He is the same in every role. Ruins a lot of movies. I believe he is the worst actor ever only reason he got started was because of his uncle
'He was good in Leaving Las Vegas and maybe Arizona Junior. The problem lies on never he says no doing a movie. He should be more eclectic;but it's all about the money. Isn't it?
Nicholas Cage gets my attention only because of how bad he is. I pay to see his actions/dramas to laugh at his horrible acting. Johnny Depp should not be on this list at all, let alone above Nicholas Cage.
Nicolas Cage is an Academy Award winning actor. Come on now. Let's not allow his currently flat-lining career take away from some really great performances in "Adaptation. " and "Leaving Las Vegas. "
I would pay someone a million dollars to hang out with nick cage so that I could just beat his ass every one of his films are the worst films ever just the name nick cage makes me enraged I feel bad for anyone else that has to share the name nick cage cause he ruined it
Whenever I go to the movies and browse the ads for new and upcoming films, I first check to ensure that Nicolas Cage isn't on the front of any of them. Remember: NOT THE BEES! ANYTHING BUT THE BEES!
Face/off was an idiotic movie, who would star in such an idiotic movie? I would of expected that he made that himself, or gone to a large movie producing company and threw money at their face. HOW DO THEY GET AWAY WITH MOVIES LIKE THESE!?
He seems to have one facial expression so in that sense he's as talented as Steven Seagal. Which actually says all about his acting. - tommydeath
I've never seen the moving, downward spiral of alcoholism portrayed more brilliantly than Nick Cage in "Leaving Las Vegas"; great sound track too. Why he's in the worst list above Steven Seagal is beyond me.
I'm surprised he's not higher actually. Almost every movie he's been in is awful, especially that one about the ice truckers with the sharks (forgot the name, but that is actually a real movie. I'm not joking.) - Gruunge
Extremely overrated. I've studied acting for many years, and he breaks all the essential rules that you learn on your first day of acting class! Nothing is genuine. He is overly-intense for no reason.
I think, he froze his face and always has the same expression in every film in every mood. He is the absolutely worst.
Nick cage might seem like a terrible actors to those who don't know his older stuff, but cage was once an incredible actor hence he won the academy award!, he had a pretty bad decline but it almost seems like he's milking it these days rather than try to have any sort of comeback, his best role since has been in kickass
Nicolas Cage has no redeeming qualities except that he is the nephew of a famous director... He is not attractive, cannot act, and mumbles his lines... I have often thought what a waste of space he is...
I find his acting too cheesy like his always yelling and is over doing his role. Such as his part in National Treasure he's so loud and obnoxious.
I know right. Yet weirdly enough the role kind of fits him. The Ben character is too over the top and nuts which seems to be the Nicholas Cage formula but granted his character in those movies is my least favorite. - Anonymousxcxc