Worst Actresses On Disney Channel In 2014
The Top Ten
1
Dove Cameron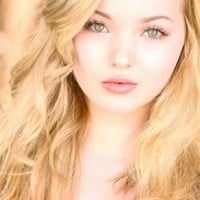 Dove Cameron is an American actress and singer. She is known for playing a dual role as both title characters in the Disney Channel teen sitcom Liv and Maddie.
She is self-absorbed and attempting to be "cute" badly like someone we all know (Ariana Grande). Her conceitedness is shown through her Twitter and videos she does outside of her acting. She likes to parade her current boyfriend, Ryan, too in said videos in pictures.
I'm sorry, but she is a horrible actress! In one of her shows like liv and maddie her laugh is so very FAKE or in the movie descendants she was to OBVIOUS you can tell she was acting and she always makes this mouse like voice shes trying to be a blond version of Ariana Grande she acts like shes still a teenager grow up! Shes the new Disney star yay woo please no MY SISTER CAN DO WAY BETTER ACTING AND SHES 10 AND DOVE SHOWS NO EMOTION WHEN CRYING OR WHEN SHES HAPPY OR MAD SHE ACTS LIKE A 12 YEAR OLD WHO IS SPOILED!
She thinks she's the new Disney star when she can't even ACT! She scratched her eye with a teen choice award, first, I don't know why she won that, but I was just laughing when I heard the news. Yeah but anyways, its DOVE'S FAULT not the writers! She always wants to steal the show, like have you seen descendants? Missing the old Disney :( Cause seriously! WHAT HAS Disney BECOME?!
Just because people think she's pretty doesn't mean that it should be considered the only pro. We need to focus on the basis if she can act or not? To be honest, I'm sorry if this offends any people, but because I don't watch Liv and Maddie (I find it inappropriate and cheesey, but that's only for some parts of it for the most part I'm neutral about it) I have no idea. (Actually I have visited her Twitter, Instagram, AND her Facebook accounts and well she seems nice- sort of- but also she seems too peppy and yeah she does parade around her boyfriend Ryan a lot- he's mentioned every three posts in all of the accounts I've visited). - Anonymousxcxc
2
Raini Rodriguez

Raini Rodriguez is an American actress and singer. She is best known for her roles as Trish in the Disney series Austin & Ally and Maya Blart in the films Paul Blart: Mall Cop and Paul Blart: Mall Cop 2. She has also appeared in an episode of The Suite Life of Zack & Cody and on the Disney XD show I'm ...read more.
Honestly, people, why are you doing this to other people? Can you respect the fact that she's not the skinniest person in the world? There is nothing wrong with her physical appearance. People forget that the reason we have so many people around us is so that we can lift people up, not help them crash to the ground! Think about that for a while.
She is a terrible actress with a terrible singing voice. Her face is ugly. Every time I see her hideous face I actually get physically sick. She should be banned from acting. I hate coming across her face for two seconds while channel surfacing because it messes up my day and destroys my appetite.
At least the only good thing about Austin and Ally (I hate that show) is that not all of the people look like anorexic supermodels with too much makeup on (I hate makeup). I'm not trying to be mean but trying to make a constrictive con. - Anonymousxcxc
You people are just rude you are just saying she is ugly because she doesn't wear tons of make-up and doesn't have a super skinny body like other actresses
3
Debby Ryan

Deborah Ann "Debby" Ryan is an American actress, director, and singer. Ryan is known for starring as Jessie Prescott in the Disney Channel Original Series Jessie and as Bailey Pickett in Disney Channel's The Suite Life on Deck.
Debby sounds whiny when she sings even I can sound better than her
Can't sing. Worst nanny! - garnet01
Debby Ryan it can't get worse than this! I just hate the way she moves her lips! She's so ugly for a second I thought she was chucky... please find another nanny!
Can't stand that voice!
4
Skai Jackson

Skai Jackson is an American actress. She is best known for her role as Zuri Ross in the Disney Channel sitcom Jessie, and is currently starring in the Disney channel series Bunk'd.
She dresses like she is all a 20 year old with crop tops and she is lying about her age she is only like two feet tall and if you look her up it says she is like 14 years old!
She's talented but she plays a stereotypical character which makes people believe that she's bad.
This girl is so annoying, she actually thinks she could act, she needs to be removed from Disney asap
She's only a little girl and all, but seriously, she DOSNT really have talent.
I agree with you she's such a little show off and thinks no one can be better than her! I actually think my voice and acting is WAY better than hers. She thinks she's funny and all when she's just a little black woman...
5
Peyton List

Peyton Roi List is an American actress and model. List is best known for playing Emma Ross on the Disney Channel comedy series Jessie and Holly Hills in the Diary of a Wimpy Kid film series.
Um whoever thinks that shes nice is so pathetic and naive. This blonde bimbo from Jessie made fun of a girl with Autism. This girl is always making comments in Bunked about how her looks are so much better than everyone else. Its true (They all look really ugly compared to her which isn't realistic from my experience.) but she doesn't have to say it every episode. She is the perfect example of the stereotype "dumb blond" and I am so sick of Disney portraying blondes as complete morons. by the way shes 18 so quit defending her. She is setting a horrific example on children making them think that in order to be worth anything you need to have money and a pretty face. FYI her pic here is Photo-shopped. Not denying that shes pretty but shes not nice.
She is the best! If you vote for her on being the worst then you are the one bulling. Everyone should think before they post. Peyton List (Emma Ross) you are sweet and appropriate young superstar. You can change the world and prove to all of these worthless bullies that you are worth it and an awesome super star at your job, and showing exactly who you are
Really untalented, really annoying voice, really stupid clothes, and the worst example of how Disney wants to appeal to this generation of idiot kids.
She's a great actress, I think she should quit disney because she has skill, she just plays a bad character.
6
Francesca Calpadi
She is only 10 years old, but still, way to young to have a twitter account, and instagram.
Probably doesn't run it. Remember celebs take Britney Spears, For example, may hire staff to run social media accounts. Okay.
I think she feels like she is so perfect, but really, she's just gonna be a burnout when she's older.
I just feel like she's so annoying
Are you kidding me! Franchesca thinks she is all that! Her smile makes me wanna puke my guts! She is so ugly! She looks like a clown wearing a red wig! I think it's impossible to brush her hair!
7
Ashley Tisdale

Ashley Michelle Tisdale is an American actress, singer, and producer. During her childhood, she appeared in more than 100 TV advertisements and had roles in theatre and television shows.
SHARPAY from high school musical! My FAVORITE!
She is stupid
Nooo, who would put this on the list! she was the one who mad my childhood by being a little brat lol I LOVE HERRR
HSM that's it. SHARPAY - garnet01
8
Laura Marano

Laura Marano is an American actress and singer, best known for her starring role in the Disney Channel series Austin & Ally as Ally Dawson.
She plays as someone who can't act or sing but she actually can guys
Super annoying all the way through, Ally you can't dance!
She is very unattractive & can't act or sing. She thinks she's cute
HEY! She probably an dance. They just make her look like she can't dance on the show. Anyway, she can act. by the way she is awesome on Disney.
9
Landry Bender

She is a horrible person and pretends to be rich. She is so fake a mean to people.
I was on a commercial with her. Her mom is a crazy stage mom who told my mom she looked pregnant. This girl & mom bully their way and put others down when nobody is looking. Then they act fake nice to everyone else
Landry? More like laundry. She is like a goat all goth like blah
Not a nice person at all. Acts like she is better than everyone
10
Rowan Blanchard

Rowan Blanchard is an American actress. She is known for her role as Riley Matthews on the Disney Channel series Girl Meets World.
The faces when she gets nervous, or scared, excited, or happy just look stupid. A real girl (like myself) DOES NOT ACT LIKE THIS. I find her voice extremely annoying, and don't get me started on her singing. When Disney casts actors and actresses like this, it makes me not want to watch Disney anymore. Personally, I've gotten tired of watching Disney Channel. All of the shows are just plain stupid. When I was younger, they had great shows like Hannah Montana, Lizzie McGuire, Kim Possible, That's so Raven, The Suite Life, and the list goes on.
Casting is where everything starts. Hiring bad actors and actresses like Rowan, is not a good way to attract, or keep viewers.
Rest in peace
Disney Channel
Rowan Blanchard has to ruin my childhood and everything. I hate Spy Kids. Why? BECAUSE OF HER. I hate Boy Meets World. Why? BECAUSE OF HER. Her voice sounds like a bird with their beak inside touching her throat with her beak trying to open their mouth.
Chipmunk face, and she just seems kind of conceited on and off the show, to be honest
She is so annoying, I hate girl meets world. She thinks she soon great but she is just a little brat
The Contenders
11
Bella Thorne

Annabella Avery "Bella" Thorne is an American actress, writer, model and singer, released EP "Jersey" in 2014. Best known for "Shake It Up!" 2010-2013. Has starred in "Blended", "The Frog Kingdom", "The Duff", "Big Sky", "Ratchet & Clank", "Alexander and the Terrible, Horrible, No Good, Very Bad Day" ...read more.
I'm voting for her for her actual acting ability, not for her personality herself. Seriously I think she's a nice person, but I honestly think that she's not very good at singing or acting or really dancing (at least not the way she dances in Shake it Up). I've observed her acting ability on some of the works she's done and to be honest it's not really good. Though I'm not sure about her singing (probably because I only saw the Call Me Whatever video). But even though I only took beginner's dance classes for three years (each spanning on a different type of dance) and I cannot do any flips or even cartwheels, I still think that the dancing on Shake it Up isn't really what I would consider dancing (I know actual dancers who have danced practically their entire lives and have seem them dance- and they are really good and completely different from Shake it Up). Anyway I personally don't think that Bella Thorne has good acting ability though I still think that she's a nice person. - Anonymousxcxc
! Back off haters! First off, Bella Thorne actually does have dyslexia in real life and writing comments like this really reflects on how you are as a person. I believe Bella Thorne's acting has improved tremendously since the ending of Shake It Up, which true was not the highlight of her acting career. But undoubtedly her improvement was prominent as the series progressed.
Uses dyslexia as an excuse, and is obviously is auto tuned, HORRIBLE ACTRESS! To skinny as well. I ABSUTELY HATE HER!
She's too skinny I mistaken her for a mop...
12
Oana Gregory
I watched her for less than a minute while channel surfing and her acting made me want to shoot myself in the face.
She is so pretty!
Squeky voice, on crash and bernstein - garnet01
who?
13
G Hannelius

Stupid, annoying, show off. G thinks she is a show off and is better and prettier than anyone when she's just a pathetic little teenager. She's a migit. I might be wrong but if she's 15 and my brother is 14 then my brother is the same height... she thinks she's a grown woman! She's such a migit I think my 11 year old cousin is bigger than her! I mean please who thinks shes small for her age! Her Selfies are such a waste of time! Her voice is so annoying I prefer hearing hyenas laugh for a day. Honestly her voice is annoying my 6 year old sister can sing better than her. I think it's such a waste of time snatching Dog With A Blog. I like Stan but the rest of them just totally kill the show. I think G stuffs her bra that way she could have bigger boobs honestly my boobs are bigger than her and I'm only 11. In the show you can see that she tries to show off hee boobs by making her chest bigger and stuffing her bra with toilet paper.
I think she was actually great when she first appeared as a minor character on Good Luck Charlie. But on Dog With a Blog, she seems really fake.
She was good, until she took over the show, she thinks it's about her
When she was little she was a good actor
14
Sabrina Carpenter

Sabrina Ann Lynn Carpenter is an American singer, songwriter and actress. She stars as the young version of Chloe Goodwin in The Goodwin Games and as Maya Hart in the Disney Channel series Girl Meets World. She plays Jenny Parker in the Disney Channel Original Movie Adventures in Babysitting . (She) ...read more.
Yes, yes, heck yes! The girl who claims she's 17 but looks like she's 35, Sabrina Carpenter! She can not sing, act or model! Her acting is useless, it makes me scream, and even worse it makes me wanna die! I can only listen to her for 2 seconds before I pass out! Kids don't watch this girl!
Yes, her singing is so annoying. My sister absolutely despises her, that when she on T.V., she will say mean things about her and punch the screen.

She wears so much makeup so that everyboby can thinks she's beautiful. She definitely is a terrible actor and singer.

Sabrina ruined Disney Channel for me, like she drugged it and the drug is there in Disney Channel's stomach until she is not a Disney star anymore.

Please Disney Channel, get rid of Sabrina Carpenter.
What is with people saying things like how ugly she is and that she is not musically talented? Sabrina Carpenter is an inspiration. She has a great voice, is good at acting, and does not deserve to be on this list.
In her songs, touches her whole body and rubs it, and wears so much makeup
15
Olivia Holt

Olivia Hastings Holt is an American actress and singer who starred in the Disney Channel Original Series I Didn't Do It.
Okay I am also commenting on her for her acting ability and not for her personality, Olivia Holt can't act. I'm sorry, she can't, just comparing all of the pieces of work that she's known for, I can tell that she can't act. But she's also an okay singer, not the best, but one passable enough to NOT put in my mental top 20 list of horrible singers. - Anonymousxcxc
Shes my least favorite by far. She is so irritating and they gave her 2 shows because she can't act. Not to mention how horrible she is at singing. I have no idea why dove cameron is #1 on here. shes actually a good singer. - missybeans
Such a bad actress's and singer
My 2nd most hated disney star - IHateDoveCameron
16
Zendaya

Okay Zendaya actually has acting ability and she seems really nice and she has acting experience. I'm actually upset with Disney Channel because she keeps on getting that same sarcastic smart aleck character, but I guess she likes her roles so whatever though Zendaya is quite talented and can do what she does. I just personally think that she'd do even better if she got out of Disney Channel and moved onto bigger projects outside of Disney. - Anonymousxcxc
What!?!?! Zendaya is such an incredibly talented person. I mean everyone on this list, though some extremely annoying actually have worked hard to achieve what they have. Like if you really watch you can see these celebrities actually do have more acting skill than I'm guessing the average human would.
She is really talented and shouldn't be on this list.
So talented and I actually like kc undercover which is rare because I don't usually like disney shows.
17
China Anne McClain

China Anne McClain was born on August 25, 1998 in Atlanta, Georgia . She is of African-American descent . China Anne McClain is a singer for her band, McClain, which she is in along with her sisters, Lauryn and Sierra . China Anne McClain is known for her starring roles in Disney's Ant Farm, and Tyler ...read more.
Excuse me, I do not allow bad words on this list. Please just no. - garnet01
She should be number
She so ugly fat stinky and smelly
She's so ugly and fat and she smells
18
Maia Mitchell

Maia Mitchell is an Australian actress and singer. She is known for her roles as Brittany Flune in the children's television series Mortified for the Nine Network, and as Natasha Ham in the Seven Network's teen drama Trapped.
Just watch teen beach movie
She tries to become the new flirty girl of Disney.
She lip sings if she could sing she sing in an Australian accent
She just wants to love on Ross Lynch
19
Mia Talerico

Yeah she's like 5 but she's old enough to show expression when she says the few lines that she has. There are plenty of great child actors/actresses that could of played her role much better. I think that Disney just didn't want to replace her.
Annoying to be honest. But I guess that's the only thing I don't like about the show because it literally is one of the funniest shows on Disney.
She thinks she is all cute but she is a spoiled little brat and gets whatever she wants on good luck Charlie and Leigh Allen Baker is such a horrible actor as well
She's like a little girl and barley says lines
20 Naomi Sequeira
21
Zac Efron

Zachary David Alexander "Zac" Efron is an American actor. He began acting professionally in the early 2000s, and rose to prominence in the late 2000s for his leading role in the High School Musical franchise. During this time, he also starred in the musical film Hairspray and the comedy film 17 Again. ...read more.
Dumb also a big brat
He was good in high school musicul but bad after
22
Sophie Reynolds
At least she's a better actress than some of the other people on here. - Anonymousxcxc
She's way than China
UGLY AND FAT
23
Kelli Berglund

Kelli Berglund is an American actress, dancer, and singer. She portrays Bree Davenport, a bionic teenager with lightning speed, in the Disney XD series Lab Rats, and its spinoff Lab Rats: Elite Force.
She is super pretty and seems nice, but she honestly can't act. She just can't, which is probably a sign that channels like Disney hire people based on looks rather than actual acting ability. - Anonymousxcxc
She doesn't deserve so much attention, she can't act but she gets attention because she's pretty.
She really can't act
Kelli berglund rules
24
Ross Lynch

Ross Shor Lynch is an American singer, songwriter, actor, and musician. He is one of the founding members of the pop rock band R5. As an actor, he is known for his debut role as Austin Moon on the Disney Channel original series Austin & Ally, and for his role as Brady in Disney Channel's Teen Beach ...read more.
It does not matter if he is the best actor ever or if he is so bad that you have to puke; He is not an ACTRESS.
He tries too hard to be the new Justin Bieber that it's kind of embarrassing
Ross Lynch is annoying, his hair is so annoying, that my mother hates it.

Another thing I can't stand how annoying his voice is. My mother thinks he is so fugly.
This is an ACTRESS list, lol
25
Bridgit Mendler

Bridgit Claire Mendler is an American actress, singer, and songwriter. In 2004, she began her career in the animated Indian film The Legend of Buddha.
I don't know about anyone else, but I personally think Bridget Mendler is a LIFELESS, ANNOYING SHOW OFF as Teddy from Good Luck Charlie. She thinks she's ALL THAT when she's ALL FAT (not really). When I first saw her I thought she was trying to copy Zendaya Coleman from K.C. Undercover and Shake It Up. Bridget is just a teen who thinks she's the oh, so perfect best blonde in the entire world besides oh the best most popular, drop dead gorgeous Dove Cameron. She really thinks the entire show is focused on her. Sorry hun, but NOPE! THE SHOW IS NOT JUST FOCUSED ON YOU! I think Bridget is an okay singer, but her voice is.. Just.. weird.
You ding dong knuckle head no brain idiot. Good luck Charlie came WAYY a before low key wannabe shows (K.C undercover and Shake it Up).
PSearch List