Worst Boy Bands
The Top Ten
1
One Direction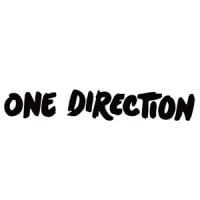 One Direction (commonly abbreviated as 1D) were a British-Irish pop boy band based in London, composed of Niall Horan, Liam Payne, Harry Styles, Louis Tomlinson, and previously, Zayn Malik until his departure from the band on 25 March 2015. The group signed with Simon Cowell's record label Syco Records ...read more.
There are a few reasons why girls love this band, and they can all be reversed. Not that idiot Directioner's will listen though, they'll just say "I'm jealous" and "only hate them because I'm not perfect like them". No. One Direction has ripped off more song beats than any other band I've ever heard of. Directioner's, come at me for that, I'll send you their stolen songs. And the guys can't sing either, MAYBE one or two can sing ok, but it's ridiculous to say that they are the best band ever. Especially because they DO use auto-tune. And they don't play instruments! Now your gonna say, oh their a boy and, and oh they have nice voices. But people, Niall tries to play guitar and fails miserably. Listen to some Van Halen, then get back to me about how talented he is. And some Directioner told me that Zayn plays an instrument to. What instrument? Beat boxing. What kind of idiot - Next problem. They aren't even funny. Their personalities are nothing special at all, putting raisins in a hat ...more - DovahQueen
It's the best boy band in the world I think it's so so perfect band they are so funny and cool I love it
You know, these guys are the worst, the worst, the best at being one of the worst. If any directioner asks me "WHY" or tell me "YOUR JUST JEALOUS blah blah blah", then you guys are blind, you just like them because they make songs about you GIRLS (their songs are nonsense, listen to their song "the best song ever" by 1D, you will see what I mean by nonsense) and they look hot (which is probably the only reason why these guys are famous) If you really love music, listen to bands like queen, led zeppelin or the Beatles, those are examples of REAL musicians
You don't need to at all guess why and how girls like this band. No one can win such honorable titles without hidden talents in them. It is good that they showed that to the world where the true treasure of THE ONE DIRECTION is distributed among every likers and they happily grabbed it.

Likes and dislikes are the personal choices of every individual so need not interfere in the likings of others...stop poking your nose and understand.
2
5 Seconds of Summer

5 Seconds of Summer are an Australian pop-rock band from Sydney, Australia, that formed in 2011. The group were originally YouTube celebrities, posting videos of themselves covering songs from various artists during 2011 and early 2012. They rose to international fame while touring with One Direction ...read more.
They suck. They have very little musical "talent." Although they do play their own instruments, they play only the most basic and boring generic "punk" rock riffs. The pre-teen girls who are their main audience will tell you that they are the most talented group ever. These same pre-teen girls probably have never listened to anyone that is actually talented at all though. That's nothing special about 5 seconds of summer though, all modern boy bands suck. They all pander to their pre teen girl audience in their songs and attract listeners more with their looks.

Among just boy bands, they are not the worst. There are many that are far less talented. What makes this band take suck to the extreme is that they claim to not be a boy band while trying to put off a very fake, unauthentic "punk" vibe. All the while they are trying to put off their punk vibe, they are complete sellouts trying to pander to their target audience.

There's nothing wrong with liking this band. They ...more
Okay I just have a few things to say. "They suck," is not a valid argument. That is purely an opinion. I think it's sad that people are bashing each other over opinions. I see stuff all over twitter saying "Ashton should go cut himself because his band is garbage and they suck," that is terribly offensive to both Ashton, his band, and the fan base. Just because I'm not particularly fond of Justin Bieber, I don't go around saying "Justin should go kill himself, his fans are all little girls, he sucks," because I respect that other people have different tastes in music than me.
But then there's the realization that 95% of these people, can actually ignore these kinds of statements. I don't think that this is that offensive to Ashton - HiBye
This garbage does not count as music. Playing cheesy one chord "punk" songs for emo tween girls out there was a genius marketing move on their part. Only reason they make money, other than that they are overrated, overhyped, and drives to the point where I want to cut off my ears.
They just suck and that's all that is important, and I am guessing that all the people arguing are 5 seconds to summer fans. they just suck and that it
3
Union J

Union J are an English boy band consisting of members Josh Cuthbert, JJ Hamblett, Jaymi Hensley, Casey Johnson and previously George Shelley.
What is this? I never even heard of them before this list
Same old boring story like One Direction they got famous from X-Factor. Big Time Rush doesn't deserve to be on this list.
I agree. btr is the best boy band of all time
Yes btr is AMAZING
4
Jonas Brothers

The Jonas Brothers are an American pop rock band. Formed in 2005, they gained popularity from their appearances on the Disney Channel television network.
Suck so much. I don't have much to say. They're that terrible.
They made me hate music
I like you nick
This band sucks. Nicks voice is nasilly and grating and joe has a stupid hippie dippie haircut he looks like Tyler from dog with a blog and Angela anaconda and Kevin is so duuumb should be number 1 worst band ever!
5
The Vamps

The Vamps are a British pop rock band consisting of Brad Simpson, James McVey, Connor Ball and Tristan Evans.
The vamps are good they can actually sing
The Tramps need to be higher on this list
There music is horrid. I even tried to like them even though one of my major fandom hates them (you can guess what fandom ) but I still couldn't get into their music except for somebody to you but only because of Demi
I like the Vamps. Why are they 6. They shouldn't even be on this list
6
Naked Brothers Band
The name seems inappropriate.
Where are they now?
The worst band.
Agree but I love nat wollf
7
Big Time Rush
The fact that they sampled Blur is just unacceptable. To add insult to injury, they didn't even get permission to sample "Song 2" and they don't even know the band as a whole. Get this disgusting excuse for a group to number 1 on this list. Eh, why do I even bother? All boy bands are terrible.
How is this group of idiotic, try-hard, pieces of trash sitting at #10!? This should be NUMBER 1!
This band is so idiotic and so mind numbingly bad that this is even offensive to be called a band at all.
Nickelodeon garbage
8
The Wanted

The Wanted are a British-Irish boy band consisting of members Max George, Siva Kaneswaran, Jay McGuiness, Tom Parker and Nathan Sykes.
Pretty awful boy band. They did start the boy band trend of the early 2010's, which has fizzled out, but they're only notable for ONE song.
WORST. BAND. EVER! THEY SHOULD BE THE FIRST ON THE LIST! NOT ONE DIRECTION OR THE VAMPS! God who the heck likes the Wanted! Help me bring them up to first place people!
Die the wanted
This band sucks what in 7th they should be first not 1d
9
BTS
BTS, also known as the Bangtan Boys, is a seven-member South Korean boy band formed in Seoul in 2013.
The fans are so ANNOYING! They are far too overrated and it's annoying! - bendyfazjazz234
Their delusional fans! And only some of them got the looks and talent.
Bts is the most annoying and cheesiest boybandever their the worst because I just hate everything of the
BTS are the best band in the world. They can dance, rap and sing and they are funny asf - ChelseaPurnell
10
LFO

Lyte Funkie Ones was an American pop band consisting of lead singer and primary songwriter Rich Cronin, Devin Lima, and Brad Fischetti.
The Contenders
11
LMFAO

LMFAO was an American hip hop-electronic dance music duo consisting of uncle and nephew Redfoo and SkyBlu.
Not a boy band. But all their songs ARE on the same topic, but instead of girls, all their songs are about PARTYING.
I don't think this group is a boy band.
I hate those idiots
I'm Sexy and I know it. WORST SONG EVER!
12
EXO

Exo is a South Korean-Chinese boy group based in Seoul. Formed by S.M. Entertainment in 2011, the group debuted in 2012 with twelve members separated into two subgroups, EXO-K and EXO-M, performing music in Korean and Mandarin, respectively.
They have talent too ya know
Their fans are horrible asf. Love their music but seriously though
EXO is not deserved in top 9 EXO deserved in top 1!
Exo has little talent
13
Take That

Take That are an English pop group from Manchester, formed in 1989. The group currently consists of Gary Barlow, Howard Donald, and Mark Owen.
14
Justice Crew
Just saw these corny guys on AGT the Champions and they suck. Mediocre dance moves that teenagers would do and lip syncing. Wack @ss wannabe boy band that think they can dance and sing but can't even do 1 of them decent. They suck... They probably made it big in Australia because they have no other competition. Horrible routines but dope boy solos. Songs suck, horrible vocals. Just stick to bboy battles.
What the hell is a dance crew doing sing songs. Complete sellouts

Also they totally bit (stole) dance moves in the past to win Australia got talents anyway

Waste of space and time is what they are
Another pointless band. Dime a dozen.
Their song que sera is not reflective of anything other than it's meant to be that this boy band sucks!
15
New Kids On the Block

New Kids on the Block is an American boy band from Boston, Massachusetts. The band currently consists of brothers Jordan and Jonathan Knight, Joey McIntyre, Donnie Wahlberg, and Danny Wood.
HAHAAHA whatever I bet no one on this list even remembers them. My sister who is now 39, was a fan of them when she was 10 years old.
the hell
16
'N Sync
How dare you they are the best
Nsync is the best Boyband that ever existed! And so was Backstreet Boys!
THEY ROCK! Justin SPECIALLY! - AlekhyaDas
17
Westlife

Westlife were an Irish boy band, formed in July 1998 and disbanded in June 2012. Originally signed by Simon Cowell and managed by Louis Walsh, the group's final line-up consisted of Nicky Byrne, Kian Egan, Mark Feehily, and Shane Filan.
I've seen these live!
The worlds most glorified covers band. Dull, boring and no creativity, originality or personality.
No wonder the British media/public rejoiced when they split up.
18
The Jackson 5

The Jackson 5, or Jackson Five, also known as The Jacksons in later years, is an American popular music group. Formed in 1963 under the name the Jackson Brothers, the founding members were Jackie, Tito, Jermaine, and Marlon.
One of the best boy bands ever how dare you call them bad - kylebuschfan18
The Jackson 5 are the best. I have been a Jackson 5 and Michael Jackson fan since I was 7. - ChelseaPurnell
My dad loves the Jackson 5 and Michael Jackson and respect Michael because he is dead
They need to start making music again. I know Michael Jackson died but the others are more than capable to make new music for their fans.
19
JLS

JLS were an English pop/R&B group, which consisted of members Aston Merrygold, Oritsé Williams, Marvin Humes, and JB Gill, originally formed by Williams.
Their songs were crap and they always said overused cliche phrases in every interview (such as you know and for us etc. )
20
Chicser
Please stop making songs and albums.. chicser wont happen.. making yourself cute makes people barf.. sorry, just saying...
No talent, just showing they are cute or so. sucks to be them..
WORST...BAND...EVER...

They should be at the top of the list because they are talentless!
The cheapest gay-band ever
21
Backstreet Boys

The Backstreet Boys are an American vocal group, formed in Orlando, Florida in 1993. The group consists of AJ McLean, Howie D., Nick Carter, Kevin Richardson and Brian Littrell.
Whoever put this on the list MUST be around 8 or 9 and they only heard about them from their parents/siblings. - Epicsauce45
These guys are dope they shouldn't be on this list.
Yes, they are very big posers. - I80
How dare you
22
Bangtan Boys (BTS)

BTS, also known as Bangtan Boys, is a seven-member South Korean boy group formed by Big Hit Entertainment.
Why are BTS twice in this list. The first one is called BTS but this one is Bangtan Boys - ChelseaPurnell
This is the most cancerous boyband to ever exist, the fact that it's super popular makes me want to kill myself. This boyband is the new One Direction and it's even worse. How are they pretty they look like ken dolls with all that bad plastic surgery.
This band is just the korean version of 5sos
BTS is trash. All the members sound the same. - AlphaQ
23
Why Don't We

Why Don't We is an American pop boy band, that was assembled on September 27, 2016, consisting of Jonah Marais Roth Frantzich from Stillwater, Minnesota, Corbyn Matthew Besson from Fairfax, Virginia, Daniel James Seavey from Portland, Oregon, Jack Robert Avery from Susquehanna, Pennsylvania, and Zachary ...read more.
Their fangirls deserve death
Most annoying people in the world
"Not just another boy band" is literally just another boy band. Except maybe with better music videos. Still a huge autotune, f-boys fest that's overrated and typical.
Most talented and amazing boys ever! Keep doing what you're doing! And check them out because they are so talented.
24
CNCO
They are NOT racist and their songs are NOT boring! They are not creeps, they are genuine angels and everyone messes up sometimes. They did not mean to be racist and they did not mean to offend anyone! they apologized and the Army and BTS forgave them! Do you honestly think that if they are unpopular they would be able to go on a world tour( all around Europe and they went to Japan,Beijing, Malaysia, Indonesia and the Philippines) and people would literally be chanting their songs even though most of the countries they went to were not Spanish speaking countries? I get that you don't like these boy bands but it seems like you think that every boy band that existed is trash!
Ugh, while I am a Latino/Hispanic, this Latino boy band sucks. They're still popular with their first song, they should stop repeating songs and write a new one, or else, they're going to lose popularity.
WORST BOYBAND EVER! Those creeps are nothing but racists,their songs are BORING and CREEPY and I just hate them!
25
Mindless Behavior

Mindless Behavior was an American boy band, best known for the singles "My Girl" and "Mrs. Right", produced by Walter Millsap.
One of the best boys they have the charisma and can dance and sing
PSearch List