Johnny Test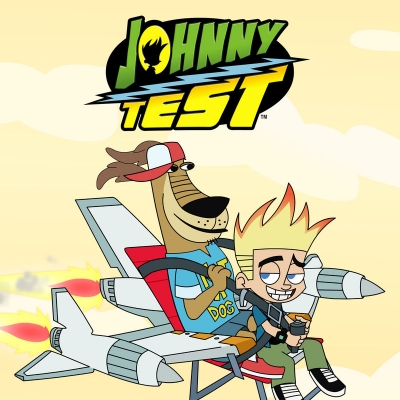 Found on mzstatic.com
Info
Johnny Test is an American-Canadian animated television series produced by Warner Bros. Animation, for the first season, and Cookie Jar, for the remainder of the series.
Comments
Top
Popular
Newest
My report to johnny test:

PLEASE DELETE THIS HECKING CARTOON! Like me if you hate johnny test. JOHNNY TEST IS A NERD FOR HECK, NO MORE JOHNNY TEST, NO MORE JOHNNY TEST, NO MORE JOHNNY TEST, NO MORE JOHNNY TEST! DUKEY IS A DUMMY! NO MORE NO MORE! THIS SHOW DRIVES ME CRAZY! NO JOHNNY TEST OR I GO NUTS!

HELP HELP HELP HELP HELP HELP HELP! SLICE HIS HEAD OFF AND THROW HIM IN A VOLCANO@! HAHA!

I WAS BORN NEAR THE FIRST SHOW! PLEASE HELP ME TAKE 8 PERCENT TO 100 PERCENT! WRITE MORE CRAPTO CHANGE THE NUMBER! KILL IT WITH FIRE HYCHORIC ACID TO BURN JOHNNYS SKIN! SISSY SHOULD DIE TOO! KILL KILL KILL HIM HIM HIM WITH WITH WITH CRAP CRAP AND MORE! I HOPE NO MORE EPISODES OF IT STOPS! DISLIKE JOHNNY TEST! He is EVIL EVIL EVIL! NO MORE! STOP THE NERDS! KILL HIM AND SEND HIM TO HELL! HATE HIM FOR GOD!
The plot of every single episode of Johnny Test summed up in a list:

1. Johnny wants to do something.
2. He goes to his sisters to see if they'll let him into the lab.
3. They say no.
4. He sneaks in anyway.
5. He finds something interesting.
6. It turns into a threat to the city.
7. Johnny stops it and saves the day with the help of his friends.

This show is SO repetitive and boring and Cartoon Network used to spam it almost as much as Nick does with Spongebob or Cartoon Network nowadays does it with Teen Titans Go!, another extremely bad show. I used to watch it because there was nothing else to watch or do, and even then I found it hard to sit through and boring. If you think about watching Johnny Test, think again, because you're in for eleven minutes of boredom and fart jokes.
It is such a lame show and is not original. They repeat the same jokes over and over again and it just becomes more annoying every time.
This show was fine in the first 2 seasons on 4kids (iirc). It just kind of faded into oblivion and then suddenly appeared on CN. I didn't mind watching the occasional re-run, but it was pretty much driven into the dirt episode after episode. It was extremely formulaic but not with that Phineas & Ferb charm.

It's pretty much an interesting flipped take on Dexter's Lab along with some P&F-esque formulaic stuff thrown in. I have to admit it's not really that bad at points, but it can be horrible at a lot of times. The soundtrack and soundboard are overused and really hurt your ears. There isn't a second without a whip sound effect or loud distracting rock music.

I could see why children are into this though, as it has some obvious relatable moments younger boys could get into. (older siblings, sisters, pets, chores, getting money for a video game, etc) - phunki
As bad as The Problem Solverz is, at least it's one of those cartoons where you can laugh at it and go "What on earth was Cartoon Network thinking when they made this!?! ". Johnny Test is so annoying, so horrendously animated, so unoriginal (rips off dexter's lab, fairly odd parents, jimmy neutron, and johnny quest), and so loud I have to scream at my brother to change the channel whenever the show comes on. I can't stand looking at the lazy choppy flash animation. The voice acting irritates me so much, and Johnny is no doubt the worst protagonist on television. Yes, he's worse than Dora the Explorer and Fred Frigglehorn!
This is by far THE WORST show ever. First, the animations are crappy without having any proper movement, the characters are stupid and annoying, it's really repetitive (bling bling tries to make susan like him, she and other sister want gill, they keep saying "woah didn't see that coming" and that awful whip noise! Every second, is the whip. - HappyFlower
This show has a lot of unlikable characters. Even the main character himself. In fact, Johnny might be the most annoying cartoon character of all time. He's an annoying, stupid, good for nothing who just goes on about. And I thought SpongeBob was annoying..! Johnny Test can ever re-air, never be shown on YouTube, never be shown anywhere but the pits of hell. We have more likable shows and characters than this crap.
There's many reasons why this show was bad I used to watch it because it was full of flashy colors and what not but when I got older I realized just how god awful it was I mean none of the episodes are clever there just stupid or just a horrible parody of movies or how they try to break the fourth wall in certain episodes or try to be clever with characters that are not even likeable to begin with
I used to watch this show when I was younger and it's just really annoying. The animation quickly turned lazy with a sound effect every time the characters moved a single muscle while most of characters are cowardly, poorly thought out. Not to mention every "super champion of the world" racing episode are some of the poorest thought out episodes of any show I've seen.
Well I'll be generous and say that this show is not as gross let alone as stupid as Teen Titans Go. But like everyone else I don't see what's so fun about it. A lot of people think the kids on Disney Channel's Jessie are spoiled brats, but clearly they haven't seen this show. - Toontownlover5
I'm wishing it would really go off air or something cause I can't stand it, from the moment it started as Total Drama Island whatever were rearing its ugly head, it made the network a whole lot boring. I don't mind Cartoon Planet cause they tend to show half snippets of old shows minus Chowder, but Johnny Test ugh! So ready to throw the T.V..
Honestly, I really like this show. It's not the greatest, but I still find it enjoyable. It's one of those shows that's so bad it's good, if that makes sense. It's one of the few watchable shows left on Cartoon Network.
This show is terrible! I would still rather watch Soupe Opera. This is a rip-off of Dexter's Laboratory! This show is so bad, that it gets a -5/5 for me.
This show should number 1 because it brain wash me to watch every episode and like it. I really hate this show for all the non sense plots and annoying characters. Someone more worst than Johnny is his dog( won't say his name. He always screams, yell, and tell Johnny to not press the red button in idiot talk. WORST SHOW EVER
I still don't get why this show has been running for almost a decade now. Cartoon Network would be doing themselves a favor if they decide to finally cut the life supply off this show for good. This Dexter's Laboratory parody was never needed in the first place anyway.
This show just sucks. Want it gone? You can do 2 things. 1. ), there is a petition to cancel this show. Sign it if you hate it. 2. ), Just don't watch it. The more people watch it, the more episodes it gets.
Makes me wanna go back to my youth and kill myself with a blunt dagger.
The dog speaks and drinks coffee and johnny acts like a five year old
I need to be honest this show is a guilty pleasure for me. I really liked this show ( When I was like 5 ). But now looking back to it, It's a huge mess. I really hate the flash in this and the stupid electric guitar sound effects which is really stupid - YoshiApple
It's repetitive (like the same thing every episode) and it should've died in 2006. How did it go on? The animations is just disgusting. Johnny Test is a ripoff of Dexter's Laboratory, and it's not even funny. The characters of the show make me want to punch myself in the face. Johnny is a lazy idiot who is a jerk to citizens, skips school, lies to his parents, and has everyone do things for him. Then there's Dukey, who's the only person that has common sense, and even gets annoying sometimes. It's an unoriginal talking animal! Bling Bling, the "villain" of the show, is just a pedo who always tries to kidnap Johnny's sisters, who are also pedos who are desperate for a dumb teenage boy. Take this show of NOW! - ethanmeinster
The haters of this show are more immature than it's target audience. It's not even that bad, it had a few laughs in it.
This show is fine. Stop hating it. Look, this show is purely made for entertainment. When I was younger, this show gave me a good laugh. It's not supposed to teach anything. There are other shows, like Total Drama Island, that hardly teach anything. Be honest, this show is better than cartoons like Uncle Grandpa and Breadwinners. Both are bad shows with bad animation, gross scenes and no lessons at all. Johnny Test is a lot better. Shows like Uncle Grandpa, AOS, Mad, and other should be deserving the hate. I'd say this should deserve a medium hate, but not the hate as UG or other crappy show.
There's a MASSIVE difference between Uncle Grandpa and Johnny Test. Uncle Grandpa is actually funny due to it's randomness and whimsy, and it has a refreshingly original premise, being symbolic of the older relatives children look up to, it teaches kids important life lessons underneath all the randomness. All Johnny Test does is regurgitate a premise stolen from shows like Dexter's Laboratory, and to boot does so by scraping the bottom of the barrel. It's the ONLY show I've ever known to jump the shark before it started.
Its so annoying NOTHING on the show is funny at all!
And it just becomes hard to look at.
Johhny Test is the crappiest most stupid, cliched show I have ever seen. It has to be the worst. The thing I hate most about it is that it gets repeated all the time and it has lasted for a full 6 seasons. Who is giving this show ratings? How does it last this long? Also, it's a rip-off on Dexter's Laboratory. The thing that I don't understand is how Dexter's Laboratory gets canecleed after 4 seasons but Johnny Test gets renewed for 6 season. How? Why? The people at Cartoon Network must be losing their minds for them to have dond that. This show definitely has to be the worst show on Cartoon Network, no doubt about it.
When this show comes on, I just change the channel! Is this show supposed to teach kids something? All it teaches is that if you have two smart sisters, you can steal their inventions and even if something goes wrong, it can always get solved. Also, that is the premise of every single EPISODE! Look, I like some of Teletoon's shows (Total Drama, Stoked, Spliced), but this? THIS, needs to go back to Canada and never come back to Cartoon Network! That's all I want!