Top 10 Worst Celebrities of All Time
The Top Ten
1
Justin Bieber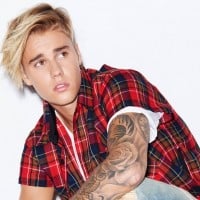 Justin Drew Bieber (born March 1, 1994) is a Canadian singer, songwriter, and record producer. He currently resides in Ontario, Canada and is Christian. He is the son of author Pattie Mallette. ...read more.
No duh he's the worst celebrity. Horrible! He didn't get it because of talent, he only got in because of his huge abs and tan. His lyrics are disturbing and disgusting and his videos are cringe-worthy. He can't sing. He ENJOYS treating women like sex toys, and he ENJOYS BEING labelled as a pervert. In every song, he's asking for sex or he's ready to have sex. Gives men a bad name. He has no respect for his body and thinks he's all that just because one YouTube cover made him famous. Why was he nominated Best Male Artist when he can't sing? His fake looks are what got him in, and nothing more. He is destroying men's reputation with his music. He's also a TERRIBLE ROLE model for boys, turning them into prostitutes.
I mean come on, he's done a few mistakes in his life but we all have? I guarantee there are way more worst celebrities than him. He does have a good voice and while people are still harshly judging him for his past they forget how he's changed now. At least he knows he did the wrong thing, at least he is trying to make up for it. If it were up to me Kim K should be number one because she's not a good example at all (not saying that Justin is either) Forgive and Forget, right?
Too flipping right, he should be on the top of the list. He just ruined the entire music industry for his silly teeny pop anthems that aren't like anything you expect from a teen idol. New song Where Are U Now is diabolical and don't tell me about Confident which made me laugh so hard because it's so bad. If you ever seen his video for Confident, it's the most stupid music video I've ever seen that actually has a story in it. His song Boyfriend and it's video, copies *NSYNC as it has cars and a love story. He does a lot of stupid things like when he got arrested in 2014 twice, made two documentaries which deserve to be slated and being the most annoying person ever with his girly anthems. The 2010s had been ruined by his attempt to get girls into him and maybe when the 2020s come along, it'll be the same but a lot more worse. If only Usher never found him at all, we never would have had such annoyance. Everyone I know think he's a dope and say he's an idiot which is 100% right on ...more
Drunk driving and many other crimes. Cause 18 girls to commit suicide because of him. And yet, belibers be like, "I will be here for Justin forever! " Shame. Yes, he may do charity, but which celebrities doesn't? What if he killed someone while he's drunk driving? Belibers are stupid. Stand for someone talent instead. Justin Bieber? 5 years later, this name is unknown.
2
Kim Kardashian

Kimberly Noel "Kim" Kardashian West is an American reality television personality, actress, socialite, businesswoman and model. ...read more.
This girl got famous for nothing. Along with her sisters, she sucks and she's fake. I don't understand why she's famous though she doesn't have talent.
She is a narcissist. There are many classy people out there who are in the spotlight but Kim is anything but classy. And as for people thinking she is beautiful. First thing is beauty comes from within, those recent pics of her are nothing but trash. And her ass is as big as a Kenworth truck. I am sick of seeing her everywhere. She must be lacking something in her life to feel the need to be always in the spotlight.
Kim Kardashian is the definition of privileged. She would not even be famous if she wasn't born into the Kardashian Klan. She makes me sick. People who actually have talent (Actors, Musicians, etc.) work their butts off to become successful in the entertainment industry and she, along with her whole family are all famous and "successful" for not doing anything. It's disgusting.
I feel like a hypocrite even writing this comment-but the only reason she stays revelevent is because of stuff like this-we obssess over talking about her and how bad she is: it's like, in the words of fall out boy "I don't care what you think as long as it's about me". And she obviously doesn't-she's not clever, she doesn't empower young girls at all and she's got a 'cheap' beauty only cosmetic surgery can buy. To be frank I think we've given the platform to the wrong person... :/
3
Miley Cyrus

Miley Ray Hemsworth (born Destiny Hope Cyrus), known as Miley Cyrus, is an American singer, songwriter, and actress. She was born on November 23, 1992, in Franklin, Tennessee, to Tish Cyrus and Billy Ray Cyrus. Her voice type is Mezzo-Soprano and has 4 octaves. She became a teen idol starring as the ...read more.
Everyone says that she's completely rude and ungrateful for her fans/success.. I swear people need to get a grip and stop regarding celebs so highly. WAKE UP people these celebs are just entertainers.. Modern day jesters, stop acting like they are gods and then society will be a much better place for it
Sorry Miley, but you know... You used to be somebody. Little girls loved to watch your "Hannah Montana" show. Now look what happened, things have seriously gone downhill in the last few years. Miley, please, reconsider your ways. Do it for the youngsters
She ruined her good reputation. Her voice isn't anything special. She's twerking all over the stages, getting naked in songs... I don't have anything against indivisuality but that's a little too much, Miley
Before she was a Disney star on a show for little girls ( I never actually like it that much) Now what she's was Naked in wrecking ball! She's stick her tongue so much I would cut it off! She's so white and pale! ( my own opinion) and she's a bad influences! No wonder Disney is ashamed
4
Dahvie Vanity

David Jesus Torres, better known by his stage name Dahvie Vanity, is an American singer-songwriter and rapper born on September 5, 1984, who is best known as one half of Crunkcore duo Blood on the Dance Floor and as the face and creative mind behind Industrial project Sinners are Winners. He is also ...read more.
This piece of pork chop with horror makeup is a rapist and made some horrible music. I hope he gets harassed.
5
6IX9INE

Daniel Hernandez, known by his stage name 6ix9ine, also known as Tekashi69 or simply Tekashi, is an American rapper.
He used to be in the jail but now, he makes atrocious garbage. He's a paedophile. I hope he's going back to jail again.
Man he just snitch
6
Donald Trump

Donald John Trump (born June 14, 1946) is an American businessman, television personality, politician, and the 45th President of the United States. Born and raised in Queens, New York City, Trump received an economics degree from the Wharton School of the University of Pennsylvania in 1968. In 1971, ...read more.
Honestly, I haven't liked a single politician in my time. They're all horrible people, including Trump. But saying he's like Hitler is a bit of a stretch, though I don't agree with his actions. Maybe one day we'll get a GOOD president.
He is like the modern day Hitler. Hitler sent the Jews to the death camps, Trump wants to send the refugees back to Syria where Isis is - instead of it being a camp it's an entire country. He has good ideas sometimes but he goes way overboard with them. People have to go through a 7 year process in order to become a citizen so if the person is a terrorist surely you could tell within those 7 years. Also Trump wants to shut down the internet because terrorists go on it. What the heck.
I hope with all my heart that this man don't win the elections to become a president. This will start a third world war for sure. I'm from Europe and I'm hoping that all Americans will be able to see and realize how dangerous this crazy person is. He's gonna destroy Europe and the United States with all his irrational ideas if we don't look out.
Born with a silver spoon in his mouth. He has no conception of what its like to work from paycheck to paycheck and struggle to make ends meet. He cannot perceive being bossed around or having to endure criticism from superiors. He is like the rich guy on the upper deck of the Titanic who told Rose that Jack is beneath her.
7
Paris Hilton

Paris Whitney Hilton is an American businesswoman, socialite, television personality, model, actress, singer, DJ, and author.
I didn't care about her when I heard of her, but I watched a top tens video of celebrities who treat their pets horribly, and know I HATE her. She has hundreds of pets, but she abandons them at shelters. Sometimes, when the pets don't follow her orders to do tricks, she locks them in the closets and leaves them to die. I hope she dies in a hole by herself!
She didn't do anything to get fame it's just because of her dad. She can't sing and she's not even hot she deserves to be number 1 on this list
I don't know why I voted her I just read the other comments and I was like you know what you getting voted now.
Money grows on trees in some people's worlds, and idle hands make the devil's work easier.
8
Nicki Minaj

Onika Tanya Maraj, known professionally as Nicki Minaj (born December 8, 1982) is a Trinidadian/American rapper / pop music artist. Minaj is most known for her songs such as "Anaconda", "Super Bass", "Starships" and her feature on "Bang Bang". ...read more.
Nicki Minaj is a hoe. A cheap prostitute plastic face surgery, fake breasts and fake lips, fake buttocks. Her songs is literally not suitable for children and youngsters!
She says that all she has is super bass when all that she has are lies all over her face that she has a lot to tell to her fans to get them intreeged. I also think that the only reason that she twerks is because she is old and is still trying to find a random good celeb to marry.
She is a stupid hoe! Fake and plastic, why is lorde even on this list she is amazing Nicki Minaj should be waaay above her she should even be taken off the list and smashed right on top of the best celebrity list
Not a very good example to youngsters but I love your voice! I love your raps!
9
Amanda Bynes

Amanda Laura Bynes is an American former actress. After appearing in commercials and in plays, Bynes rose to prominence as a child star in the late 1990s and early 2000s, first on the Nickelodeon series All That from 1996 to 2000, and then on her own show, The Amanda Show (1999-2002), becoming a teen ...read more.
She badmouths others for being "ugly and obese." She is the one of the biggest hypocrites in the world and needs to look at herself in the mirror.
Amanda bynes is a bully who hides behind a screen posting hate to everyone on twitter She has no life.
Stop calling other people ugly! First look at yourself than talk you horrible bipolar Twitter fake.
Why does she call people ugly? Look at your frog face, woman! Then we'll see who the ugly one really is.
10
Cardi B

Belcalis Marlenis Almánzar (born October 11, 1992), known professionally as Cardi B, is an American rapper. Born and raised in New York City, she became an Internet celebrity by achieving popularity on Vine and Instagram. From 2015 to 2017, she appeared as a regular cast member on the VH1 reality television ...read more.
Cardi B is SUCH an awful singer. Her voice sounds like a dog throwing up its breakfast. Shes also super rude. I hope she goes to heaven so God can beat her up and then her remaining body parts go back to hell
Whenever I hear her music, I feel as if my eardrums are about to explode. Her voice sounds like a car engine that needs to get it's timing belt replaced, but that engine also has a broken head gasket and oil leaking and crusting on the engine block. She's also a horrible person.
This stupid witch is the fakest thing in 2019 along with Kim Kardashian. Her music is extremely cancerous. I hope she goes to hell.
Looks like a Chicken with Aids so she does.
The Newcomers
?
Tyler, the Creator

Tyler Gregory Okonma (born March 6, 1991), better known by his stage name Tyler, The Creator, is an American rapper, record producer, and music video director. ...read more.
The Contenders
11
Kanye West

Kanye Omari West is an American rapper, songwriter, and fashion designer. He was born on June 8, 1977 in Atlanta, Georgia. After West's parents divorced, him and his single mother moved to Chicago, Illinois. At the age of 10, West temporarily moved to Nanjing, China, because his mother was teaching ...read more.
Yo Kanye, I'm sorry to interrupt you, but I have one of the best comments of all time! If Will Smith slapped you like he did to Chris Rock, Taylor is probably gonna get even more famous than you are, and you'd be doomed!

- Well, seriously, he can act nice and kind to other people, but not to Taylor and anyone else, and he is secretly a con-artist. He tried to ruin the success of Taylor at the MTV Video Awards back in 2009. Then, his ex wife, Kim Kardashian, tried to ruin Taylor's reputation by posting an edited version of Taylor and Kanye's conversation, making it look like Kanye was the one who made Taylor famous and Taylor accepting the permission. See! That's why those snake epidemic started trending, and that's why Reputation even existed! Taylor beat the beep out of you by becoming stronger than a '90s trend! The lyrics to his music were also very atrocious, even though the talent was impressive (it's probably even his things!). Y'all better be careful of that!
He named his child North and Saint West? Does he want his children to get roasted when they go to school, come on. And, he interrupted Taylor Swift when she was young and so excited to receive her award. He ruined that moment and no matter if she forgave him or not. That should be on his conscience cause that's so cruel and not innocent. Although yeezys are quite nice unlike him.
He's the most arrogant person I've ever seen - whether it's him interrupting poor taylor swift's awards, or him running for president (which made him the BIGGEST meme of the year), he's just... the worst, and NOT A GOD!
The biggest low life loser of all time. He has no talent whatsoever. Every time he opens his mouth, he shows his ignorance. The perfect definition of an idiot moron. He thinks he God's give to the world. More like the Devil's advocate. The devil's curse. His wife is Elvira creature of darkness.
12
Ariana Grande

Ariana Grande-Butera, known professionally as Ariana Grande, is an American singer and actress. She was born on June 26th 1993 in Boca Raton, Florida to Joan Grande and Edward Butera. She is best known for her role as Cat Valentine on the Nickelodeon sitcom Victorious and its spin-off show Sam & Cat. ...read more.
I used to really like her because of Victorious, Yours Truly and her Christmas music. Then she started to get extremely overrated and overplayed and I suddenly started loosing interest in her. And honestly, it's not just her music, it's the way she acts. She tries to act all sweet like the character she portrays but acts like a jerk. People these days have got to remember that just because she portrays a sweet, loving, adorable bouncy little character, does not mean she's super nice in real life. I mean sometimes she is but she acts like a diva.
I don't see why everyone likes her so much. Her music isn't always good, and I find myself annoyed by her voice. She just forces it to be so high and it gives me a headache.
She's one of the biggest divas ever. Yes, she has talent. But she's throwing it all away with the way she's acting. She goes licking donuts while saying "I hate Americans. I hate America." If you're going to look up to someone who does that then uses her fans to make her look good... I pity you. I really do.
She's an awful singer. Though her songs are nice, her high pitched voice is just way overrated! She's not talented, just born with an annoyingly high-pitched voice. She's rude, ungrateful, and a huge phoney
13
Lindsay Lohan

Lindsay Dee Lohan is an American actress. She is also a model, singer, songwriter, director, and producer.
Woah, I just read a few of the comments and they were so harsh. Give her a chance!
Her face is so messed up... I can't believe she was actually pretty at a time in her life
Please deport this crack head to another planet.
She was a good actress. No pathetic
14
Sarah Palin

Sarah Louise Palin is an American politician, commentator, and author who served as the ninth Governor of Alaska from 2006 until her resignation in 2009. As the Republican Party nominee for Vice President in the 2008 Presidential election running with the Republican presidential nominee, Arizona Senator ...read more.
Found out going into politics allow making millions by fleecing all the suckers.
15
Bill Cosby

William Henry "Bill" Cosby, Jr., is an American stand-up comedian, actor, and author. ...read more.
Duped everyone including me, that he was about family values, grew up watching Fat Albert, his show meant to teach kids values. The whole time he was doing these shows including the Cosby Show, He was drugging and raping women! What a hypocrite, deserves the worst
Most famous serial rapist. The other brothers are in the state prison, but he walks free because no one wanted to be politically incorrect.
Another obvious one. Pervert, sex offender, and deserves to be locked away for the rest of his miserable life.
He deserves capital punishment.
16
Jake Paul

He and his brother are honestly horrible people, yet they still somehow have too many fans and apologists. They're not even funny.
Every day bro with that disney channel flow, Haha What flow? The flow of money you get from brainless 12 year olds who watch your clickbait?
He posted a dead body on youtube in January of 2018 and laughed about it, he just better be glad he said sorry.
When it comes to the Paul brothers, each brother's more retarded than the other.
17
Snooki

Nicole Elizabeth "Snooki" LaValle is a Chilean-American reality television personality and dancer who is best known for being a cast member of the MTV reality show Jersey Shore and starring in Snooki & Jwoww.
I've never seen a young woman who I find less desirable than this short, trashy, low class unattractive loudmouth.
Spray tan. I hate reality T.V.
Pretty damn retarded.
18
Chris Brown

Christopher Maurice "Chris" Brown (born May 5, 1989) is an American singer, songwriter, dancer and actor. Born in Tappahannock, Virginia, he was involved in his church choir and several local talent shows from a young age. He is most well known for his physical assault towards the singer Rihanna in ...read more.
What is there to like about this guy? His music is generic at best, unlistenable at worst. He beat up Rihanna and possibly Frank Ocean and Drake (not quite sure about those two, but Rihanna for sure). He constantly acts like a douche both online and offline. And he has the worst fanbase I've ever seen. Say what you want about Beliebers, at least they don't ask to be beaten up on Twitter. And worst of all, people still buy his music. Why?
Why is this douchebag not in the top 10's!?!? I can't even explain how much of a douche he is! He is just awful. He is just so obnoxious, he likes to act dominant on everything and when disappointed, becomes violent. What a spoiled scum. Ugh, it seems to me as if all his fans are either unaware of his wrongdoings or just Mini Amanda Bynes-like people.
He should definitely be in top 10. He is a douche to women, and his music has become so generic.
Chris Brown is a steaming pile of crap.
19
Liam Hemsworth

Liam Hemsworth is an Australian actor. He played the role of Josh Taylor in the soap opera Neighbours and as Marcus on the children's television series The Elephant Princess.
I bet he's the brother of Chris Hemsworth because he looks like Chris Hemsworth. I'm not sure if he's a bad celebrity because he made Independence Day.
He only has a handsome face rather than acting skills.
Put him lower
20
Kylie Jenner

Kylie Kristen Jenner is an American reality television personality, model, entrepreneur, socialite, and social media personality.
Kylie Jenner is not a celebrity, celebrities work very hard for their fame and fortune. Kylie Jenner never work a day in her life. She graduated from High school by never going if it wasn't for her sadistic family she would be a complete nobody. With all her plastic surgery and hideous lips makes her look very ridiculous. The Kardashian and Jenner families want to be controversial that why they get involved blacks and have street thug rapper children
People donated her money so she could become the world's youngest billionaire. Honestly, people these days have the intelligence of an amoeba, and this includes Kylie Jenner.
Kylie Jenner looks like the ten pound carp I caught with those big lips of hers. With that huge rear end of hers she looks like a bowling pin.
I hate the Jenner/Kardashian family. They already ruined Kylie and Kendall's future when Kylie was about 12 and Kendall was 14
21
Tiger Woods

Eldrick Tont "Tiger" Woods is an American professional golfer who is among the most successful golfers of all time.
Tiger Woods is not worth all that hype and attention. He cheated on his wife because he felt he deserves it. What a low life loser. He took enhancing drugs to bulk himself up and get stronger. He should be disqualified and all tournaments he has ever won taken away. Tiger Woods is NOT even in the top One hundred golfers all time.He didn't work hard to get where he is now. He cheated the system.
Tiger Woods is the type who would charge money for his autograph. Never met him, but know someone who has watched him play golf. Said Woods is rude to fans he doesn't want to be bothered. Some role model for kids.
Tiger Woods is not an amazing golfer. He's a bum and certainly belongs on this list. He's a cheater in life and in golf. Not even in the top ten list of greatest golfers of all time.
HA HA your wife chased you down with a golf club you cheating skunk.
22
Yolandi Visser

Anri du Toit, better known by her stage name Yolandi Visser, is a South African rapper, singer, songwriter, and actress.
She has the worst voice in the universe. She also named her daughter after a number. She deserves to get locked for the things she has done.
23
Lorde

Ella Marija Lani Yelich-O'Connor (born 7 November 1996), better known by her stage name Lorde, is a singer-songwriter from New Zealand. She released her first EP "The Love Club" in 2012 and gained worldwide popularity with her song "Royals" at the age of 16. ...read more.
Lorde is sweet! I respect your opinions but I think she is awesome. her songs aren't about sex & drugs, she isn't stupid, and she has a nice voice!
People must be off their rocker to put her up here. Lorde is simply awesome. She rocks!
How is she above Nikki Minaj? She sucks, but not THAT bad.
She disses every celeb you know. When I first saw her, I thought she was a witch
24
Lucas Cruikshank

Lucas Alan Cruikshank is an American actor and YouTube personality who created the character Fred Figglehorn and the associated Fred series for his channel on the video-sharing website YouTube in late 2005. These videos are centered on Fred Figglehorn, a fictional six-year-old who has a dysfunctional ...read more.
It's not always surprising to some, that he, like many other celebrities, started out cute and popular, during Fred, and eventually turned the wrong way when he stopped and said he's gay, and now all he does is just make explicit videos and go out in bars, as well as ignore his fans, which he once had.
25
Robert Pattinson

Robert Douglas Thomas Pattinson is an English actor, producer, model, and musician. He started his film career by playing Cedric Diggory in Harry Potter and the Goblet of Fire, a 2005 fantasy film.
Just because he was in a stupid movie doesn't me he's bad. he was in harry potter first
He was in twilight
PSearch List