Worst Celebrities of All Time
The Top Ten
1
Justin Bieber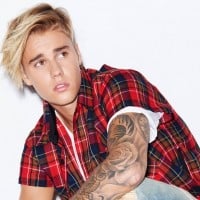 Justin Drew Bieber (born March 1, 1994) is a Canadian singer, songwriter, and record producer. He currently resides in Ontario, Canada and is Christian. He is the son of author Pattie Mallette. ...read more.
He's just a bad influence. And - yes - I admit his song's are pretty good, and his voice as well... but the song lyrics are disgusting, and he has an even more disgusting personality
No duh he's the worst celebrity. Horrible! He didn't get it because of talent, he only got in because of his huge abs and tan. His lyrics are disturbing and disgusting and his videos are cringe-worthy. He can't sing. He ENJOYS treating women like sex toys, and he ENJOYS BEING labelled as a pervert. In every song, he's asking for sex or he's ready to have sex. Gives men a bad name. He has no respect for his body and thinks he's all that just because one YouTube cover made him famous. Why was he nominated Best Male Artist when he can't sing? His fake looks are what got him in, and nothing more. He is destroying men's reputation with his music. He's also a TERRIBLE ROLE model for boys, turning them into prostitutes.
Too flipping right, he should be on the top of the list. He just ruined the entire music industry for his silly teeny pop anthems that aren't like anything you expect from a teen idol. New song Where Are U Now is diabolical and don't tell me about Confident which made me laugh so hard because it's so bad. If you ever seen his video for Confident, it's the most stupid music video I've ever seen that actually has a story in it. His song Boyfriend and it's video, copies *NSYNC as it has cars and a love story. He does a lot of stupid things like when he got arrested in 2014 twice, made two documentaries which deserve to be slated and being the most annoying person ever with his girly anthems. The 2010s had been ruined by his attempt to get girls into him and maybe when the 2020s come along, it'll be the same but a lot more worse. If only Usher never found him at all, we never would have had such annoyance. Everyone I know think he's a dope and say he's an idiot which is 100% right on ...more
I mean come on, he's done a few mistakes in his life but we all have? I guarantee there are way more worst celebrities than him. He does have a good voice and while people are still harshly judging him for his past they forget how he's changed now. At least he knows he did the wrong thing, at least he is trying to make up for it. If it were up to me Kim K should be number one because she's not a good example at all (not saying that Justin is either) Forgive and Forget, right?
2
Kim Kardashian

Kimberly Noel "Kim" Kardashian West is an American reality television personality, actress, socialite, businesswoman and model.
She is why our American society is so backwards.. She has NO moral lines or values she's famous for a sex tape people I seriously believe that family carrys out the devils work u can see her mother pimping her children for all they are worth she's what's wrong with the world I'm sorry to say it Kim but your family is evil.. They are kind of a blight on society I also get a kick out of how she carries herself and acts the part of having class.. Listen Kim your just pretty white trash u are famous not for your talent but for having sex on a tape and for your father who is so crooked that when they buried him they needed a screwdriver to screw him into the earTh.. But anything for money right u terrible family? One day people will wake up and send these "people" (demons) to an island where they cannot corrupt Americas youth and u influenced masses alike
She only famous because of her stupid ass sex tape. Instead of doing something with it she actually but put it on the TV show Keeping Up With The Kardashians, instead of actually doing something.
Stupid hoe that drives Mercedes-Benz G-Wagens and is terrible to everyone. The Kardashians are some of the most useless people on the face of the Earth and I hate every single one of them.
She is a narcissist. There are many classy people out there who are in the spotlight but Kim is anything but classy. And as for people thinking she is beautiful. First thing is beauty comes from within, those recent pics of her are nothing but trash. And her ass is as big as a Kenworth truck. I am sick of seeing her everywhere. She must be lacking something in her life to feel the need to be always in the spotlight.
3
Miley Cyrus

Miley Ray Hemsworth (born Destiny Hope Cyrus), known as Miley Cyrus, is an American singer, songwriter, and actress. She was born on November 23, 1992, in Franklin, Tennessee, to Tish Cyrus and Billy Ray Cyrus. Her voice type is Mezzo-Soprano and has 4 octaves. She became a teen idol starring as the ...read more.
She ruined her good reputation. Her voice isn't anything special. She's twerking all over the stages, getting naked in songs... I don't have anything against indivisuality but that's a little too much, Miley
Miley Cyrus used to be a good person (Minus the fact I never liked her anyways). But it all broke into shards after the music video "Wrecking Ball" where she was fully naked on the swaying wreaking ball I mean, WHAT THE HELL IS THAT! She always sticks her ' tongue out and that is HIDEOUS! Past=I don't like her music Now= I HATE HER! She should go back to being not a bear humper and to someone that doesn't catch the attention of "Perverts World-Wide"
Everyone says that she's completely rude and ungrateful for her fans/success.. I swear people need to get a grip and stop regarding celebs so highly. WAKE UP people these celebs are just entertainers.. Modern day jesters, stop acting like they are gods and then society will be a much better place for it
Sorry Miley, but you know... You used to be somebody. Little girls loved to watch your "Hannah Montana" show. Now look what happened, things have seriously gone downhill in the last few years. Miley, please, reconsider your ways. Do it for the youngsters
4
Adolf Hitler

Adolf Hitler (April 20, 1889 - April 30, 1945) was a German politician who was the leader of the Nazi Party, Chancellor of Germany from 1933 to 1945, and Führer of Nazi Germany from 1934 to 1945. As dictator of Nazi Germany, he initiated World War II in Europe with the invasion of Poland in September ...read more.
Adolf Hitler is by far one of the worst people. FAR, FAR, FAR worse than Justin Bieber, Kim K, Cardi B and all those modern celebrities combined. Justin can at least sing, and dance. Kim K didn't kill 6 million Jews. Hitler ruined Germany by initiating World War II and invading Poland, and participating in the Holocaust, which killed 6 MILLION JewS! Not to mention anyone who was different from the "all so mighty and superior" Aryan race in his book. Stalin is much worse.
DISCLAIMER: I, being descended from Jews, am not on Hitler's side in any way, I wasn't even the war, so here are some things I need to tell you.

1. If you have played any first person shooters, you think the other team is evil, and when you go to the other team, you think that the opposite side is evil, just think about it. What did hitler think about the Jews? He thought they were bad, what did the Jews think about hitler? They thought he was bad, what did America think of the nazis? We thought they were evil, what did the nazis think of America? They think we are evil.

2. Unlike osama bin laden, hitler had mental issues, he couldn't tell right from wrong, good from bad, good-hearted from sadistic. He didn't know what he was really doing.

3. Hitler didn't even want to bomb Pearl Harbor, I remember a quote that said, "it is not to blame the known from the action, but to blame the that lifted thy finger.".

I'm not saying hitler was good in any way, but maybe ...more
Adolf Hitler he killed six... six million people and Justin Bieber just makes mistakes but Adolf Hitler no he should be the worst he KILLED SIX MILLION PEOPLE Justin Bieber just makes music and he donates to a lot of charity did Adolf Hitler give to charity no he just KILLED SIX MILLION PEOPLE wow just because you dislike Justin Bieber music ah worst person kill him just wow Adolf Hitler is number six how stupid are kids today I am 13 and don't care that there is no periods or all that other stuff but I hope you guys understand this
I'm so angry about this. Justin Bieber beat Adolf Hitler? What has the world come to? we're talking about a man who killed 6 million people for their beliefs? made concentration camps? kept children behind fences? And that's supposed to compare to a guy that, what? peeid in a bucket, that's bull. This man, shouldn't even be known as a Celebrity, this man who shall not be named is evil and pure wicked. Justin Bieber went through a rough patch that does not at all in ANY WAY compare to this jerk. He COMES AFTER KIM K? Miley? WOW that's just pitiful, Neither of the people above have killed someone? let alone 6 million wow, humanity has shocked me, I see humans but no humanity. I'm appalled by his placement in this list, just disappointed tremendously.
5
Dahvie Vanity

David Jesus Torres, better known by his stage name Dahvie Vanity, is an American singer-songwriter and rapper born on September 5, 1984, who is best known as one half of Crunkcore duo Blood on the Dance Floor and as the face and creative mind behind Industrial project Sinners are Winners. He is also ...read more.
This piece of pork chop with horror makeup is a rapist and made some horrible music. I hope he gets harassed.
Truly terrifying.
6
Donald Trump

Donald John Trump (born June 14, 1946) is an American businessman, television personality, politician, and the 45th President of the United States. Born and raised in Queens, New York City, Trump received an economics degree from the Wharton School of the University of Pennsylvania in 1968. In 1971, ...read more.
-Religious types voted and still vouch for him even though he's a philandering molesting shyster
-Conservatives voted and still vouch for him even though he's running the debt up through the stratosphere
-Right wing conspiracy folks voted and still vouch for him even though he's undermining the FBI, CIA and free press all while layer after layer of sketchy Russian relations and political meddling continually surface
-Law Enforcement voted and still vouch for him even though he only backs them to the degree that, Dictatorship-style, they obey his every whim. The moment anyone questions anything about him they are publicly maligned and their authority is undercut

I don't understand any of this!
He is like the modern day Hitler. Hitler sent the Jews to the death camps, Trump wants to send the refugees back to Syria where Isis is - instead of it being a camp it's an entire country. He has good ideas sometimes but he goes way overboard with them. People have to go through a 7 year process in order to become a citizen so if the person is a terrorist surely you could tell within those 7 years. Also Trump wants to shut down the internet because terrorists go on it. What the heck.
He just wants to destroy America! I suggest, stop trying to destroy America, look at the amount people who said the same, Michelle Obama, and more!
I hope with all my heart that this man don't win the elections to become a president. This will start a third world war for sure. I'm from Europe and I'm hoping that all Americans will be able to see and realize how dangerous this crazy person is. He's gonna destroy Europe and the United States with all his irrational ideas if we don't look out.
7
Barack Obama

Barack Hussein Obama II served as the 44th president of the United States of America. He was elected in 2008 after serving in the Senate from 2005-08, beating John McCain and becoming the first African-American to be elected President of the United States. He was elected again in 2012, beating Mitt ...read more.
Okay, seriously? This is Obama we're referring to, THE PRESIDENT, he's hard working, he's a good idol and no matter how much pressure he's gotten he's still maintained chill and makes sure to keep himself and his family grounded. Obviously, as the president he will go through tough times and not always make the best decisions but that's part of his job, he learns as he moves forward. He has no reason to be on the Worst Celebrity's List, that must be a joke. Besides isn't he the president? can't he get you deported for putting him on this pathetic list?
Anyone who trades 5 blood thirsty terrorists for a known deserter (while 4 innocents are left behind to suffer in Iran), refuses to lower the flag to half mast in honor of 4 marines and a midshipman killed in cold blood on American soil and can't even bring himself to pick up the phone and offer his condolences to Kate Steinle's family (even though he did call the family of drug dealer Freddy Gray) is pathetic in my view.
What a terrible president. Caused an economic crash so terrible, can't believe some of you liberals think that its racist to put him on here yet beg for trump to be higher up than HITLER! Now that is just being stupidly politically blind!
What the hell people he's a good man he haven't destroy the united state he change a lot of thing he's awesome I support this man he shouldn't be on here unless some people are racist? He been a great leader.
8
6IX9INE

Daniel Hernandez, known by his stage name 6ix9ine, also known as Tekashi69 or simply Tekashi, is an American rapper.
He doesn't deserve to live freely
9
Nicki Minaj

Onika Tanya Maraj, known professionally as Nicki Minaj (born December 8, 1982) is a Trinidadian/American rapper / pop music artist. Minaj is most known for her songs such as "Anaconda", "Super Bass", "Starships" and her feature on "Bang Bang". ...read more.
yes I scientifically agree a lot, I hate how she doesn't put anything good on TV but just rapping.Shes a really bad person and I don't think she deserves anything but getting out of being one.
She says that all she has is super bass when all that she has are lies all over her face that she has a lot to tell to her fans to get them intreeged. I also think that the only reason that she twerks is because she is old and is still trying to find a random good celeb to marry.
She has terrible music similar to that of Cardi B and she is a terrible person who is also rude to her fans who are all brain dead 13 year old girls.
Nicki Minaj is a hoe. A cheap prostitute plastic face surgery, fake breasts and fake lips, fake buttocks. Her songs is literally not suitable for children and youngsters!
10
Amanda Bynes

Amanda Laura Bynes is an American former actress. After appearing in commercials and in plays, Bynes rose to prominence as a child star in the late 1990s and early 2000s, first on the Nickelodeon series All That from 1996 to 2000, and then on her own show, The Amanda Show (1999-2002), becoming a teen ...read more.
She badmouths others for being "ugly and obese." She is the one of the biggest hypocrites in the world and needs to look at herself in the mirror.
Amanda bynes is a bully who hides behind a screen posting hate to everyone on twitter She has no life.
Stop calling other people ugly! First look at yourself than talk you horrible bipolar Twitter fake.
Why does she call people ugly? Look at your frog face, woman! Then we'll see who the ugly one really is.
The Contenders
11
Kanye West

Kanye Omari West is an American rapper, songwriter, and fashion designer. He was born on June 8, 1977 in Atlanta, Georgia. After West's parents divorced, him and his single mother moved to Chicago, Illinois. At the age of 10, West temporarily moved to Nanjing, China, because his mother was teaching ...read more.
He's the most arrogant person I've ever seen - whether it's him interrupting poor taylor swift's awards, or him running for president (which made him the BIGGEST meme of the year), he's just... the worst, and NOT A GOD!
He can name his kid as a joke, and marry Kim Kardashian. He can crawl on the stage of the VMA's like a whiny baby and say that Beyonce had one of the best videos of all time (Beyonce? That's a funny way to spell Green Day), and he also almost did it AGAIN to Beck in 2015. In an interview, he claimed beck needed to RESPECT. ARTISTRY. WHAT? Beck has more talent in his pinky than Kanye has in his whole body. And worst of all, he said that Beck should've given his award to, guess who? BEYONCE.
Kanye West is like the whiny little kid who didn't get the toy he wanted on Christmas, so he throws a temper tantrum in hope that his parents will buy him the toy, not knowing that the shops are all closed.
And that's not even the worst part. Oh no.
The worst part of ALL OF THIS, is that he claimed himself, a rockstar, no, the GREATEST ROCKSTAR IN THE WORLD. ARE YOU KIDDING ME?
He is not a rockstar, he will never be a rockstar, and he is a terrible artist. You know what he did after ...more
He's the Black Kevin Federline, his music sucks, has no talent, his fanboys are crackheads, also this loser really thinks he can run for President, he's only running just to give Trump 4 more years, also he doesn't care about black people either.
He named his child North and Saint West? Does he want his children to get roasted when they go to school, come on. And, he interrupted Taylor Swift when she was young and so excited to receive her award. He ruined that moment and no matter if she forgave him or not. That should be on his conscience cause that's so cruel and not innocent. Although yeezys are quite nice unlike him.
12
Ariana Grande

Ariana Grande-Butera, known professionally as Ariana Grande, is an American singer and actress. She was born on June 26th 1993 in Boca Raton, Florida to Joan Grande and Edward Butera. She is best known for her role as Cat Valentine on the Nickelodeon sitcom Victorious and its spin-off show Sam & Cat. ...read more.
I used to really like her because of Victorious, Yours Truly and her Christmas music. Then she started to get extremely overrated and overplayed and I suddenly started loosing interest in her. And honestly, it's not just her music, it's the way she acts. She tries to act all sweet like the character she portrays but acts like a jerk. People these days have got to remember that just because she portrays a sweet, loving, adorable bouncy little character, does not mean she's super nice in real life. I mean sometimes she is but she acts like a diva.
She's one of the biggest divas ever. Yes, she has talent. But she's throwing it all away with the way she's acting. She goes licking donuts while saying "I hate Americans. I hate America." If you're going to look up to someone who does that then uses her fans to make her look good... I pity you. I really do.
You're just jealous you can't sing. She makes good music, you're just judging because you're lives are not even a little as hers. And if you know about her, that means that you care about her and that you're just immature spending you're whole life hating people. GROW UP HATERS!
She's an awful singer. Though her songs are nice, her high pitched voice is just way overrated! She's not talented, just born with an annoyingly high-pitched voice. She's rude, ungrateful, and a huge phoney
13
Cardi B

Belcalis Marlenis Almánzar, known professionally as Cardi B, is an American rapper, songwriter, television personality and former stripper.
Whenever I hear her music, I feel as if my eardrums are about to explode. Her voice sounds like a car engine that needs to get it's timing belt replaced, but that engine also has a broken head gasket and oil leaking and crusting on the engine block. She's also a horrible person.
This stupid witch is the fakest thing in 2019 along with Kim Kardashian. Her music is extremely cancerous. I hope she goes to hell.
Low class, no talent, weird bird noises, freaky & gross
Looks like a Chicken with Aids so she does.
14
Paris Hilton

Paris Whitney Hilton is an American businesswoman, socialite, television personality, model, actress, singer, DJ, and author.
I didn't care about her when I heard of her, but I watched a top tens video of celebrities who treat their pets horribly, and know I HATE her. She has hundreds of pets, but she abandons them at shelters. Sometimes, when the pets don't follow her orders to do tricks, she locks them in the closets and leaves them to die. I hope she dies in a hole by herself!
I have blonde hair so if you say that it is bad you are very very dumb and stupid. Paris looks beautiful but it is because of her parents or grandparents and she got fame for no reason but had 2 songs in the charts 1 stars are blind known as her first song which reached number 5 and nothing in this world which I think reach number 45 in the charts
She didn't do anything to get fame it's just because of her dad. She can't sing and she's not even hot she deserves to be number 1 on this list
I don't know why I voted her I just read the other comments and I was like you know what you getting voted now.
15
Lindsay Lohan

Lindsay Dee Lohan is an American actress. She is also a model, singer, songwriter, director, and producer.
Her face is so messed up... I can't believe she was actually pretty at a time in her life
Woah, I just read a few of the comments and they were so harsh. Give her a chance!
Please deport this crack head to another planet.
I don't know what or who this celebrity is but she damn cute.
16
Sarah Palin

Sarah Louise Palin is an American politician, commentator, and author who served as the ninth Governor of Alaska from 2006 until her resignation in 2009. As the Republican Party nominee for Vice President in the 2008 Presidential election running with the Republican presidential nominee, Arizona Senator ...read more.
Found out going into politics allow making millions by fleecing all the suckers.
She Even Hates One Of My Favorite Shows(Family Guy)

NOTE-I Only Like Seasons 1-7 Of Family Guy
Oh please do not get me started. she is just so fake and stupid.
So stupid never going to be elected however is the woman every man fancies but doesn't say please sarah can you give me a private dance
17
Joseph Stalin

Joseph Vissarionovich Stalin was a Georgian dictator, and was the leader of the Soviet Union from the mid-1920s until his death in 1953. Holding the post of the General Secretary of the Central Committee of the Communist Party of the Soviet Union, he was effectively the dictator of the state.
18
Peter Scully

Peter Gerard Scully is an Australian man imprisoned for life in the Philippines after being convicted of one count of human trafficking and five counts of rape by sexual assault of underage girls.
He's a big stupid pedophile and a murder. I hope he never gets out of jail. He deserves to have the worst life ever.
19
Bill Cosby

William Henry "Bill" Cosby, Jr., is an American stand-up comedian, actor, and author. ...read more.
Duped everyone including me, that he was about family values, grew up watching Fat Albert, his show meant to teach kids values. The whole time he was doing these shows including the Cosby Show, He was drugging and raping women! What a hypocrite, deserves the worst
Most famous serial rapist. The other brothers are in the state prison, but he walks free because no one wanted to be politically incorrect.
Another obvious one. Pervert, sex offender, and deserves to be locked away for the rest of his miserable life.
He's a blessing to this world and a hero for blacks
20
Snooki

Nicole Elizabeth "Snooki" LaValle is a Chilean-American reality television personality and dancer who is best known for being a cast member of the MTV reality show Jersey Shore and starring in Snooki & Jwoww.
I've never seen a young woman who I find less desirable than this short, trashy, low class unattractive loudmouth.
She isn't brain dead. She's amazing and shouldn't even be around #1.
Trashy, untalented and brain-dead
Just one thing to say ugly hoe skank fake wow
21
Jake Paul

I used to love him now I'm thinking second thoughts he set up a account for charity and all of his fans put money but he said all of the money was from him and gave no credit to his fans and his merch is way to pricey and he is a total jerk outside of his vologes he is also a show of and a scam artist/ jerk
Every day bro with that disney channel flow, Haha What flow? The flow of money you get from brainless 12 year olds who watch your clickbait?
He posted a dead body on youtube in January of 2018 and laughed about it, he just better be glad he said sorry.
Every day bro need to change to every day no even his brother roasted him
22
Liam Hemsworth

Liam Hemsworth is an Australian actor. He played the role of Josh Taylor in the soap opera Neighbours and as Marcus on the children's television series The Elephant Princess.
I bet he's the brother of Chris Hemsworth because he looks like Chris Hemsworth. I'm not sure if he's a bad celebrity because he made Independence Day.
Liam hemsworth is one of the nicest celebs out there at least he doesn't get famous for banging some crackhead rapper!
He only has a handsome face rather than acting skills.
Put him lower
23
Chris Brown

Christopher Maurice "Chris" Brown (born May 5, 1989) is an American singer, songwriter, dancer and actor. Born in Tappahannock, Virginia, he was involved in his church choir and several local talent shows from a young age. He is most well known for his physical assault towards the singer Rihanna in ...read more.
What is there to like about this guy? His music is generic at best, unlistenable at worst. He beat up Rihanna and possibly Frank Ocean and Drake (not quite sure about those two, but Rihanna for sure). He constantly acts like a douche both online and offline. And he has the worst fanbase I've ever seen. Say what you want about Beliebers, at least they don't ask to be beaten up on Twitter. And worst of all, people still buy his music. Why?
Why is this douchebag not in the top 10's!?!? I can't even explain how much of a douche he is! He is just awful. He is just so obnoxious, he likes to act dominant on everything and when disappointed, becomes violent. What a spoiled scum. Ugh, it seems to me as if all his fans are either unaware of his wrongdoings or just Mini Amanda Bynes-like people.
Is why he's so popular, his music sucks but more importantly he is an egotistical women beating druggy
This guy makes me sick he makes his fans think violence is okay and that it's fine to be women up
24
Kylie Jenner

Kylie Kristen Jenner is an American reality television personality, model, entrepreneur, socialite, and social media personality.
People donated her money so she could become the world's youngest billionaire. Honestly, people these days have the intelligence of an amoeba, and this includes Kylie Jenner.
Kylie Jenner looks like the ten pound carp I caught with those big lips of hers. With that huge rear end of hers she looks like a bowling pin.
I hate the Jenner/Kardashian family. They already ruined Kylie and Kendall's future when Kylie was about 12 and Kendall was 14
She such an unlikable person. How does she even have the most followed account on Instagram?
25
Tiger Woods

Eldrick Tont "Tiger" Woods is an American professional golfer who is among the most successful golfers of all time.
Tiger Woods is the type who would charge money for his autograph. Never met him, but know someone who has watched him play golf. Said Woods is rude to fans he doesn't want to be bothered. Some role model for kids.
Tiger Woods is not an amazing golfer. He's a bum and certainly belongs on this list. He's a cheater in life and in golf. Not even in the top ten list of greatest golfers of all time.
HA HA your wife chased you down with a golf club you cheating skunk.
Tiger is an amazing player, he should have never been on this list
PSearch List