A.N.T. Farm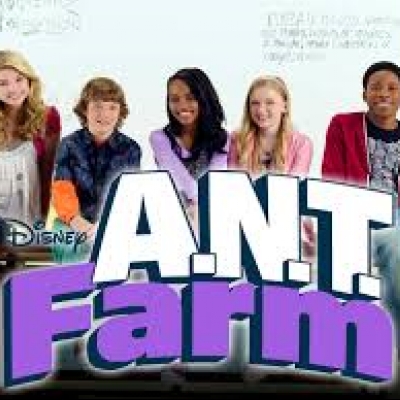 Uploaded by HondaCivic
Comments
Top
Popular
Newest
Predictable, Boring, and the writers have to make their authority figures: Gibson, and China's Dad; really stupid so that the ANTS look smarter. UGH. China comes out looking like the smartest, kindest, and most creative because all the other characters are lame. I don't really care about any of the characters. I was hoping Disney would do something intelligent and funny... you really want to see these kids make creative use of their "talents" but all I see and hear is a lot of screaming, bullying, and bad puns, and lame lame story ideas...
This show is like really cheap, stale candy-from-last-Halloween: you are hoping for a buzz, but just end up sick from it. This could also be said of "Kicking It", "Jesse", and "Shake it Up" If Disney were alive today he'd be spinning in his grave...
Ant Farm is the opposite of realistic. First of all, they show 11/12 year olds dating 16 year olds. Anyway, their already making it sound like it's good to date at 11 years old. I also agree about the skipping grades because their a musician/artist, doesn't make sense.
THIS SHOW IS so BAD, I CANNOT EVEN HANDLE TO EXPLAIN. China ANNE MCCLAIN IS A LITTLE BRAT WHO SOMEHOW GOT INTO HIGH SCHOOL BECAUSE SHE "CAN" SING! I SWEAR TO GOD I'D RATHER LISTEN TO A HORSE BEING BEHEADED WITH A CHAINSAW! SHE'S SO STUPID AND THINKS THAT SHE CAN BOSS AROUND OLIVE AND FLETCHER! THEY ALWAYS SAY TO THE PRINCIPAL THAT SHE'S OLD! AT ANY SCHOOL IN EXISTENCE, IF SOMEONE SAID THAT, THEY'D GET EXPELLED BUT THE PRINCIPAL DOESN'T GIVE A CRAP! SORRY FOR MY LANGUAGE, BUT IT'S TRUE! IF YOU EVEN SAY THAT ANY DISNEY SHOW IS GOOD BESIDES GRAVITY FALLS, THAT MASTERPIECE, YOU SHOULD BE KILLED. - maddyparrot22
So annoying. Not even a toddler would enjoy this. I do not like the kind of humor. There is no humor! I would not even recommend this to my biggest enemy. Disney should not have accepted this show in the first place. I say that Disney just does not want entertaining shows for your children.
Ant Farm is possibly one of the worst, if not THE worst Disney Channel "sitcom" of all time. It has no redeeming qualities. Their is no humor, talent, or nearly anything likeable. All or the characters are unlikeable, and annoying. The plots are unoriginal or just plain dumb, and the show is just unrealistic. Music and art talents do not equal intelligence! What does this teach kids who do not have as much talent? That they're dumb? In conclusion, if you want a decent show, look elsewhere!
I just wish people would stop caring about the money and start making shows that are entertaining. Antfarm is so bad that it does not deserve a third season not even a second season. They just think china has potential to be big that's why they're making another season. Worst show ever.
Nothing is good about this show and that is all I got to say.
This is probably the worst show I've ever seen. There is literally nothing good about it. The concept, characters, and jokes are all absolutely horrendous and I'm embarrassed for Disney that they have created a show this terrible
This show is OK. But, it is VERY unrealistic. For example, If you don't even have ANY common sense or knowledge, like Paisly, how did you get to HIGH SCHOOL!?
Second of all, if the A.N.T. Farm was a real thing, why are Chyna, Olive, Fletcher and Angus like the only ones ever IN the actual ANT farm. Third of all, If you have all of these elementary school kids and put them in high school, How are they not going to fail all of the classes? I get that some of them are talented, but taking KIDS and putting them in HIGH SCHOOL, does not make any sesne to me. Last of all, how did Gibson even get employed? If I were the principle, and Gibson walked into my room for an interview, I'd say "NEXT! ". I think I have proven my point.
I don't like China's version of dynamite just stupid I rather listen to taio cruz Disney version of dynamite.
A.N.T. farm is a poor excuse for a show. The "actors" on it cannot act whatsoever, the scripts are horrible and don't even get me started on the story line.
Really A.N. T farm that show is the best who ever typed that must be a staid some times that happens chyna can sing olive can know a lot. Fletcher can be good at art Lexi is good looking. Angus can be really smart at computers they almost help eachuther every day. I hope who ever is reading this likes A.N. T farm
Ant farm is not that much of a good show the scripts are horrible I don't really blame he actors though
I hate this show and austin and ally, shake it up and so random
so many bad shows!
why disney!
One word. Unrealistic. Because we can all skip middle School and go to high school! Oh, please disney
Chyna just too quirky and Olive annoying and Fletcher stupid I used to like this show but I realize it's bad
Would the hacker be allowed skip grades?
I think it's a wonderful idea for a show.
Yeah it was a good idea, but personally Disney Channel ruined what could have been good potential. - Anonymousxcxc
Flecther is really retarted terrible acting and olive is a know it all. Fletcher wont attempt that he loves olive. Lexi thinks shes all that. Angus is very lazy
Worst show ever that's just fake
ANT farm is the only show on disney channel that I dislike because they aren't funny I was think they are cool but I found out they are NOT first is totaly un-real Chyna is 11 year old but I saw that in episode in season 1 she was fake-dated Jared who is possibly 15 second this show is copynig ICarly check out Chyna as Carly Olive as Sam Flethcer as Fredie Cameron as Spencer and ICarly is a teen web-show and ANT farm is about tweens in WEB high school and a program called Advenced Natural Talent and third ih China make the song Dynamite un-cool check out Taio Cruz and China McClain's both videos and you gonna see that she was copying him
She is so spoiled
And she thinks she is so great
She went to high school and she rubs it in peoples faces just because she can sing it is the worst shows ever!
Every one is a bad actor China an maclane is so rude an she thinks she can sing
She went to high school just because she can "sing" though she can't a rather watch a horse being killed by a chain saw than watch this show - mayalol
Related Lists

Top Ten Farm Animals
Best Alien Ant Farm Songs

Top Ten Best Farm Animals
Top 10 Music Album Covers Featuring Farm Animals