Worst Injuries of the 2018 NFL Season
Of course, there were going to be injuries in 2018. It however was one of the more brutal years that I remember. Some were just downright unwatchable. Anyway, here, we're looking at the top ten worst injuries of the 2018 NFL season.
The Top Ten
1
Alex Smith Breaks Leg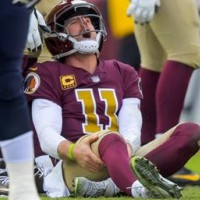 We were 5-2, looked like we were going to make the playoffs! Stupid Texans. This why I like the cowboys and patriots better than the Texans. Now Alex might never play and he might end his career. And the skins could of made the playoffs to.
Not only did it end his season but it put his career in jeopardy and derailed what looked like it would be a decent season for the Redskins who were leading the division at one point. I hope he can recover from this but it did not look good - Randomator
Joe Theisman shares your pain Alex.
I just hope he can recover and maybe put together a couple decent seasons for the Redskins. But still, it's hard to come back from a compoundsiral fracture this late in a career. - SirSheep
2
Allen Hurns Breaks Leg

Allen Bernard Hurns is an American football wide receiver for the Jacksonville Jaguars of the National Football League.
Yikes, this was downright brutal. The injury to the Cowboys receiver actually happened during an NFC wild card matchup with the Seahawks. His leg basically did a 180 while you could see it snap. He was taken out on a stretcher and had multiple surgeries to stabilize the leg. Who knows what his status will be for 2019. - PackFan2005
This one was really painful to watch. They wouldn't even replay it on T.V. and on a couple websites because of how graphic the injury was. - SirSheep
3
Jimmy Garoppolo Tears ACL

And that was the moment I knew our season was over. We lost several key players to injuries over the course of the season. Hopefully next year we will actually stay healthy for once. - SirSheep
The Niners were a team that had a lot of hype going into this season but this was a brutal blow to what could've been a promising season. Instead they were one of the worst teams with their season ending after he went down - Randomator
The football gods hate the 49ers, and 2018 is another reason why. After trading for and finding a franchise quarterback in Jimmy Garappolo, he tore his ACL in week 3. After that, San Francisco stumbled to a dismal 3-13 record, which wasn't even last in their division. They had better hope the same thing doesn't happen in 2019 if they want playoff hope. - PackFan2005
And yet Oakland Chose to beat Arizona double whammy in the face. - htoutlaws2012
4
Keanu Neal Tears ACL

Neal's ACL tear in week 1 changed the trajectory of the Falcons defense and their season. Their secondary and defense was pretty much crippled the whole season, though Damontae Kazee provided relief at safety with Neal gone. - PackFan2005
5
Earl Thomas Breaks Leg

Earl Thomas III is an American football safety for the Seattle Seahawks of the National Football League.
Look, he's standing! OBVIOUSLY this was a hoax. Get your facts straight. Kids these days. - Cyri
Did you watch the regular season by any case? If not research it yourself, and that's all I'm gonna say the pictures here are misleading to what the list provides with conclusive evidence. - htoutlaws2012
If Earl Thomas hadn't broken his leg, he probably would've been traded to either Kansas City or Dallas. If he had gone to Kansas City, that maybe would've revitalized their defense with a veteran presence, and made their defense actually good. But, Thomas found himself on the sideline yet again in 2018. - PackFan2005
6
Colt McCoy Breaks Leg

In another cruel, ironic twist of events for the injury riddled Redskins, their backup quarterback to replace Alex Smith also broke his leg. It's just sad to see that McCoy went out and gave the chance for Mark Sanchez and Josh Johnson to play. - PackFan2005
7
Muhammad Wilkerson Breaks Ankle

Muhammad Wilkerson is an American football defensive end for the Green Bay Packers of the National Football League.
Didn't really affect Green Bay, but the injury was brutal. His own teammate accidentally ran into him and his ankle collapsed under the pressure. That sidelined him for the rest of the season. - PackFan2005
8
William Hayes Tears ACL

Did all these seriously happen? - BorisRule
The only reason Hayes tore his ACL was because he was trying to avoid getting flagged for roughing the passer, which the NFL enforced too much in 2018. It's stupid how players are injuring themselves because of an NFL rule. - PackFan2005
9
Ricardo Allen Tears Achilles
The other Falcons starting safety suffered a season ending injury as well, which made Atlanta's defense one of the league's worst. - PackFan2005
10
Kwon Alexander Tears ACL

Definitely affected Tampa Bay's already terrible defense to an extent. Really took them down. - PackFan2005
The Contenders
11
Tyler Eifert Breaks Leg
He got injured like Gordon Heyward
12
Dez Bryant Tears Achilles
I'd put this on the list just because He didn't get a chance to even play for the Saints at all who literally acquired him right before his injury. He could've been another dynamic weapon but instead he was sidelined after his injury at practice - Randomator
Fortunately for him, he may actually win a Super Bowl ring despite the injury. - PackFan2005
13
Raheem Mostert Breaks Arm
If you haven't seen this already, watch it unless you can't watch a forearm snap in half. He was having a great game too - SirSheep
14 Delanie Walker Breaks Ankle
BAdd New Item