Worst Nicktoons Shows
The Top Ten
1
Fanboy and Chum Chum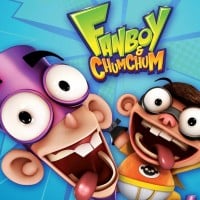 Fanboy & Chum Chum is an American 3D CGI animated television series created by Eric Robles for Nickelodeon. It is based on Fanboy, an animated short created by Robles for Nicktoons and Frederator Studios, which was broadcast August 14, 2009 to July 12, 2014 on Random! Cartoons. The series was first ...read more.
Oh boy, oh boy, OH BOY! How did a show like this even get green-lit in the first place?! This crap was so obnoxious and the theme song wasn't any better either. It's sung so fast that you can barely understand what they're saying and then the remainder of the song just finishes with a bunch of gibberish nonsense. Never watched a single episode, but from seeing the intro. and promos alone for this show, it was an instant turn-off.
This show is HORRIBLE! This show is just way too drugged up. Fanboy and Chum Chum are so annoying!
Fun Fact: This Show Was Picked Over Adventure Time
This show needs to die in a fire!
2
Breadwinners

Breadwinners is a 2014 animated comedy television series produced by Nickelodeon. It is about the adventures of SwaySway and Buhdeuce, two ducks who drive in a rocket van delivering bread to their customers.
Show needs to be higher on the list. WORST AND UGLIEST CARTOON EVER! Worst than Bubsy, Uncle Grandpa, Squirrel Boy, Teen Titans Go, Adventure Time, Fish Hooks, Scooby Doo, He Man, Zelda, MLP, Dan Vs, Gravity Falls, Phineas and Ferb, SpongeBob, and any other cartoon known in estitence!
I remember refusing to even try bread as an 8 year old thanks to these "ducks" that look like frogs. Even something as bad as Sanjay and Craig, I can see it as a hip and trendy version of Ren and Stimpy, but I can't see why anyone would like this atrocious show. It's terrible. It might be worse than Fanboy and Chum Chum even.
I pretty sure Miley Cyrus loves this show about 2 stupid ducks tweaking each other and eating high-fibered bread.
This show makes Fanboy and Chum Chum look like Gravity Falls in comparison...
3
Sanjay and Craig

Sanjay and Craig is an American animated comedy television series that aired on Nickelodeon from May 25, 2013, to July 29, 2016, for three seasons and 60 episodes. The series is about a 12-year-old boy named Sanjay Patel who owns a talking pet snake named Craig.
Way too much bathroom humor, I mean a butt transplant is not funny, it is completely immature and disgusting to put on Nickelodeon. And why does Sanjay and Craig act retarded?
It is good and it should be in the top 10 best T.V. shows because even with it having butt and fart in it is okay for the ages 5 to mid16
This show sucks and it's a fact
So funny
4
Planet Sheen

Planet Sheen is an American CGI animated television series. It is a spinoff series in the Jimmy Neutron franchise, focusing on the show's comic relief, Sheen Estevez, as he gets stranded on another planet. The show was hated by critics and fans for not using any of the original cast (besides the obvious), ...read more.
Just because a character had his or her effect in an original series shouldn't and doesn't always mean that they have to be given their own shows. This takes the cake for one of the worst mistakes ever to come to TV. Sheen was outstanding and hilarious in Jimmy Neutron itself, but this show should never have happened.
Planet Sheen seems like a great idea for a spin-off of Jimmy Neutron. It's that it just didn't work.
Spongebob in outer space but with sheen
It's bad but it's not the worst
5
Mr. Meaty

Mr. Meaty is a Canadian-American television series created by Jamie Shannon and Jason Hopley. The show centers on two lazy teenage boys named Josh Redgrove and Parker Dinkleman, who work at a fast food restaurant.
Not creepy in my opinion, but most definitely dumb! You're far better off watching the muppets or anything else that has to do with the muppets because those characters were developed and well done with heart and soul. Not to mention that this almost seems to rip off of "Good Burger" which is far better and funnier than this garbage. I remember the shorts and was not pleased at all.
Yes, this show is Canadian. The animation is very creepy! The puppets are creepy.
These guys are dumbass it is creepy they work at a stupid fast place so ya
Not a Nicktoon. It is Canadian, and also is not animated.
6
Dora the Explorer

Dora the Explorer (2000 - 2019) is an American preschool educational animated TV series created by Chris Gifford, Valerie Walsh, and Eric Weiner in which Dora goes on adventures with her friend, a monkey named Boots.
This isn't on nicktoons, but if it was this would be the worst.
Dora is not on NickToons!
It's a terrible show.
Its on Nick Junior
7
The Mighty B!

The Mighty B is an American animated television series co-created by Amy Poehler, Cynthia True and Erik Wiese for Nickelodeon. The series centers on Bessie Higgenbottom, an ambitious Honeybee girl scout who believes she will become The Mighty B (a superhero) if she collects every Honeybee badge.
Ugh! Annoying show with an annoying main character AND theme song. Not much to the show at all. Just revolved around her trying to get as many merit badges as possible to outdo her rival. Big deal!
This was my favorite childhood show sad to see it went off air. Hope to see a marathon of the mighty b soon
8
Rabbids Invasion

Rabbids Invasion (French: Les Lapins Crétins : Invasion) is a French/American animated television series which premiered on August 3, 2013, on Nickelodeon. The series began airing on Nicktoons during its second season in late 2015. On June 23, 2017, the series finale ended during its third season. ...read more.
Okay, how is one supposed to understand what these creatures are saying? They just babble. Never watched an entire episode, but when I did come across this show, it was obnoxious as they come!
I used to watch this for some reason, but I'm gonna be honest..it's a pointless, stupid show. Its just a bunch of ugly rabbits that go running around and saying "BWAH"...that's it
BAAH! That's all that happens.
gr no
9
Avatar: The Last Airbender

Avatar: The Last Airbender is an American animated television series that aired for three seasons on Nickelodeon from 2005 to 2008. Avatar: The Last Airbender is set in an Asiatic-like world in which some people are able to manipulate the classical elements by use of psychokinetic variants of Chinese ...read more.
This is a good show! Why did you put this on the list?!
This show wasn't that bad...
Boring
10
All Grown Up

All Grown Up! is an American animated television series created by Arlene Klasky and Gábor Csupó for Nickelodeon. It is a spin-off of Rugrats, and takes place about ten years after the original series where the characters are now pre-teen to teenage.Tommy, Dil, Chuckie, Phil, Lil, Kimi, Angelica, ...read more.
They turned the classic Rugrats characters into...well teens...nothing but bland and boring teens...and Rugrats could of been still airing til today (slim possibility) if it wasn't for this show.
So this is what happens if you combined Rugrats and Saved By The Bell together. You get this...
The Contenders
11
The Fairly OddParents

The Fairly OddParents is an American animated television series created by Butch Hartman for Nickelodeon.
It's probably here because it just got worse every season (as of Season 7)
Wow cartoon fairies I hope that stupid green one dies he so annoying
Why is this show here Its pretty good
This show should disappear forever!
12
T.U.F.F. Puppy

T.U.F.F. Puppy is a cartoon created by Butch Hartman. It ran on Nickelodeon from October 2, 2010 until April 4, 2015. It focused on Dudley Puppy and his partner Kitty Katswell as they protected Petropolis under the Turbo Undercover Fighting Force, or T.U.F.F.
Actually a very good show. I daresay it's the best 2010s Nicktoon until Harvey Beaks came along and Sanjay & Craig grew the beard.
This show was just so boring as hell.
13
SpongeBob SquarePants

SpongeBob SquarePants is an American animated television series created by marine biologist and animator the late Stephen Hillenburg for Nickelodeon. SpongeBob is currently the most popular show on Nickelodeon, as well as the longest running show, running for 20 years, and is beginning its 12th season. ...read more.
SPONGEBOB IS BETTER THAN EVERY WORST NICK TOON SO SHUT UP WHO PUT THIS ON THE LIST! Sorry got a little pissed off
It is uninspired and dumb after season 3
A joke and an embarrassment
S10 is improving
14
Kung Fu Panda: Legends of Awesomeness

Kung Fu Panda: Legends of Awesomeness is an American computer-animated television series spun off from the Kung Fu Panda films.
I do not understand why people would watch this piece of crap! I like the movies, they were really funny! But this show, however, is not funny at all!
I know there are a lot of people who like this show. This show was just boring.
This show has no real substance to it. It just failed to be funny in any way.
15
Wayside

Wayside is a Canadian-American animated comedy television series developed by John Derevlany for Teletoon and Nickelodeon.
Everybody (except for Wayside) is just clueless. This show did suck for Teletoon
16
El Tigre: The Adventures of Manny Rivera

I just want to murder whoever putted this on the list
This show feels like a ¡Mucha Lucha! Rip-off.
This is one of the most underrated shows ever, why is this so high up?!
17
Back at the Barnyard

Back at the Barnyard is a Nickelodeon computer-animated television series that is a spin-off from the 2006 film, Barnyard.
This show is terrible and worst
18 Monsters vs. Aliens
19
Harvey Beaks

Harvey Beaks is an American animated television series created by C.H. Greenblatt for Nickelodeon. Originally announced to premiere on March 29, 2015, the series instead premiered on March 28, 2015 following the 2015 Kids' Choice Awards.
When I was 10 I used to think it was a Happy Tree Friends and Yume Kira Dream ripoff. I'm sure that wasn't the case, it was honestly really fun and relaxing.
- anon
20
Pig Goat Banana Cricket

Pig Goat Banana Cricket is an American animated television series created by Dave Cooper and Johnny Ryan for Nickelodeon.
This show is so ugly to look at..it manages to be worse than the problem solverz. This show should be a lot higher and why is spongebob on the list?
I like this show who ever put it on the list is dumb
21
Butt-Ugly Martians

Butt-Ugly Martians is a computer-animated television series produced by the British media group Just Entertainment in association with Mike Young Productions and DCDC Limited.
22
Tak and the Power of Juju

Making a T.V. show for video games is a very bad idea.
23
The Penguins of Madagascar

The Penguins of Madagascar is an American CGI animated television series that has aired on Nickelodeon.
Spin-off, Get Your Facts Right. This Show Was a Spin-off of Madagascar.
This is so a rip-off of Madagasar, only with penguins.
This was such a good show.
24
Teenage Mutant Ninja Turtles

Teenage Mutant Ninja Turtles is an American 3D rendered computer animated television series based on the fictional superhero team. It aired on Nickelodeon in the United States from September 29, 2012 to November 12, 2017.
Its stupid. Hey super hero turtles named after artists and they love pizza.
Thank God, No One Commented Yet. This Show is Awesome.
25
Oggy and the Cockroaches

Oggy and the Cockroaches is a French animated comedy series produced by Xilam and Gaumont Film Company.
PSearch List