Worst One Piece Characters
The Top Ten
Nico Robin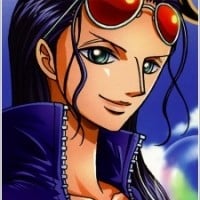 "Devil Child" Nico Robin is a fictional character of the One Piece manga franchise created by Eiichiro Oda.
Robin is the biggest mistake in One Piece. She's useless. She doesn't fight. She doesn't contribute anything to the crew. All she does is read a book in the background. She sounds like an old woman in the anime too.
Some may not like her, but Robin is not a bad character. Neither are the other Strawhats. Can you please please stop fighting? They are a big family who love one another, remember? Nami fans, Robin fans, think you can you let it go? So we move on to more positive things? Please? I missed how the fandom was before :(
I don't know what she has done to be hated by Nami fans to be honest. She's so sweet and gorgeous. The hate comments about her doesn't make any sense. I hope people will stop being childish
Every time she's on screen I wanna stop watching One Piece. She's the worst and hated by most of the One Piece fandom, totally deserves to be at #1.
Trebol

Urgh he disgusted me
Now this guy deserves 1st place. He is annoying lol
Grose waste of oxygene
Nami

Nami is a fictional character in the One Piece franchise created by Eiichiro Oda. She is based on Ann and Silk, two characters from Oda's previous manga Romance Dawn.
She's a bad role model for kids. She treats elderly people poorly and even hits them. And she gives a message that you can hit boys as long as you're a girl. One Piece has a lot of kid watchers, I feel so sorry for them
Always give orders, is pretty useless most of the time, dress like she's working the streets, always getting either the damsell in distress treatment or used for fanservice..only good thing about her is her boobs and even then they are nothing special
She's absolute shameless tramp with no grace she's also a bossy, manipulative, no class skank plus she always be ugly inside and outside
She always abuses Luffy, seriously Luffy should kick her out of his crew. But then again Luffy is too sweet to do this
Doctor Hogback

Bellamy

Pearl

Pearl is just incredibly ridiculous! Can't stand this character.
Spandam

Is weak, annoying and ugly!
He sucks
HOW CAN HE BE UNDER Nico Robin?
SCREW SPANDAM
Hody Jones

Lame villain
Lame
Alvida

I almost dropped One Piece at the beggining because I found her too annoying, Now that she's become beautiful she barely does anything. - little-mouse
Wapol

The Contenders
Foxy

Annoying as hell - Miri
Ugly nosed...
Caesar Clown

Arlong

Saw-Tooth Arlong is a sawshark fishman. He was the pirate captain of the all fishman crew, the Arlong Pirates and a former member of the Sun Pirates. He is known for being the main villain in the Arlong Arc and had the highest bounty in East Blue before being defeated by Monkey D. Luffy. Like many other ...read more.
Celestial Dragons

THEY ARE ANNOYING THINK THEY ARE GREAT
How are they not on the number one spot?
especially that d*ckhead with his running nose
Butchie

Is he a member of Buggy's crew? - lilyflower
Jango

Captain Morgan

The enemy is the very first arc, right? The father of Helmeppo? - lilyflower
Helmeppo

He is stupid!
Fullbody

Monet

So weak and pointless
Blueno

Cavendish
Lao G
Gecko Moria
His laugh makes me sick
Sugar

PSearch List