Top 10 Worst Owners in the NFL
The Top Ten
1
Dan Snyder - Washington Redskins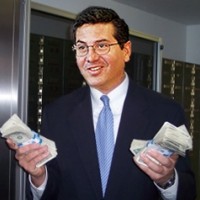 After this current investigation he better be gone. I ain't even a Washington "Football Team" fan but this dude has brought nothing but scandal and failure to a once proud Washington organization
Don't think I really need to explain this man, especially to all you Redskins fans.
2
The Ford Family - Detroit Lions

The Lions have a history of futility that goes beyond their lack of success in the postseason. They hold the dubious distinction of being the first team in NFL history to have an 0-16 regular season, doing so in 2008. Wasted Barry Sanders and Calvin Johnson's careers to the point where they retired in their primes. Matt Millen. The Detroit Lions may be the worst franchise in NFL history. They have existed since 1930 but they only have 1 playoff win in the Super Bowl era. Martha Ford stepped down but it's still run by her family so I wouldn't bet on this futility ending yet. Poor htoutlaws
I can only pray somebody buys this team because the Ford family don't seem to know football good enough over the years.
The Ford Family has owned the team since 1963 and the Lions have been irrelevant since then. Coincidence I think not
3
Dean Spanos - Los Angeles Chargers

I don't like the Chargers but you look at why they're the laughingstock of the NFL. Why does everyone point fingers and laugh at them for a lack of fans? It this guy's fault for it. Spanos literally took the team and gave San Diego a big middle finger on the way out leaving the Chargers Fanbase in the dust. Now they get to be the Clippers of the NFL.
4
Jimmy Haslam - Cleveland Browns

He's literally been a joke ever since he acquired the team
5
Mike Brown - Cincinnati Bengals

Not a single playoff victory since the 1990 season. One of the cheapest organizations in sports when it comes to player spending. Oh, and keep Marvin Lewis too long, who has proven to be nothing less than a failure. Please don't ruin Joe Burrow.
How much success have the Bengals had under his tenure again?
6
Woody and Chris Johnson - New York Jets

7
Shad Khan - Jacksonville Jaguars

With the exception of a fluky 2017 run where Jacksonville reached the AFC Championship Game, the Jags have been one of the NFL's worst teams under Khan. Dave Caldwell should've been fired years ago yet he's still in Duval, and Doug Marrone has overstayed his welcome too. Shad Khan does not care and it's shown many times during his tenure.
As a Jags fan, I can easily say that Shahid Khan does not care about the team. He has been overtaken by greed and will do anything for a quick American dollar. He does not care about the players, the fans, or the staff, just money money money. At least his son Tony cares.
This dude literally doesn't care. Why are you sending every player worth a damn out But keep Marrone and Caldwell way past their welcome?
8
Stephen Ross - Miami Dolphins

Ever since taking over complete control of the Miami Dolphins, he has quickly tanked the once-proud franchise. He bounces between full-scale rebuilding and win-now-at-all-costs visions, thrusting the Dolphins into a vicious cycle of mediocrity. We'll give him credit for this: Ross allowed the front office to tear down the Dolphins' roster for good in 2019, collecting draft picks and cap space along the way, and they now appear set for success in the future.
9
Jim Irsay - Indianapolis Colts

While the Colts have been successful on the field during his tenure, they have been a clown show off the field. He took a golden situation and ruined it, as he has done nothing with 2 generational talents at QB. He hasn't learned a thing from Manning's issues and won't learn from Luck's either. He called Luck's issues mental when his career was in trouble. Oh and in 2014, he was arrested for suspicion of DUI and drug possession. Not only was it reported that Irsay had had a long history with substance abuse, but it was revealed that Irsay's mistress was found dead of a drug overdose in a home Irsay controversially purchased with money belonging to the Indianapolis Colts. Oof
He literally RUINED Andrew Luck.
10
Michael Bidwill - Arizona Cardinals

The Cardinals have had some success since Bidwill began running the franchise in 2007, but ultimately, his moves haven't panned out. Bidwill brought back Steve Keim, the general manager who assembled a three-win roster. He also fired the new coach he hired one year earlier and drafted a quarterback first overall after trading for a top-10 pick to draft Josh Rosen. He made headlines months later for using the Cardinals' website to promote his political views, after commanding players not to use the team's platform to express theirs.
BAdd New Item