Worst Rock Voices
The Top Ten
David Bowie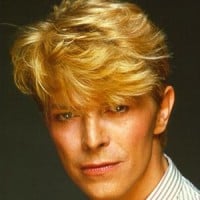 David Robert Jones, known professionally as David Bowie (January 8, 1947 - January 10, 2016) was an English singer born in London, the son of a fundraiser and a waitress. He is credited for his experimental and creative musical discography which has won praise and accolades for many critics and fans. ...read more.
He would sometimes hit troubling notes up high outside his range, but otherwise, I think he was a great singer.
The higher the tree, the more wind it catches.
He's no match for Bono or Freddy Mercury.
Really? I think David Bowie is great!
Rod Stewart

Roderick David "Rod" Stewart is a British rock singer-songwriter. Born and raised in London, he is of Scottish and English ancestry.
Rod Stewart has definitely been a part of the worst music produced and his voice is unbearable.

The rest of the list is rather off however.
This list is a joke. All theses singers perhaps with the exception of Rod Stewart has GEART voices and have the BEST rock voices.
What rod Stewart has a great voice. Except for his disco. His folk music is good though.
It's a toss-up between Rod Stewart and Axl Rose, and Rod Stewart wins this time 'round.
Bob Dylan

Bob Dylan is an American singer-songwriter, author, and artist who has been an influential figure in popular music and culture for more than five decades.
I like Bob Dylan, but his voice is atrocious! No tone or technique, and he's wasted it over the years. Having said that, he proves that you don't need to be a great singer to write great music.
Now this is a really bad voice - no power, range and resonance. How people can take his nasal monotonous mumbling for singing? Extremely annoying voice.
Dylan kicks ass, but for his lyrics, not his voice. His harmonica is awesome too. Hang on! What on earth are Mick Jagger and Robert PLant doing here?
Bob Dylan is proof that people were on drugs in the 60's. Any sober person would realize he sounds like an elephant with a pinched off nose.
Bono

Paul David Hewson, known by his stage name Bono, is an Irish singer-songwriter, musician, venture capitalist, businessman, and philanthropist. His original nickname was Bono Vox which means "big voice".
U2 sucks, Pride (In The Name Of Love) makes me want to tear my eardrums out, Sunday Bloody Sunday is atrocious, and With Or Without You is incredibly whiny and unbearable. Whenever I hear Bono's voice I immediately turn off my radio because I'd rather listen to nothing and absolute silence than his nails-on-a-chalkboard voice.
Bono doesn't deserve to be at the top. His voice sounds epic and adds the right emotion to the song. Just watch Live at Red Rocks; 80s Bono especially was amazing. I understand not being a U2 fan or thinking he's overtly preachy (which he is), but don't deny him for his vocal skills.
Why the hell is Hendrix on the list.
Why Is Elvis Presley on the list.
Why Axel Rose. Yeah he is terrible but he doesn't Shout or scream every word like this Idiot.
Seriously Why is Sting on this, Freddie Mercury or Mick Jagger.
Seriously? Bono is amazing! The only people that think he sucks either don't know good music or they're Satanists!
Lou Reed

Lewis Allan "Lou" Reed (March 2, 1942 – October 27, 2013) was an American musician, singer, and songwriter. He was the guitarist, vocalist, and principal songwriter of the Velvet Underground, and his solo career spanned five decades. ...read more.
Great, great, great songwriter... Probably the best after Dylan, Cohen & Lennon, but his voice isn't good at all... It fits perfectly on VU but if Mercury, the best voice of all time, is here, so Lou should be here too
Anthony Kiedis

Anthony Kiedis is an American singer and songwriter best known as the lead vocalist of the band Red Hot Chili Peppers, which he has fronted since its inception in 1983.
I mean, I personally like his voice, but sometimes when he sings, he forgets his own lyrics, and just has an average voice. But for this band, I think no one else could fit in the vocal spot than Kiedis. His vocal performance for this band is pretty good. Just check out their Slane Castle performance.
I'm with you, christangrant; I somewhat like the Chili Peppers but you'd have to be insane to say he doesn't have vocal problems, especially during their live shows. Just listen to how he sings Higher Ground versus Stevie Wonder. Complete difference.
He is the main reason I can't stand RHCP, funny how this guy claims Mike Patton ripped him off, probably just mad that Patton did it far better than he did. Comparing him and Patton, it's really obvious who the winner of the two: Patton
The guy cannot sing. Period.
Fred Durst

William Frederick "Fred" Durst is an American musician and film director. Durst is best known as the vocalist of the nu metal band Limp Bizkit, formed in 1994, with whom he has released six studio albums.
You should see him playing guitar he is SO amazing

(obvious sarcasm is obvious)
Maybe he is annoying bu rapping and screaming is great.
He can't even sing or rap
He's just crazy bad
Sting

Gordon Matthew Thomas Sumner CBE, known professionally by his stage name Sting, is an English musician, singer, songwriter, multi-instrumentalist, activist, actor, and philanthropist. He is best known as the lead singer for the English band The Police
I think he's a good singer as long as he stays out of the really high end of his range. Having said that, his voice has deepened and fixed that issue for him.
When he's comprehensible he has a pretty good voice
The police r a good band and this is a good singer
No sting is a great singer
Jon Bon Jovi

John Francis Bongiovi, Jr., known as Jon Bon Jovi, is an American singer-songwriter, record producer, philanthropist, and actor, best known as the founder and frontman of rock band Bon Jovi, which was formed in 1983. He is famous for his band's hit song "Livin' On A Prayer" released in 1986. He ...read more.
Jon Bon Jovi just shouldn't be on this list. In his prime he had an impressive vocal range of 4 octaves, 2-1/2 notes; very good vocal technique and a relatively powerful voice.
But this list is about singers who were bad even in their prime.
Jon and his band were at the forefront of the decline of modern music.
Nah, he's a decent singer even if he's cheesy.
No talent, terrible voice, crappy songs.
Danny Worsnop

Danny Robert Worsnop is an English musician, singer and songwriter, prominently known as the lead vocalist of rock bands Asking Alexandria and We Are Harlot.
He has one of the worst voices in rock without a doubt, he sang some covers of 80s Hard Rock Songs with his band and if you compare his singing to the original songs it shows how little talent this guy has, he cannot sing those songs as he has no power in his voice it's very thin and to makes things worse he uses Autotune to cover it up so which once again proves how terrible his voice is oh and his deathcoreish vocals are horrible too.
The Contenders
Ronnie Radke

Ronald Joseph Radke is an American singer, songwriter, rapper, musician, and record producer born in Las Vegas, Nevada.
Oh come on, why is David Bowie above him? This guy SUCKS, just like the rest of those ridiculous emo singers. He sounds like Dahvie Vanity but with less autotune.
Good as singer
Axl Rose

William Bruce Rose Jr., better known as 'Axl Rose', is an American singer born on February 6, 1962, in Lafayette, Indiana. He Is the founder and lead singer of the hard rock band Guns N' Roses. He is a celebrated but controversial figure in the world of rock.
I voted for Axl because he is the MOST OVERRATED SINGER OF ALL TIME. HIS VOICE IS SIMPLY AWFUL AND ANNOYING. He's the reason I never listen to Guns N' Roses. He makes me want to shoot myself.
I can understand why some people don't like his voice, but he has a great vocal range and for some reason his voice seems to fit in their songs. I mean it fits in Guns N Roses's music.
Weird... Axl has an amazing voice, but it irritates the hell out of me. I can't understand why legends such as Robert Plant or especially Freddie Mercury are even on this list..? What?!
Very wide range, but his technique spoils it for me. It works for some of his stuff, but sometimes it gets annoying.
Dave Mustaine

David Scott "Dave" Mustaine (born September 13, 1961) is an American musician, singer, songwriter, actor and author. Mustaine is best known as a pioneer in Thrash Metal, being the former lead guitarist of Metallica before his dismissal in 1983, leading to finding and becoming the front man of his own ...read more.
Very overhated. His voice doesn't even sound bad. But he's still better as lead guitarist than he is as a singer.
They Sound Cool To Me But I notice it doesn't take any real talent. I mean, I forgive him because he does lead guitar AND He has to sing
His singing's okay, but he's better on lead guitar.
He's a very good guitar player but he can't sing
Chad Kroeger

Chad Robert Kroeger is a Canadian musician and producer, best known as the lead vocalist and guitarist for the Canadian rock band, Nickelback.
His voice itself is not bad but he has made some bad genre choices. He's got a great hard rock/metal voice and he don't have to sing ballads or other mellow stuff. He's not worse than Brian Johnson for example but Brian has never tried ballads.

Chad sounds awesome on songs like 'Burn It To The Ground', or the live cover version of 'Sad but True' by Metallica.
Other than the fact that he sometimes sounds in pain, he's okay. It's easy to jump on the Nickelback hating bandwagon, but he's not the worst of all time.
Just stupid. He even sings soft melodic ballads with a growling voice, I just hate his "singing"
He should skip the silly ballads and just rock out more... He's got the rock voice.
Robert Plant

Robert Anthony Plant (born 20 August 1948) is an English musician, singer, and songwriter best known as the lead singer and lyricist of the rock band Led Zeppelin.
I don't understand how or why him and his band get so much praise. He's a very bad singer (not the worst rock singer, Radke and Danny Worsnop are worse) but he still sucks and is annoying. Led Zeppelin are the most overrated band of all time. Period.

PS, get Dave Mustaine, Axl Rose, Kurt Cobain, Freddie Mercury, and Elvis Presley off this list NOW.
Robert Plant on this list is just wrong and I am not even a Zeppelin fan anymore (for their plagiarism). Yes, he is one of the most overrated singers but his voice can't be called "bad" in any context.
No offense. But is this is a joke! He has the best rock voice in the world. Even some singers can't make their voices like his by auto-tuning.
I understand that his voice diminished by 1973-74, but his prime work is amazing! Plus, he still manages to work with what he has.
John Lydon

John Joseph Lydon, also known by his former stage name Johnny Rotten, is an English singer, songwriter, and musician.
Deserves to be higher; definitely not good singing technique.
The whole point is that he has a rotten voice
I love johnny rotton his attitude is near I don't give a damn now
Geddy Lee

Gary Lee Weinrib, known professionally as Geddy Lee, is a Canadian musician, singer and songwriter best known as the lead vocalist, bassist, and keyboardist for the Canadian rock group Rush.
His annoying and bad voice is the reason I don't listen to Rush often. He sounds like a mouse. But I highly appreciate the band for the instrumental parts.
I agree. His voice is why I just don't like Rush. However, he can play bass well, Neil Peart is a great drummer and Alex Lifeson is an amazing guitarist so if they had found a better singer, Rush would be a much better band
Some days I like his voice, other days not so much. Having said that, all of you are perfectly valid in saying that his voice is repelling.
He sounds like he is being tortured, makes my skin crawl...Rush is the only group that makes me turn the radio off
When Rush comes on, I want to tear my ears off and cauterize the holes shut, just so I don't have to hear him sing.
Bruce Springsteen

Bruce Frederick Joseph Springsteen (born September 23, 1949) is an American musician, singer, songwriter, and humanitarian. He is known for his work with the E Street Band. Nicknamed "The Boss", Springsteen is widely known for his brand of poetic lyrics, Americana, working class and sometimes political ...read more.
Go back and listen to "We Are the World". He's doing a call and response with Stevie Wonder. Wonder's voice is pristine, Brucie sounds like the garbage disposal in my sink.
Springsteen is to singing, what Stallone is to acting, a wooden Indian, with no vocal range, a monotone...
In the studio, he's great. Live, however, he tries way too hard to sound gravelly.
Cool guy! Worst voice of all time. Completely tone deaf
Austin Carlile

Austin Robert Carlile is an American former musician and current baseball coach from Pensacola, Florida. He is the former lead vocalist of Attack Attack! and Of Mice & Men. After leaving Of Mice & Men, he went to coach youth baseball in Costa Rica.
Hyde
Uh this isn't best singer list. Someone got confused lol
If this is Hyde Takarai, then I disagree. His voice range is so wide, he can sing any music genre and he's even better live. His songs are great. definitely shouldn't be on the list. He sings for L'arc~en~Ciel, just listen to them and you'll see.
Sinead O'Connor

Sinéad Marie Bernadette O'Connor is an Irish singer-songwriter who rose to fame in the late 1980s with her debut album The Lion and the Cobra.
No, she has one of the best female voices, and this is coming from someone who dislikes the Irish folk music.
One hit wonder
Gackt

Gakuto Oshiro (大城 ガクト Ōshiro Gakuto, born July 4, 1973), better known by his mononymous stage name Gackt, is a Japanese musician, singer, songwriter, record producer and actor. He has been active since 1993, first as the frontman of the short-lived independent band Cains:Feel, and then for ...read more.
Uh... Yeah his pop songs aren't great but when he was in Malice Mizer, he was a God and his voice was wonderful.
Sammy Hagar

Samuel Roy "Sammy" Hagar, also known as The Red Rocker, is an American rock vocalist, guitarist, songwriter, musician and entrepreneur.
I like Sammy Hagar. One of the more accomplished voices from his generation, and he still sounds amazing to this day in concert.
Sammy Hagar's pretty good actually remove him from the top 10...
I like DLR better, but Sammy's voice held up better over the years
Arguably the best voice of the 80s..
Liam Gallagher

William John Paul "Liam" Gallagher is an English musician, singer, and songwriter. He rose to fame as the lead singer of the rock band Oasis, and later as the singer of Beady Eye.
He sounded alright in their peak years of fame, but all the drugs and alcohol he did, combined with his lack of technique, has caused his voice to really deteriorate.
His brother is much better than him.
Main reason why I don't like Wonderwall. This guy has an annoying voice.
Chris Daughtry

Christopher Adam "Chris" Daughtry is an American musician and actor, best known as the lead vocalist and rhythm guitarist for the rock band Daughtry and as the fourth-place contestant on the fifth season of American Idol.
Tries to sound hard, but does not come off as bluesy or awesome. Instead, more like the sounds you make while you go to the washroom.
let us kill the one who made this list. but this one does suck
all of these singers have great voices on the list apart from Nancy and Ann Wilson and Chris Daughtry
PSearch List