Jeffy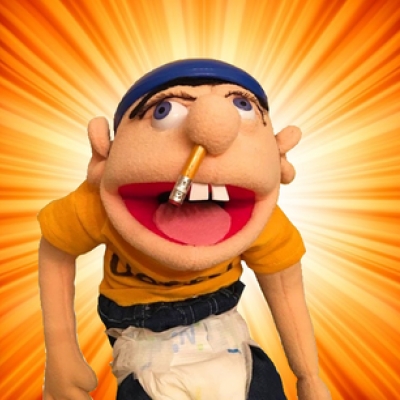 Uploaded by Spongebob12
Comments
Top
Popular
Newest
At this point I'm actually kind of concerned for Logan, cause at this point with Bowser Jr. Gets potty trained, then cody's birthday, and now this character, it makes me wonder "Logan, do you have some kind of diaper/baby fetish? " It's honestly the only reason for Jeffy's existence I can think of, or maybe the other reason which I think is the sad truth, which is Logan just wants to secretly make fun of mentally handicapped people
Jeffy is offensively stupid. He is just a fatass 6 year old that likes to in his pants and wear diapers on the outside. In Jeffry's bad word, after Mario spanked jeffy he should of killed jeffy with a gun and send his body down a warp pipe. He is so bad that he makes chef poo poo look like mama luigi. The only episode jeffy was at least not offensive, gross, or annoying in was Jeffy's homework. He is also afraid of toilet's, bees, and animals (whiney). He also has excuses for everything and doesn't care about anyone except for himself (brat). He also has bad habits: patting his diaper, shoving pencils up his ass and nose, farting, and whining when he doesn't get what he wants. He is also stubborn especially when he uses hammer's and his stupid toys and says gimme when he gets something destroyed or taken away. Don't watch any of his videos. Go watch Bowser jr's breakfast instead.
WHY DOES THIS CHARACTER EXIST?! I can see him appearing in one video, but they just HAD to bring him back in Junior's Game Night 3 which SHOULDN'T EVEN BE A VIDEO! WHY? 'CAUSE ITS ABSOLUTELY POINTLESS AS HELL! And the same thing goes for this character. I'm not sure if Logan's honest about Jeffy being just another dumb character in the series, or he's secretly lying to make fun of mentally handicapped people. But wait, I know what it is, he's just bringing back the characters we hate so much just to annoy the sh! t outta his fans. Anyways, needless to say, Jeffy is not a good character in the slightest, most of the time, all he ever seems to say to others is, "Why? " in a horribly obnoxious way that just reminds me of Junior's "Never! " He also seems to have a habit of spanking his diaper... Oh dear god why? -_- But yeah, that's really all there is to say about Jeffy, aside from the fact that he's another bland stupid puppet character! Basically, he's a dumb character attempt to ...more
Oh Jesus! Where do I even start? *groans* Jeffy. Why does this character exist? All he does is spank his diaper, scream, stick a pencil up his nose, ask "Why? " anytime someone tells him something, make that weird "Ehh Ehh Ehh" sound, throw a tantrum when Mario calls him a "Bad boy" or "weird" or "retard", and last but definitely not least, he annoys the hell out of Mario relentlessly. To make matters worse, Roselina seems to take Jeffy's side rather than Mario's. I don't know why she can't help Mario deal with him, or even better, correct Jeffy when he does something wrong. That's the least she could've done.

Jeffy himself is not only annoying and learns barely anything outside of more ways to drive Mario to suicide, but also has no personality or characterization other than being a negative stereotype of mentally retarded people. Not to mention in every new video he appears in, it gets even weirder because Jeffy's actions and ...more
I really feel like he's just faking the whole mentally retarded thing, if you listen to how jeffy responds to Mario when he yells at him for doing something stupid, not only does it sound intelligent but it also sounds like he's TRYING to piss Mario off, that must've also been part of Peach's deal, "anger Mario as much as possible" And I'm guessing the ultimate goal of this is to drive Mario to suicide
He is a failed child version of Chef Poo Poo.
Dude! The guy is so WEIRD! I'd wanna vomit when I hear his voice and appearance. But SERIOUSLY? A pencil in his nostril? Even in Game Night 3 he was following Jr and Joseph by, shooting himself with a gun like WHO DOES THAT? An after that episode, Jr STILL worships him.
Here's another puzzling question, if whoever originally owned Jeffy was able to just leave him at Mario's doorstep just like that, why doesn't Mario do the same and just leave him at somebody else's door?
After what we saw in Jeffy's Parents I really thought he was gonna change, but nope, in his next video Jeffy goes right back to being the annoying, manipulative jerk he's always been, which means that video was just a half-assed attempt at trying to earn our sympathy for Jeffy so we'd allow him to be an ass from that point on
Why couldn't he have just been a normal little kid? Why does he have to be mentally challenged?
I know he's only been in 1 video but JESUS CHRIST he's annoying, and his whole existence seems like a mockery of mentally handicapped people
Here's my big question, if Mario hates Jeffy then why is he so concerned for his safety? like in the fishing trip video he said he didn't want Jeffy near bodies of water because he might drown, again, if he hates him so much wouldn't he welcome the idea of Jeffy dying? I just don't understand why Mario tries to keep Jeffy safe if he hates him
Seriously. Jeffy has influenced many kids under 10 some bad things. For example, masturbating, cursing, etc. But the worst thing he has ever done was teach a kid how to tie a noose and put it around his neck. Jeffy should have never existed in the first place. - StormedTech5
He is the worst SML character. His existence is a big arse middle finger to all the SML fans. Right now, he is the only recurring character that I hate and is the worst of all the characters, whether they are recurring or only used once. I hope he dies a painful death.
Rosalina Really loves Jeffy but ignores Mario. But when Jeffy's parents come and pick him up, Rosalina will be really upset and start crying all over again when she misses Luna.
He's very immature and unfunny, also a very bad influence on kids cause his fanbase is mostly kids and SML is for Adults not Kids. Logan still star him in new episodes even though his reception is mostly negative. He killed the show and I quit watching the show cause of this kid.
He spanks his diaper and puts envious and crayons up in his nose all the time
I really wish Logan would stop teasing his fans by making videos where Jeffy almost dies but then ends up living in the end
He is overused, overrated, he isn't funny, he made mario's life a living hell (until jeffy's parents). The fanboys are even worse. Half of the videos are jeffy, and they still want more. If you like toilet humor, then Jeffy is for you. He is still terrible, even after the mario hell life era. And this is all coming from a newer fan.
Jeffy is a piece of crap person because he not funny and Logan do everyone a favor and just kill him also jeffy in jeffys bad word made me want to Kill jeffy and people jeffy got Mario in jail twice he lied a police officer twice and he annoys me to death why do people like him this person
I hate how he's now the only character on the show who's totally immune to dying
Jeffy should die a horrible death for torturing Mario and Rosalina!
Jeffy is annoying in my opinion. He is just a joke to mental people. It's not funny in my opinion
Jeffy is just the worst! He should die!
Jeffy is like Ed from Ed Edd N Eddy and Timmy from South Park, only minus the charm and humor that made Ed and Timmy funny and likable.