Top 10 Worst Things About Frozen Fever
Keep in mind that I never watched Frozen Fever but I watched the Original Frozen too many times. Things will be not true in the list but I watched the Lets Fail Series on Youtube.

Also this list spoils the Short Film
The Top Ten
1
Prince Hans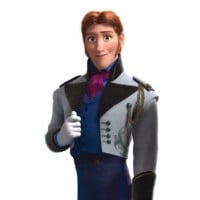 Prince Hans of the Southern Isles, also known as Hans Westergaard, is a fictional character from Walt Disney Animation Studios' 53rd animated film, Frozen.
2
Still not the only Frozen Movie without errors
I am concerned about Frozen 3 with every character has to be smart, provides a tiny amount of errors, no villain, and not too girlish and for any one. In this movie, there is about 3 errors and I'll remind you that this is the short film. For example, The part where Elsa and Olaf are talking to Kristoff, The cake is 3 steps far from Kristoff, and when the another scene shows up, The cake is 1 step close to him. I think Frozen could be any better if the 3rd one comes up.
3
700 people done this 7 minute film
100 people per minute - BorisRule
If the short film is 7 minutes long, there shouldn't be that large amount of helpers. This could be done about 20 people and it could be finished over about a week due to planning whats the film's plot.
4
Elsa teaches little girls to wipe their running noes with their arms
Maybe it is a special ability lol.
5
Let It Go is back in this Film
I am NOT going to like Frozen until Frozen 3 has a better behavior than the rest of the Frozen Series and doesn't have any Let It Go jokes in this movie
6
The giant snowball part can't be launched that far
So logical, such worst film ever!
7
The main character's design doesn't have any difference
It's before where Elsa's dress turns green. Elsa is still in her Rosalina form, though... It's more like a lazy design, even they still have the same clothes on since the last movie
I don't really understand why her dess is green although there is no green ice. And why isn't it melting in the first place? - Fandom_Lover
8
Olaf fixes the cake in a gross way
Wait, I think this film is teaching little girls how to do things unexpected and outside of the box. Still, not worth it.
9
Trolls are in it
Not saying Internet trolls, I am talking about the rock trolls in the last Frozen Movie, those are annoying and these are back. I don't know if I am right if they appeared in this film. This makes want to face the shot gun on my head then shoot and enter heaven
10
Same old characters
No new characters but those pointless small snow figures in this film that is born after Elsa sneezes. I could step on these Snow Goombas anytime I want. They also look like Minecraft Creepers a little bit
The Contenders
11
Green Ice doesn't exist
Ice is white. We all know Elsa's dress is is made out of ice. So, if her dress is green but still with ice... Never mind... I don't think green ice exists.
12 Unladylike Elsa
13 Unqueenly Elsa
14 Tomboyish Elsa
BAdd New Item