Top Ten Worst U.S. Senate Candidates of All Time
The Top Ten
1
Roy Moore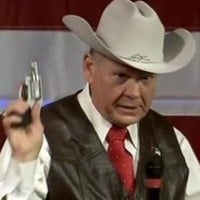 Easiest Choice by far. This guy was a child predator. Whether it was consensual or not, that was sick and disturbing. Literally with any other candidate, the Republicans would have won. That is how awful this guy is.
If the Republicans had picked any other candidate, then Jones would have never won the seat.
2
Kelly Loeffler
Appointed by Brian Kemp after Johnny Isakson retiring due to health issues. This woman was robotic. On top of that, her insider trading scandals only made it worse.
3
Raphael Warnock
He probably would have lost if it were not for his opponent being terrible. This guy had some nasty scandals including running over his now ex wife's foot and covering up for a guy who poured piss on kids at a camp. His campaign was well run and hit at the Loeffler scandals which helped his scandals from coming to light. In 2022, they will probably bite him hard. "Radical Liberal" Raphael Warnock better watch out in 2022.
4
Kyrsten Sinema

I am talking about Sinema in 2018. She has vastly changed and would likely win re-election due to having swing voter appeal. But in 2018, she could have lost due to her prievious ties with a socialist party tied with the Green Party as well as saying that she doesn't care if citizens join the Taliban and she called Arizona the meth lab of the country. Nowadays, I think Sinema would win re-election because she has proved to be an all around moderate who has swing voter appeal.
5
Martha McSally

The thing with McSally, despite having an appealing background of being the first female fighter pilot. She is not a good speaker and a proven flip-flopped on issues. There is a good reason she lost both times.
6
Jim Renacci
Now this guy didn't have skeletons in his closet like the others above. He ran against Sherrod Brown of Ohio in 2018. He was practically a last minute fill in candidate after Mandel suddenly dropped out. Brown was the only Democrat to win a statewide office in Ohio in 2018.
7
Roy Blunt
Now this guy has been elected senator for quite a few terms in Missouri. This guy is an establishment neocon that nobody in the state likes. In 2016, Trump won the state comfortably while Blunt won it by less than three percent. That is simply because the people hate the guy.
8
Ed Markey
This Democrat senator that was generally unpopular with most people. The Democrat Establishment tried to run Representative Joe Kennedy the Third to primary Markey. Kennedy had high profile endorsements including an endorsement from Nancy Pelosi. The Democrats usually avoid trying to primary their incumbents. But this guy was not on good terms with most people. However, he did win his primary in 2020 and won re-election
9
Lisa Murkowski
Ones of the most hated senators. She is a Rockefeller Republican (Liberal Republican) in a deep red state. Democrats will never have a Joe Manchin type in a deep blue state. Murkowski will likely get primaried in 2022.
10
Maggie Hassan
The former Democratic Governor of New Hampshire and a current senator from that state. Her approval ratings are extremely low for both positions. New Hampshire hates incumbents and if Chris Sununu runs, Hassan will almost certainly lose.
The Contenders
11 Jane Timken
12 Richard Mourdock
BAdd New Item