Best Wrestling Video Games of the 2000s
To me the 2000's had a great range of vast wrestling games all across the board all were different in ways great to not so much. Here were the best games in that decade.
The Top Ten
1
WWE Smackdown! Here Comes the Pain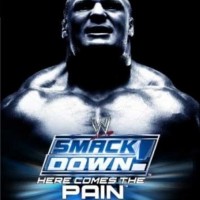 There is no wrestling game I feel can match the sheer perfection that was Here Comes the Pain. No commentary needed, you could now edit the season as it carries over. The elimination chamber was new and played pretty cool. The fastest reversal timing in any game made. The controls are that quick to reaction from one touch to the next. If I'm looking at a wrestling game that deserves a polished remaster in a future new gen this is the one folks the graphics still hold up 17 years later. - htoutlaws2012
2
WWF No Mercy

This was the pinnacle of the AKI games, No Mercy was simply unbelievable in terms of the variety it had. With mods being made today based on this one and the great replay value it has overtime. Sure it may seem outdated by graphics standards, but that's retained with a fun gameplay experience. - htoutlaws2012
3
Def Jam Vendetta

Def Jam games were very addicting, EA Sports was red hot at the time coming off great game series such as NBA Street and SSX. Now tackling the wrestling genre. Man 2003 had hit after hit of wrestling games, and this was a major boom tier game it was. It was a game that gave you a challenge, but had very good story along the way. - htoutlaws2012
4
Fire Pro Wrestling Returns

The fire pro wrestling games were mostly exclusive to japan. One day though I looked over and saw this game I was completely impressed by how much you could do here. The modding and customization is great as well as they gameplay is excellent. Since many have said it's the best in the series, and one of the best wrestling games out there internationally speaking. - htoutlaws2012
5
WWE Smackdown Vs. Raw 2007

The early years of the Smackdown Vs Raw games were pretty wicked in those mid 2000's. 07' simple was great, granted not everybody liked its control scheme. It makes up for the variety the game included retained from the previous entry. Storylines were randomly outrageous. There was plenty to do the game had to offer. Between one of the best soundtracks in a wrestling game. Some of the most unstoppable wrestlers found in 07 will remain a favorite in the series on the top tier side. - htoutlaws2012
6
WWE Smackdown! Shut Your Mouth

Wow was Shut Your Mouth a masterpiece of a smackdown game. After the sheer disappointment of Just bring It, Yukes didn't screw around doing what had to be done. Dare I say the best and most accurate season mode to date. You go through two rewarding years with Both Flair and McMahon playing out the story as it goes. Meanwhile if you end up with the title at the end you get a fitting end to a nearly epic game. Meanwhile customization was good, king of the ring was okay. Royal Rumble was great, there was a lot of modes you could still play around with that you may have played on the season mode itself. The commentary was also a major improvement, and I never got bored with J.R. and Jerry Lawler here as I cringed with Michael Cole and Tazz. - htoutlaws2012
7
SmackDown vs Raw 2006

After going back and forth over the years which SVR game is the most definitive. This distinction goes to 06. After many say a expected disappointment in the first entry, the next one looked far better with a much different look the very next year. Storylines were awesome, the first game to introduce us to the awesome GM Mode. It also has stamina mode which was a total mixed bag, but could be easily turned off right away. Another nitpick was a downgraded soundtrack some song were good while others were meh when sandwiched between two very impressive soundtracks in comparison. Still a great classic with countless set of CAW's you can play with if you had bought a crap ton of memory cards. - htoutlaws2012
This and Here Comes the Pain on the PS2 with my cousins man, that was my childhood.
8
WWE: Day Of Reckoning 2

Day of Reckoning is a great game on the gamecube, and is the last one on the system. What a bang to end it on. Afterwards every game would follow for all platforms. 2's story was better than the first game. Controls are slightly better as well getting rid of the flashing counters shown in the previous entry. This game has its own original soundtrack that is not the same as other titles I give huge props for that. - htoutlaws2012
9
WWE Wrestlemania XIX

We begin with a game where yes you must literally take down personnel, escape, destroy cars, climb chains to get a shot at facing Vince to Wrestlemania 19. Not everybody is a fan of this game mode I like it a lot for its creativity. I'd say this was an improvement over X-8 by far which was average at best. This one also has a good King of the ring simulation, or play it to win championships. This is a really fun game with very responsively fast controls that rival Here comes the Pain. - htoutlaws2012
10
WWE Smackdown! vs. Raw

Its still a good game, but compared to Here comes the Pain and 2006 its beneath them quite a bit. - htoutlaws2012
The Contenders
11
WWF Smackdown! 2: Know Your Role

This game improves a lot that the first game didn't include like a decent CAW attempt. A full on season mode that was very memorable. Smackdown 2 overtime may have had odd entrances for the wrestlers, but was again a fun and great game of its time. - htoutlaws2012
12
WWE Smackdown vs. Raw 2009

Although this is the game to get rid of GM Mode. The Road to Wrestlemania mode was actually pretty good for that launching period at least. It was far better than that 24/7 mode the year prior. - htoutlaws2012
This gotta' be. This is the game, the music, the shawn, the h, and the GAME (In the cover)
13
WWE Raw 2

Raw 2 expanded greatly in in almost every department. One of the best Royal Rumbles in any game. Customization is one of the best ever. Season mode is repetitive, but pretty comical attempt for the most part. There's a lot of stuff you can do in Raw 2 than you did in its lackluster predecessor. This is the original Xbox wrestling game to play. - htoutlaws2012
14
Rumble Roses

A bit of a guilty pleasure I'll admit. Running on a Here comes the pain engine. Rumble Roses is a fairly decent game that's actually fun to play for a game that focuses on the females of wrestling. - htoutlaws2012
15
WWE Legends of Wrestlemania

A lot of fans don't like the game that much due to how different the controls were and that the story went from 1-15 instead of all of them. Despite the flaws I actually enjoyed this game for its good promo build up put into these classic matches I had not recalled seeing. Oh, and the gem of fighting all 38 legends in one long run yeah I did that twice in one sitting. - htoutlaws2012
16
WWF Road to Wrestlemania

17
WWF Smackdown!

After the failures of the WCW games on the Playstation. THQ got a massive rebound when they switched course to make a pretty fun fast pace licensed wwe game. It was the beginning of the impressive smackdown series. - htoutlaws2012
18
Wrestle Kingdom

Japan only exclusive that looks pretty impressive for the PS2 side of things. While I did select the 360 cover I say try out the Playstation 2 port of the game that is if you withstand the idea of getting it online anyway. - htoutlaws2012
19
King of Colosseum II

I mean if you like Fire Pro games I say give this one a shot. - htoutlaws2012
20
Legends of Wrestling II

A bit of a surprise, but this is actually what I considered the best of the acclaim games by far. Granted the gameplay isn't far from them either, but what does it for me is the epic soundtrack put in. Followed by a good enough background objective story fighting in all the regional territories to get to the top. The game also presents a bit of a unique way to unlock wrestlers, and other elements not seen in any other wrestling game. - htoutlaws2012
21
WWE Day of Reckoning

A very good game overall, but the second game was just a bit better on its own overtime. - htoutlaws2012
BAdd New Item