Greatest WWE Heels of the 1980s
The Top Ten
1
Macho Man Randy Savage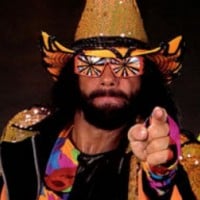 Randy Mario Poffo, better known by his ring name "Macho Man" Randy Savage, was an American professional wrestler and color commentator best known for his time in the World Wrestling Federation and later the World Championship Wrestling.
When he arrived in 1985, he was pro wrestling's best kept secret, that turned to be so much more. Once a free agent, his manager turns out to be his wife Elizabeth. As his quest for his intercontinental Championship got nearer in 1986, his rival George "The Animal" Steele wanted more than just him, he wants Elizabeth. It turns out to be one whale of a rivalry with Savage getting the upper hand on Steele on nearly all the matches. Then with that rivalry behind, he then targeted Intercontinental Champion Chico Santana, and at Boston Garden on February 18, 1986 he beat Santana to become the new Intercontinental Champion and kick started the legend of Randy "Macho Man" Savage.
Its Joeysworld
2
Ted DiBiase

Theodore Marvin "Ted" DiBiase Sr. is an American former professional wrestler, manager, ordained minister and color commentator.
What made DiBiase a big time heel was that he'll do anything to make people pay. One of which he had a room to himself at a fancy hotel at the expense of a just married couple. He even purposely kicked a basketball so that young kid wouldn't get 500 dollars. He even allowed a young kid (which turned out to be a young Rob Van Dam) to kiss Dibiase's feet for some money. Then he did the unthinkable he won the WWE Championship after Andre The Giant surrender the belt. Finally when after beating an opponent he put the 100 dollar bill in the mouth of those fallen wrestlers proven that everybody has a price.
Its Joeysworld
3
Bobby Heenan

Raymond Louis Heenan, better known as Bobby "The Brain" Heenan, was an American professional wrestling manager, color commentator, wrestler, and comedian.
Fans may called him the weasel and even Gorilla Monsoon tells him to WILL YOU STOP? But Heenan is a great manager and a great mind. Ask any guy who can said that he once managed the likes of King Kong Bundy, Andre The Giant, Ravishing Rick Rude, Ken Patera, Harley Race, Haku and Tama (The Islanders), Big John Studd and so many others. Say what Captain Lou Albano said, Bobby Heenan IS the 1985 WWF Manager of the year. He managed champions, titles and delivered hilarious jokes, that's why he's in the WWE Hall of Fame.
Its Joeysworld
4
The Iron Sheik

The Iron Sheik's run to the WWF Championship goes through Bob Backlund, the reigning champion, days before their December 26, 1983 Madison Square Garden bout. The Sheik attacked Backlund during a persian club challenge on WWF Championship Wrestling, and injuring his neck. Then it was THE night, but Backlund wasn't 100 percent healthy and it worked to the Sheik's advantage, and when he put on a camel clutch on Backlund, Bob's manager Arnold Skalland threw in the towel even though Backlund in later years said he didn't quit. That submission helped the Sheik became the first Iranian to become the World Wrestling Federation Heavyweight Champion.
Its Joeysworld
5
Roddy Piper

Roderick George "Roddy" Toombs, better known by his ring name "Rowdy" Roddy Piper, was a Canadian professional wrestler and actor.
The name Roddy Piper and the WWE during the 1980s created mayhem and headlines ALL across the wrestling world. Piper's most notorious moment happened in the spring of 1984 when he hosted Piper's Pit and his guest Jimmy "Superfly" Snuka. Here Piper was taunting Snuka including how he can climb a tree up and down like a monkey, and then after all the insults, Piper lay down one BIG one the coconut, it would later be known as the Coconut Incident in WWE Lore, and Piper into a wrestling legend.
Its Joeysworld
6
Rick Rude

Richard Erwin "Rick" Rood, better known by his ring name "Ravishing Rick" Rude, was an American professional wrestler who performed for many promotions, including World Championship Wrestling, World Wrestling Federation, and Extreme Championship Wrestling.
What I like to have right now is for you to read the following: Rude is the undisputed master of the rude awakening. Rude's girls cheered for her, and can't wait to be with him. Keep the reading going while we tell you about 1988, the year Rude was in love with Jake "the Snake" Roberts wife Cheryl, it ignited a Summer long feud that kept W W F fans droved into arenas to see this great feud, even Rude had her on the trunks. Now Hit Rude's music.
Its Joeysworld
7
Nikolai Volkoff

Before Nikolai steps into the ring, his career as a wrestler was filled with overpowering strength and his victories as either a soloist or with The Iron Sheik was the stuff of legend. Did you know that in 1983 that he once wrestled in Mid-South Wrestling. His return to the W W F in 1984 started when he beat S.D. Jones on W T B S Georgia Championship Wrestling. He once fought Hulk Hogan for the W W F Championship and appeared in the first 2 WrestleManias and now it's time to please stand and respect his singing of the Soviet National Anthem.
Its Joeysworld
8
Paul Orndorff

Paul Parlette Orndorff, Jr. is an American former professional wrestler, best known for his appearances with the World Wrestling Federation and World Championship Wrestling.
Wonderful, that he truly was, the Summer of 1986 was truly his summer, I know I remember it well. He was targeted at being called Hulk Junior, that would turn Orndorff, the side fans didn't know then it happened. After helping Hulk Hogan in a tag team match aftermath. He clothes line Hogan and then gave him a pile driver. those unforgettable images saw the beginning of the Feud of Orndorff vs. Hogan. It became such a big deal that Pro Wrestling Illustrated launched a new award category called The Feud of the Year and Orndorff vs. Hogan was its first winner.
Its Joeysworld
9
Honky Tonk Man

His turning heel turned out to be the best thing that ever happened to the Honky Tonk Man. When he arrived in September 1986, he was a face and an Elvis Presley wannabe, even Hulk Hogan approved as a great guy. BUT he wasn't a popular guy, fans weren't with him and his vote of confidence proved negative, and he lashed out on a lot of people, but it turned out a turning point in his career. Along with manager Jimmy Hart, Honky Tonk and his guitar was his weapon and use it to what he calls it his greatest hits, and in 1987 he became the intercontinental title and hold it longer than any Intercontinental champion and it still holds true to this very day, he's cool and cocky, he's Bad.
Its Joeysworld
10
King Kong Bundy

Christopher Alan "Chris" Pallies is an American professional wrestler, stand-up comedian and actor, better known by his ring name, King Kong Bundy.
Although this giant is gone, he left scars on any wrestler trying to beat him. If records are right, he's the first wrestler to have a 5 count. Since then, NO other wrestler can claim that fact. Bundy had a great working relationship with Hulk Hogan and their WrestleMania 2 clash was pure classic. Even though he was a heel, off the mat he's a nice guy proven that ALL heels are bad guys off it. One more thing he should go to the WWE Hall of Fame because of his 1980s impact.
Its Joeysworld
The Contenders
11
Ken Patera

Before Patera became an inspirational to all in 1987. He was a rule breaking yet powerful Intercontinental champion in 1980 when he beat The Grand Wizard's former protege Pat Patterson at Madison Square Garden for the title. He was brash, cocky but good then he hooked up with Big John Studd to form a deadly team that we're good enough to become tag team title contenders but never a champion. Yet he was a powerful superstar back in the day.
Its Joeysworld
12
Andre the Giant

André René Roussimoff, known as André the Giant, was a French professional wrestler and actor. André He most famously feuded with Hulk Hogan, culminating at WrestleMania III, and his best-remembered film role was that of Fezzik, the giant in The Princess Bride. His size was a result of gigantism ...read more.
Earlier I told you how popular he was with the fans in this decade, now here's the heel version. He and Hulk Hogan we're the best of friends until Andre in 1987 decided he wants a piece of that World Wrestling Federation Championship. When Hogan first decline it, Andre tear the shirt off Hogan. At WrestleMania 3, Andre gave Hogan a battle, and though he lost. He still says at WrestleMania IV that he is still undefeated. Take it from a true legendary giant.
Its Joeysworld
13
Hercules Hernandez

Raymond Fernandez was a professional wrestler who primarily wrestled in Florida and Texas before joining the World Wrestling Federation. He was best known by the ring name Hercules Hernandez or simply Hercules.
When he arrived in the World Wrestling Federation in very late 1985, he had the power, the back breaker and later the full Nelson. But of all of this can compare to his unforgettable battle with Hulk Hogan for the World Wrestling Federation Title on Saturday's Night Main Event, Please tell Hogan he quit in that back breaker. Sadly, Hernandez is long dead and so was Bobby Heenan so we'll never know the real truth. But one thing is clear, Hercules will always give 100 percent in every match.
Its Joeysworld
14
Big John Studd

John William Minton was an American professional wrestler and actor, better known by his ring name, Big John Studd.
He's famous for the fact according to him, he can't be slammed, and throughout his Hall of Fame career, he was unstoppable. His famed $15,000 Body slam Challenge is his hall mark. But despite his size, speed and strength, he couldn't win the W W E Championship and even in 1983 he did had a back breaker on Bob Backlund during a match for the championship and according to Studd, Bob quit. He also teamed with King Kong Bundy to formed The team that couldn't be slammed.
Its Joeysworld
15
Adrian Adonis

The adorable one Adrian. His 1980s we're highlighted by actually both parts Part One saw him and Captain Redneck Dick Murdoch rumbled through many tag teams until they reached their destiny: The WWE World Tag Team Championship in which they won on April 17, 1984 over Rocky Johnson and Tony Atlas. Then came Part Two where he became wild and different. He turned blonde gained weight BUT still had victories and at times acting like Angie Dickinson and yet was one of the top heels of this decade, truly one of the all-time great characters.
Its Joeysworld
16
Don Muraco

He was called a beach bum, but nobody can deny his great wrestling skills, and his titles known as the Intercontinental Championship. He won it twice and both we're against a very good champion in his own right Pedro Morales. The Muraco-Morales rivalry we're nothing compared to his feud with Jimmy "superfly" Snuka, it was a hot and bloody feud that lasted all throughout 1983. 2 years later, he took his talents to Hollywood where he appeared on the ground breaking show Fuji General and Fuji Vice. Truly a legend and a talented man for all times.
Its Joeysworld
17
Dino Bravo

The image seen here is not a mistake. This image took place at the very first WWE Royal Rumble in 1988, it was here when Dino Bravo set a bench press record of 715 pounds. Even though there was some controversy with spotter Jesse "the Body" Ventura around, the record stand. Bravo was as strong as his bench presses, his sidewalk slam was one of the best finishing moves of this decade, and formed a great tag team partner with WWE Hall of Famer Greg "The Hammer" Valentine.
Dino, a guy who left us way too soon.
Its Joeysworld
18
Sgt. Slaughter

Robert Remus, better known by his ring name of Sgt. Slaughter, is an American semi-retired professional wrestler currently signed with the WWE in the ambassador program.
Actually once upon a time, there was a time when he wasn't America's Hero. When he arrived in the W W E in 1980, he was with manager Ernie Roth AKA The Grand Wizard and draw a lot of heat by the fans who called him GOMER! Slaughter had his famed Cobra Clutch, in 1981 he put up a lot of money $15,000 to give to a wrestler who can break his hold, Rick McGraw almost did, eventually Slaughter earned a W W E title shot but never beat Bob Backlund and was involved in a big rivalry against Pat Patterson and it culminated in the first ever Alley Fight at Madison Square Garden, Slaughter a true legend.
Its Joeysworld
19
Terry Funk

Terrence "Terry" Funk is an American retired professional wrestler and actor. Funk is known for the longevity of his career - which spanned 50 years and included multiple short-lived retirements - and the influential hardcore wrestling style he pioneered in the latter part of his career.
This great legend only spend two years in the W W E, but he left behind a great number of victims he left behind INCLUDING Mel Phillips, an non-wrestler who got his when Funk made his in-ring debut on Championship Wrestling, and you can tell Hulk Hogan, he beat him on Saturday Night's Main Event IV, it just that the referee was slow for the count. While he was denied a champion, he did had a great rivalry with The Junkyard Dog. Terry Funk, a legend for all times.
Its Joeysworld
20
Larry Zbyszko

In 1980, he shocked the wrestling world by betraying his mentor Bruno Sammartino on W W F Championship Wrestling, after the shock Larry became a killer heel. So hated that according to him, he was stabbed by a fan in a show at Albany, New York and in Boston after his match, his car was over turned by fans. He was so hated that fans at Madison Square Garden jammed the place to see his war with Bruno Sammartino go to the extreme
Its Joeysworld
BAdd New Item