Top Ten YouTube Hoopers
Recently there has been a lot of controversy on YouTube over the best basketball players on YouTube. So many YouTubers have made videos about this. I thought I might as well say who my top ten are. This list will include all hoopers besides NBA players. Now A LOT of people are gonna be left out. I'm sorry if I leave anyone out. Feel free to add anyone you think should be on the list and also feel free to remix. No disrespect is intended.
The Top Ten
1
The Professor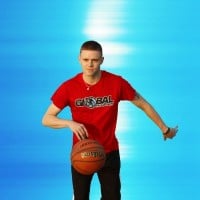 In my opinion The Professor is the best. I don't get why he isn't on anyone's list. He is a hooper and I don't think being in an And-1 League excludes you from being here. The Professor is a very popular YouTuber. He has the best handles and a lot of the people that follow him were inspired by his videos. The Professor is an absolute legend and could be in the league, but decided to go into streetball. That is why he is number 1. - 2storm
2
Filayyyy

An IG legend. Out of all these guys Filayyyy is closest to the NBA. He is a professional and he can BALL. He's got a great jumper, elite touch around the rim, and, if he wanted to be, he could be in the league. Now you might say he is more popular on IG, which he is, he is still very popular on YouTube.
3
B Dot

The greatest NBA Impersonator ever. B Dot is kinda underrated in my opinion. He is a pro player and, in my opinion, he has the greatest moving shot in the community. If he gets hot, there is no way to stop him. Honestly there is a possibility he could make the league. - 2storm
4
AJ Lapray

AJ Lapray is one of the most complete players on this list. I can't see anyone stopping him with his combination of both skill and height. AJ has been recently thinking of going pro. I think it could work out for him. - 2storm
5
D'Vontay Friga

D'Vontay has recently hit the scene and he is pretty good. He has a bulldog mentality and I would love to see him face the rest of the community. Another YouTuber thinking of going pro. - 2storm
6
Marcelas Howard
Marcelas Howard is really good. Honestly I haven't watched a lot of Marcelas, might have to start doing it soon, but from what I've seen he is fantastic. I also heard he was training to go pro as well. - 2storm
7
T Jass
T Jass is elite level and has a similar body type to The Professor, which is kinda scary. I wanted to put him higher and I almost did. T Jass is another YouTuber possibly going pro.
8
Bone Collector
Another streetball legend, similar to The Professor. Bone Collector has killer handles and no one wants to face him. - 2storm
9
LSK
LSK is easily the best YouTuber that doesn't train his butt off, depending on how you look at T Jass and AJ. I hate when people say LSK is only good because of his size. That is completely false. LSK has legitimate talent to go with that size. - 2storm
10
J Jones
A high level scorer at all three levels. He is very athletic and he has great defense. J Jones is also very good off the bounce. - 2storm
The Contenders
11
Devinthelab
Devinthelab is a professional trainer. Is really good and could cook on anybody in the top ten. - 2storm
12
Austin Mills
Another baller. Went to Baylor. - 2storm
13 Duke Dennis
14
Jesser
Jesser has a really good style. He hits hard shots and he is the definition of a shooter. His one downfall is he never tries. - 2storm
15
ZackTTG
Zack is really good and would be in the top ten if he trained. - 2storm
BAdd New Item