Top 10 YouTube Original Web Series Debuting in 2017
YouTube is becoming an increasingly popular platform to host web series. Due to its accessibility, anyone with a camera has the opportunity to use YouTube to promote their original content, and more people than ever are doing so. Listed below are the top ten most promising web series that will premiere in 2017.
The Top Ten
You My Ride?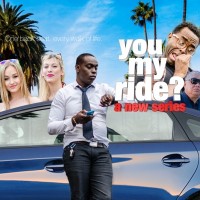 'You My Ride? ' follows the life of Kervens Joseph, a rapper in the Los Angeles area who takes up ridesharing as a method to supplement his income. The series provides a unique insight into the hilarious, exhilarating, and downright strange occurrences that go on behind the four doors of Kervens' vehicle. Each episode is based on a true story, which strongly connects 'You My Ride? ' with its viewers who have used a rideshare service. - TheRyanHoliday
Inconceivable

An open relationship between Rita, a lesbian mental health worker and Adam, a filmmaker, comes to an unexpected end when they decide there is not enough chemistry between the two of them. Their plans to lead normal lives as friends are shattered seven days after their split when Rita learns that she is pregnant. After strenuous deliberation on how to handle the situation, Rita decides to keep the child and venture into the realm of parenthood. - TheRyanHoliday
Tender Dates

This cleverly-named series chronicles the lives of three young bachelors who use a dating app to find their perfect match. While on their search for their ideal love interests, the men experience warm infatuation and tragic heartbreak, taking the viewer along with them on an emotional rollercoaster. - TheRyanHoliday
NINJAK vs THE VALIANT UNIVERSE

MI-6 assassin Ninjak is the central character in this six-part series. Ninjak betrays his most precious allies for reasons they cannot understand, which leaves him in a situation where he must constantly fend off Valiant heroes who stalk his every move, waiting for the day he grows tired of running. - TheRyanHoliday
Metropolitan Legends

This dark, brooding web series is based on four urban legends that four different individuals try to solve. They delve into the deep of the night, encountering hauntings, menacing strangers, and evil spirits as they try to crack the code behind what's been happening in their normally quiet town. - TheRyanHoliday
Superlosers

A group of five misfit friends drinks dirty, contaminated Los Angeles water. The next morning, they wake up with newfound superpowers that they must learn how to manage while simultaneously dealing with an insane villain who vows to eliminate each of them individually. Even with superpowers, this group of awkward, clumsy friends finds it relatively hard to defend themselves against the evils that seek to destroy them. - TheRyanHoliday
Fate We Make

Direct and Mennonite Committee worker John Filson documents the life of a family who he met in Iraq before they were relocated to Maryland. Fortunately for John, they moved not far from where he resided in the United States. The series provides viewers with a glimpse of how it is to grow up in America as an immigrant and the unpredictable obstacles they must overcome; no two days are the same in the family's household. - TheRyanHoliday
INSPIRO

Sandeep Maheshwari is a man who has experienced the trials and tribulations of failure and defeat. Unlike many others, however, he persevered and reached his goal in life: to be unconditionally happy. He now strives to educate and inspire today's youth to reach their potential while avoiding the same mistakes that he made. - TheRyanHoliday
Car Rental

This series illustrates the ins and outs of the rental car industry, and even conveys what goes on behind the scenes before you take the keys to your rented car. - TheRyanHoliday
Deadly Badly

As war rages in India, one man must find the courage within himself to persevere and venture where others are too afraid; he is the people's last hope to turn the tides back in their favor. - TheRyanHoliday
The Contenders
Petscop - The Scariest Game You'll Never Get to Play
Yes - Pokemonfan10
RWBY

RWBY is an American 3D web series created by Monty Oum for Rooster Teeth. The show is set in the fictional world of Remnant, where young people train to become Huntsmen and Huntresses to protect their world from the creatures of Grimm.
Such an amazing show with well rounded characters and plot.
BFB
Eddsworld

Eddsworld is a British adult animated comedic web series of flash animations, comics, and flash games created by Edd Gould.
The Most Popular Girls In School
A hilarious, amazingly animated, Barbie stop motion that follows the crazy lifes of the most popular girls in school. It's like mean girls and South Park had a baby.
Hatchimals
BAdd New Item